Custom Flows – marketing automation scenarios tailored to your needs!
With Custom Flows, you will freely decide about the frequency of your outgoing communication and its personalization. A quick way to ensure that your messages will engage the recipients as much as possible!
At edrone, we've just created a new feature: Custom Flows. Using them, you can send exceptionally tailored and personalized messages to your customers. 
In this article, we will describe Custom Flows and how to create them effectively to increase e-commerce sales and improve customer relations.
What are Custom Flow automation scenarios?
There's a high chance you're already familiar with our ready-to-use automation scenarios. They help online stores take advantage of marketing automation capabilities without the need to create different customer paths.
However, there are some situations when the marketing automation scenarios available are insufficient.
You may need to send messages to customers more frequently than the scenario predicts, or you want to segment your customers in a specific way.
To make it easier for you, we have created Custom Flows scenarios.
Read also: 18 ways to keep your newsletter out of the spam folder
With our new feature, you can easily create marketing automation scenarios tailored to your current needs.
You want to ensure that customers who have made a purchase revisit your store. In this situation, the flow, or your marketing automation scenario, might look like the following:
1) The client visits the store, places an order, and receives a thank you email.
2) Two days later, the customer gets another message from you with a discount code to make another purchase at a lower price.
3) If they don't place the order, they receive a third message, with a reminder that the discount code still works.
4) If still no purchase is made, you can send a final message asking why.
It will allow you to solve the problem and retain the customer.
This scenario's goal is to constantly communicate with the customer in a personalized way. So that he wants to build a relationship with your brand. By doing so, you also have a huge opportunity to increase the frequency of purchases and increase the return rate of customers in your store. 
Find out more: 5 ways to make customers come back to your online store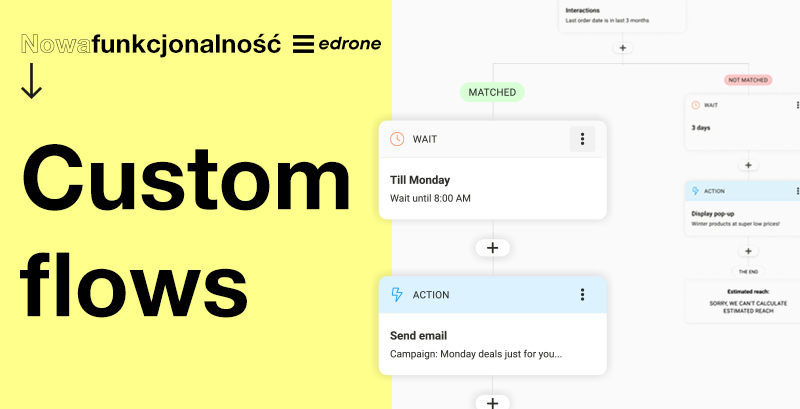 Where it all begins: the start element
Every flow begins with the start element, that is the pre-defined customer activity taking place in your online shop, for example:
Viewing a product
Customer viewed a specific product, a product from a particular category, or any products
Adding to cart
Customer added to the cart a specific product, a product from a particular category, or any products
Placing an order
Customer ordered a specific product, a product from a specific category, or any products
Customer subscribing
Customer provided their email to your store for the first time (not necessarily, but including when the customer subscribes to the newsletter).
Customer's birthday
The flow will start on the day of the customer's birthday. Customers will receive a special offer on this occasion.
Once we have shown you the start elements that trigger scenarios, let's see how to create personalized communications that the customer will enjoy.
Go like a pro: learn how to create newsletters!
How to create personalized automation scenarios tailored to your e-commerce needs?
The most vital thing when creating Custom Flows is personalization. The customers need to feel that you are reaching out directly to them and only to them.
First of all, however, you should decide whether you'll send your customers an email or create a pop-up for them.
As mentioned above, each flow is triggered by an event (customer activity) chosen by you. 
The next step is to define the details of sending messages to customers so that they are not too intrusive or annoying, but have the desired effect on your store.
To create a Custom Flow, you need to follow three steps:
respond to customer activity,
determine the parameters for sending the message,
determine how the message will be delivered.
Custom Flows in marketing automation
edrone created the Custom Flows feature to make it easier for online stores worldwide to customize customer communications according to their current needs.
Custom Flows consist of four elements:
Start
Each new flow must start with a start element. This is the starting event / customer activity that will trigger the flow.
Filter
This is where the full power of Custom Flows come to light: by creating conditions and filters of your choice, you will be able to precisely segment your audience so that it matches the genuinely personal message you have for them. The path will always split into two ways, depending on whether the conditions you created are met or not.
This element can be related, for example, to shopping behavior or customer characteristics and interactions with your e-commerce.
Wait
This element specifies the time between each step in your flow. For example, between the first and second message sent to the customer.
Action
The action element is what actually happens once the starting event takes place or when the filter conditions are met (or not). For now, the action element can be sending an email, displaying a pop-up window or labelling the user with an already existing tag (adding a customer attribute, useful for advanced audience segmentation). 
Got your attention? Sign up for a free demo,  learn more about other features of edrone CRM and turn your store into a sales machine!