10 Most Useful Marketing Automation Features – How Can You Benefit From It?
How do eCRM systems collect customer information and why is it so important for effective marketing? How can you use information about your clients' social media activity? Find out the answers to these and other questions and find out how you can benefit from marketing automation. Marketing automation systems compensate for the lack of personal […]
How do eCRM systems collect customer information and why is it so important for effective marketing? How can you use information about your clients' social media activity? Find out the answers to these and other questions and find out how you can benefit from marketing automation.
Marketing automation systems compensate for the lack of personal contact with e-store customers. Thanks to them, we save time because they carry out marketing activities for us. They provide a range of functionalities that will allow you to take care of customer relationships at every stage of the purchase path. Learn the most effective of them and find out what benefits they bring.
1. Customer Intelligence
Knowing your target audience is the basis for effective marketing. For marketing automation scenarios to work effectively, you need to have information about your customers. The primary function of Customer Intelligence is the cookie and email merging. The system collects information about what products the customer has viewed in the store. When the customer submits their e-mail address in the store, the system connects their behavior to that address. When a user returns to our store, the system will recognize them thanks to cookies and connect them with their email address. You can read more about it here.
Image 1: Thanks to Customer Intelligence you collect all data bout your customers and their behavior in the online shop.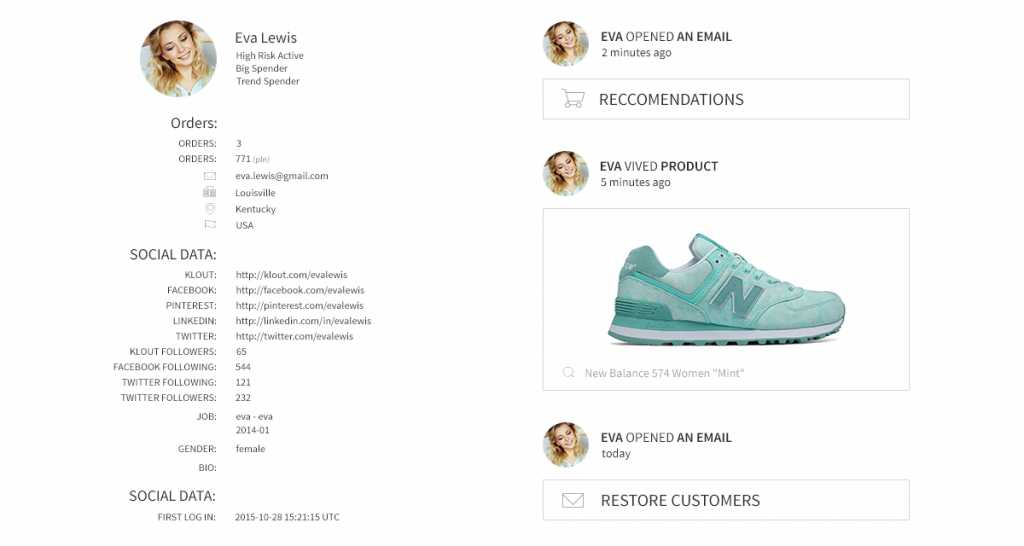 2. Automatic personalization
Marketing automation saves your time because you only devote it to designing and launching the script. When you do this, messages will be sent by the system at the preset time, e.g. when the customer leaves a shopping cart behind. Thanks to automation, you not only save time. Automation also allows you to accomplish things that would not be possible were you to do them yourself, including customer segmentation or content personalization. The messages in which you address a customer by name and include customer-specific recommendations based on their previous purchases reach much higher clickthroughs and clicks. Thanks to that, you not only save your time, but also increase the effectiveness of your marketing and, as a result, earn more.
3. Newsletters
With customer intelligence, you can create effective newsletters and decide which customers to send them to. Customer intelligence collects customer data, such as information about what products they had bought and viewed in the store when they last visited, and even how active they are in social media. This allows segmenting them and creating suitable marketing communication for them. You can, therefore, send categorized newsletters to people who have viewed products in a particular category, informing them about news, sales in that particular category. A dynamic newsletter allows including placeholders in your newsletter, such as "viewed products" or "best sellers", to which appropriate products are added automatically. If you want to know more about the newsletters, read this article.
Image 2: Example of messages prepared for A/B test, which differ in one detail.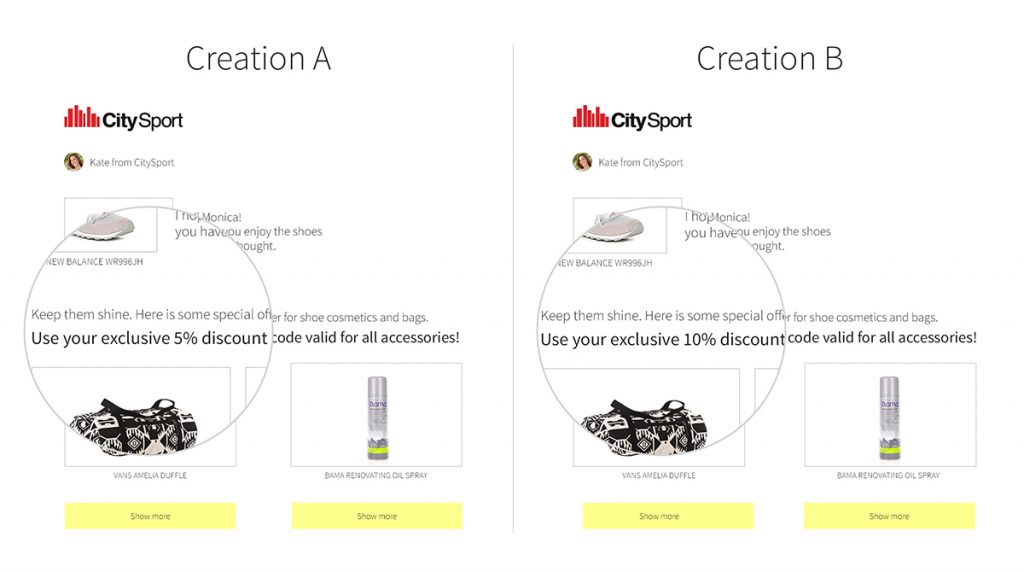 4. A/B tests
The A/B allow comparing the performance of two newsletter creations and choosing the better one to be sent to a wide audience. This allows you to choose the most effective communication right away. To learn more about how they run, see this article. Conducting A/B tests without an eCRM system would be difficult to accomplish, especially when it comes to analyzing statistics for both creations. The system will guide you through the process, check the results and indicate which creations were, in fact, better, and whether the statistics of both differ significantly or if there is no statistically significant difference between them. A/B tests allow you to establish effective communication with your customers.
5. Product recommendations
Recommendations are one of the most interesting features that marketing automation systems provide for e-commerce. With machine learning, it is able to "learn" what products to recommend to customers based on purchases made by other users. Until now, such advanced technology was only available to giants like Amazon, Netflix or Zalando. Learn how product recommendations work from this article. With eCRM systems, even small online stores can use it.
6. Abandoned Cart Recovery
There are situations when a customer adds items to their shopping cart and does not complete shopping. This is when the cart restoration script comes to aid. It involves sending a message to the customer automatically, reminding them that they had left their cart behind. To encourage the customer to complete the purchase, we can offer them a discount code or free delivery. This marketing automation script restores up to 30% of all abandoned carts.
Image 3: Example of a behavioral scenario Recover Abandoned Carts.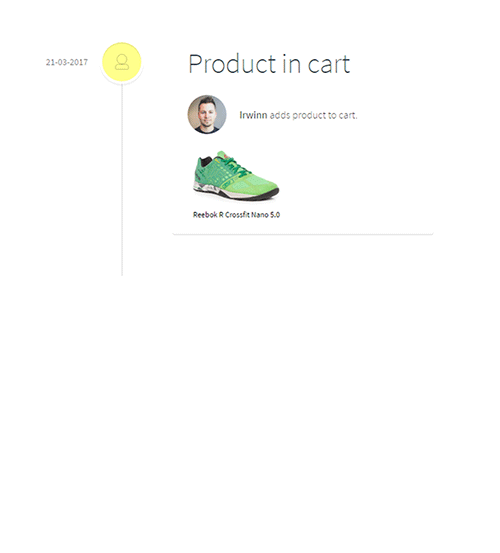 7. Social CRM
Information about your customers not only covers their in-store behavior. With social CRM you can also track their behavior in social media. Those of your customers who are your most active will be qualified by the system as influencers and trendsetters. This will help you make a special bond with them. You can communicate with them by sending product recommendations, discount coupons or engaging them in affiliate programs. This feature allows your marketing to run far beyond standard methods of communication with customers.
8. Loyalty programs and customer restoration
Restoring customers involves sending relevant messages to customers who have not been in the store for some time. You can remind them of the products they were browsing, or offer a discount coupon to encourage them to purchase.
To restore customers, you can also engage them in a loyalty program. The eCRM system automatically counts the so-called CLV (Customer Lifetime Value), which is the total amount the customer has spent in the store. It is up to you to determine what value the CLV needs to exceed for a customer to receive a discount. As they approach this amount, you can send them a message saying that they will receive a discount coupon or voucher if they spend PLN 100 more in the store, to encourage them to buy more.
9. Cross-selling deals
This is one of the most effective marketing automation scripts for increasing sales. Cross-selling deals involve recommending products to customers based on what they have already purchased in light of other customers' transactions (as in product recommendations). So if a customer buys a tablet, you can recommend them appropriate accessories, like those purchased by other customers who have bought the same product. Cross-selling deals allow you to earn an average of over PLN 350 per one email. You can read more on the extraordinary efficiency of transactional marketing here.
Image 4: Wishlist – a customer will be notified when the product will be available again.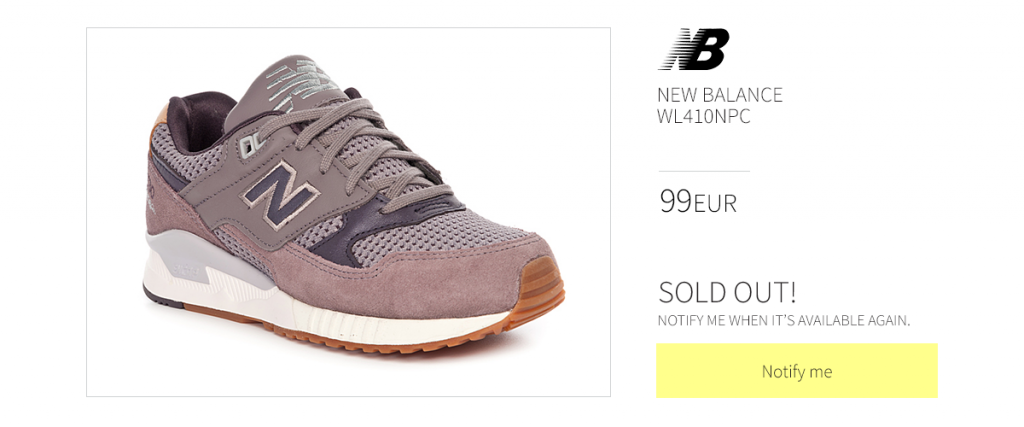 10. Wishlist
Wishlist is a feature that relieves you from worrying about empty shelves in the store. If a product runs out of stock, a customer can add it to their wishlist and will be automatically notified when it is available again. To learn more about the benefits of the wishlist, see this article.
Automate and earn more
eCRM systems such as edrone help you make more money. Not only by increasing your e-store sales, but also because you save time. With the help of marketing automation systems, you can create personalized content, tailor-made product recommendations, and, of course, avoid spamming your customers. This way, you can effectively bind customers with your brand and earn more money.
Sign up for WEBINAR to learn more about edrone or try our DEMO
CRM, Marketing Automation and Voice Commerce for online stores. All in one.