The Hidden Power of Newsletters: Email Marketing is better than ever
Andre Floriano
Country Manager
edrone
With the advent of social media and the enormous possibilities of advertising on these venues, many companies have turned their backs to Email Marketing — literally.
These companies are certainly leaving tons of money on the table. Why? Because Email Marketing is still the best option to increase your customer retention.
Of course, social advertising is crucial to bring more (good and qualified) leads, potential customers to your business. However, the retention game is still more effectively played on the personalized Email Marketing field.
You are probably thinking: "Email is old school; people are no longer using it."
Let's take a look into some relevant facts that prove your Email Marketing to be as vital as never to your eCommerce and why it is still working so well.
Stay tuned with your audience
Back in the days, when email was the new black, and for that reason very popular, people needed to use their personal computers to access it. There were no smartphones with apps such as Gmail (the best of its kind, by the way).
Today, that contact you have in your database — your customer or your qualified lead — is 24/7 connected to the internet at the palms of his/her hand. According to Statista, the number of email users worldwide is on constant growth.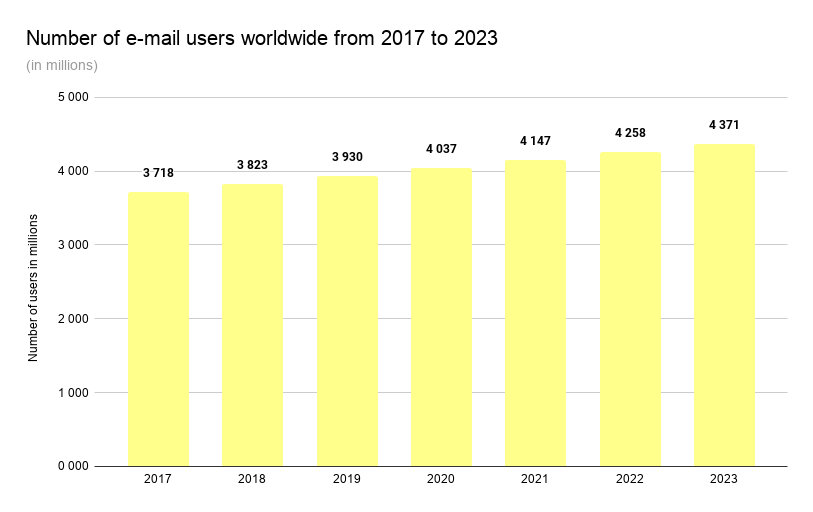 Source: Statista
There are two ways to efficiently use your newsletter: create content or make an offer.
Your emails must be more than offers
Nobody likes to see products, prices, promotions every day.
Besides offers, you also want to deliver valuable content that your audience wants to receive, like tips about something related to your product. You make offers in specific moments. In all others, your priority is to engage your audience, not sell to them.
Engagement is about content that answers questions and solves problems. If you create a newsletter with good content, the probability of annoying your audience is lower than if you only share offers.
Sales also matter
There are optimal moments to sell, right?
Well, they do exist, and newsletters can help you a lot to create these moments. After you create your content, a portion of your audience will interact with it. That means they are engaged with you.
Therefore, selling to this engaged group, if you will, becomes easier. This is the moment to show your product to your audience. You have to talk about the benefits and how the product can change lives. Of course, don't forget to provide some promotions because it can be a great incentive for your leads to become your customers.
The right message at the right time
Yes, both content and sales matter. But you shouldn't mix them. Each kind of email has an optimal moment to be sent.
You must have an automation circuit that is triggered when leads take action.
If a lead opens your first content email, what is going to happen? Will he receive another email with an offer or more content?
What if he doesn't open it, will you wait for some days or send another one in sequence?
These questions are essential to your newsletter strategy. If you don't know how to answer them, it's a signal that your newsletter might not work. It doesn't matter if your email has good content and is well-designed if your lead doesn't want to receive it.
When you understand the optimal moment to send an email, your message will be the right message — that means more engagement and more sales.
Increase your retention
Well, email might not be from this century, but it is indeed the resource to go to when you want to improve your retention rate and constantly grow your business.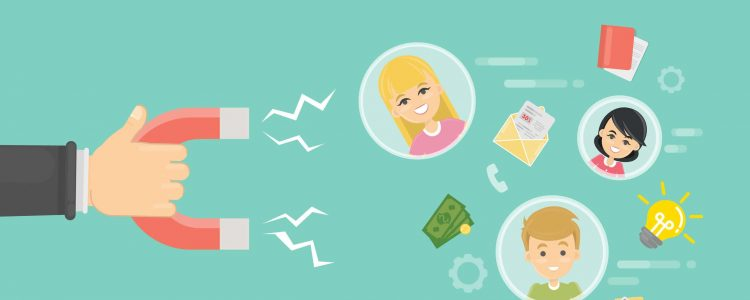 You invest your resources (time, energy, and money) to generate traffic to your eCommerce. For this, we call customer acquisition cost (CAC), which is basically the cost of convincing a potential customer to buy your product.
Now, let's reflect for a moment (on the logic behind customer retention): Imagine that you are planning a party at your house. You want this party to be memorable. So you need to invite the right people who will enjoy the party with you — you don't want trouble but only good outcomes from this special event.  For that, you have to take some actions, such as calling, emailing, texting, meeting, etc.
By doing so, of course, you're spending some of your time, energy, and even money. Would you invest these resources (time, energy, and money) to reach unknown people — those who do not know who you are and so are more likely to decline your invitation (or not even answer your call) —, or would you rather invite people that know who you are and even like you?
We can say that the same goes for your marketing strategies: you have to dedicate some focus to reach those who are more familiar to you. Those who have cost you to come to your shop and start a relationship with your brand.
When you correctly use Newsletters to reach your customers and engage them in a conversation, that is the beginning of what we call customer retention.
Improve your branding
A sound retention rate also means that your branding strategy is getting stronger.
It's simple: more people are repeatedly buying your products.  They are engaged with your eCommerce so they might become your fan since your products are solving their problems and moving their lives in a better direction.
At this level, they will spread your message. You will be known more and more by many people that didn't know you before. This is a process, and it takes time, but your newsletter is an important tool to speed it up.
With good campaigns to the right audience, your emails will not be a waste of time or money. Instead, they will improve your branding, conversions, sales, and profits.
So Newsletter is an amazing option to improve on your customer retention rate as well as on your brand. And creating one is easier than ever before!
Brand new newsletter creator from edrone allows you to create, save and send newsletters in a simple, convenient and more effective way:
you can easily create messages in the new Template Editor and you will be able to save many templates in the designated place,

you can quickly plan your campaigns,

thanks to advanced segmentation, you can target your creations in a better way. 
Andre Floriano
Country Manager
edrone
Brazilian living in Poland. Lived for 10 years in the U.S. With experience in international business management and marketing. Currently, Country Manager at edrone Brazil.