15 Valentine's Day tricks to boost your e-commerce sales
Aleksandra Stankowska
Senior Content Designer
edrone
Valentine's Day, a holiday celebrated by lovers, is upon us. It's also worth mentioning (particularly for eCommerce owners) that this day generates impressive revenues for online shops.
Valentine's Day spending in 2021 was estimated to be around $22 billion in the United States. This impressive figure shows its sales potential so learning how to leverage it to the fullest is obviously a must. Read on to find out which tools will help you increase your sales and what tips to apply to make your e-commerce perfectly prepared for this hot occasion!
First and foremost, start your advertising campaign early
Interest in Valentine's Day increases between 31 January and 6 February, as shown in the chart below. Therefore, start your activities about 1 to 2 weeks before. This will increase the visibility of your shop and keep you one step ahead of your competitors.
Create engaging newsletters
Start communicating with your customers by sending out email newsletters or use your secret, special power — sms newsletters. These two complement each other perfectly. Sure, you can include more content in your emails, but sms messages guarantee high delivery rates regardless of network access. Additionally, the open rate for sms messages is almost 99%. So combining both newsletters is a great idea and a must if you want to effectively reach a larger audience.
How can you create engaging newsletter content? (How to give some extra love to your newsletters?)
Create a catchy subject line – it's your business card!
Write in the language of benefits
Play on words or use funny comparisons
Stand out from the e-commerce crowd
Offer a discount on your Valentine's Day collection
Offer 2-for-1 sets or a discount on future purchases
Prepare original and clear graphics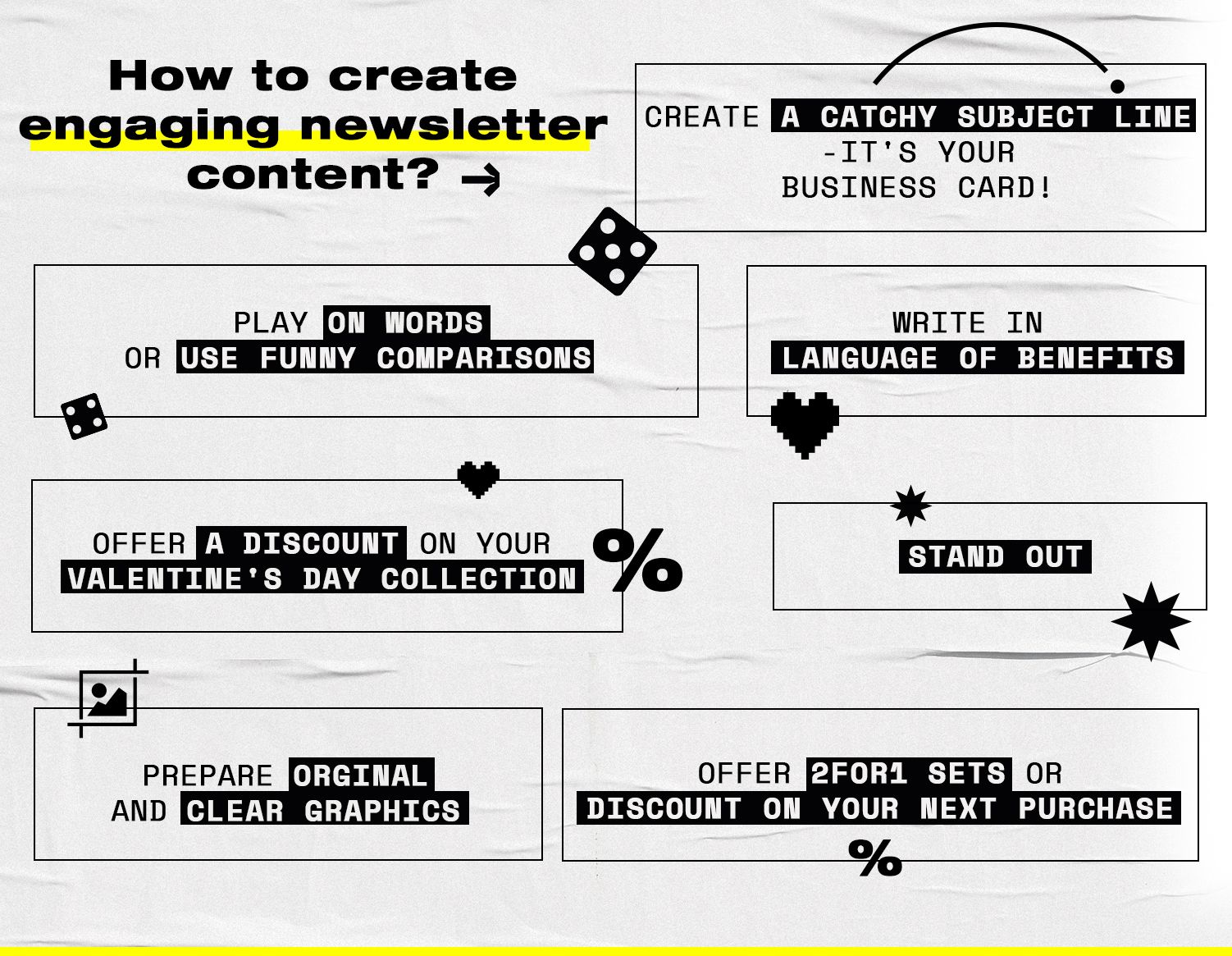 Segment and personalize your content
What's the golden rule of e-commerce? You guessed it — personalize your message whenever you can! Address your customers individually. Just remember that replacing "Hi, Customer!" with "Hi, Michael!" is not enough. You should divide your mailing into specific groups of recipients – based on their age, gender or shopping preferences. Why not try and group your customers by age? It will help you choose the appropriate language for them. Maybe you can group them by their shopping history, or their Average Order Value? The choice is yours! With edrone, you have the ability to segment your contact base based on your demand and specific situation.
Don't be too pushy
Ok, but what does that even mean? Repeatedly receiving the same content (even if it's the valuable one) can effectively discourage your audience from engaging with your brand. We want to avoid that at all costs. Make your offer memorable and engaging enough so that you don't have to send it several times. Here's how to do it:
Use social media remarketing
Give them a cookie!
Social media remarketing is a great way to promote your online shop. This method will perfectly complement your newsletters. When a user visits your website, a cookie is stored in their browser, which is a sort of marker that tells you if they've been to your site before. When they leave your store, this cookie triggers the process of displaying ads in the browser they used.
Don't let them forget about you
Do you know this feeling when you start your shopping session and life gets in the way? It happens to all of us, as well as to our customers.
Imagine that a user visited your shop, but something happened, and they had to leave without finishing their purchase. There's a good chance that after some time, they won't remember where exactly it was that they saw these great gaming headphones they were just about to buy. Or where was it that they saw that one extremely interesting gadget? Using remarketing campaigns will remind them of your products. You can offer a 20% discount on the Valentine's Day collection and inform them about the special advantages.
Newsletter
Know & grow! Become one of over 1,000 online stores growing with our expertise.
Bet on diversity
You have full freedom as to the form of your Valentine's Day offer. Customers will certainly be satisfied with discount codes, unique 2-for-1 sets or special offers for couples. Remember that not everyone has a clear idea as for what to get for their significant other. Take care of these customers and remind them that they could buy a voucher for their S.O. to use it later.
Competition is fierce, so take a while to analyze how you could stand out. If you can surprise them with something unique and original, don't hesitate!
Create an offer for singles
Ok, you took care of all of your lovebirds. Now, don't forget about your singles!
An interesting idea to make your Valentine's Day offer stand out might be to combine this holiday with the following Singles' Day. This is a great starting point to attract a wider audience and thus, obtain even higher results. After all, the more offers for different audiences, the more interest in your brand.
Valentine's Day is not only for lovers
Valentine's Day is a holiday that is no longer reserved only for lovers. Of course, the romantic aura of this day has not lost its popularity, but now it is also celebrated by groups of friends. On average, 22% of people type the word husband into their search engine when searching for Valentine's Day, but around 20% type the word friend. That's why you should offer equally good discounts to groups of friends. Don't flood them with recommendations aimed exclusively at couples. Create pop-ups in which you put information about the possibility of creating any product sets. For example, create a 3+1 set or offer the third product for free.
Take advantage of welcome pop-ups
Give your customers some inspiration. How? Use welcome pop-ups. It can be an effective solution for people who don't have a specified gift idea. Don't let your special sales go unnoticed. Scream at the top of your lungs about them from the moment they enter your site.
You can also use pop-ups that are triggered by specific actions or exit pop-ups that are designed to try and keep the user on your site.
A good idea would be to use Google Analytics, to review the time a user spends in specific parts of your site and decide when is the best time and where is the best place to display a pop-up.
Here are some examples:
Display a welcome pop-up 30 seconds after entry
Display the pop-up on specific sub-pages
Define actions to trigger pop-ups
Show a pop-up after a period of inactivity
Show a pop-up after scrolling down part of the page
Decide which solution works best for you. Plan everything so that pop-ups don't obstruct interesting content, don't interfere with browsing your site, and at the same time attract the user's attention and make them curious about your content.
How about cross-selling?
One of the strategies that can support your actions during Valentine's Day is cross-selling. Example? A user adds a bracelet with a heart-shaped pendant to their basket. You can then offer them a complementary pendant or matching earrings. This is a win-win situation. The customer receives an interesting and relevant offer, and you may increase the value of their cart. And even if they don't decide to buy the whole set during this transaction, they will get to know your offer. Who knows, maybe their anniversary is coming? Hopefully, one day they will come back and make another purchase. Give it a try!
Give a helping hand to latecomers
Guarantee on-time delivery
Some people will probably do their Valentine's Day shopping early to make sure it arrives on time, while others will forget or get caught up in the carrousel of obligations. And that's where you come in, offering on-time delivery.
Look at quotes from shipping companies with whom you can deliver goods as quickly as possible. If needed, add the express shipping option to your delivery options at the order finalization stage. Convince users that with you, they don't have to worry about anything. This information could be the deciding factor in whether they choose you over your strong competition.
Remind them that the Valentine's Day clock is ticking
You can't save everyone. Some will buy too late and you're not a magician, you won't work miracles. There are several ways to encourage users to start their search early:
Inform everyone about the last day of shipping with guaranteed on-time delivery
Create a sense of urgency by adding a timer
Offer free delivery (if possible)
Specify your return policy to minimize confusion
Add a discount voucher for future purchases
By incorporating all of the above into your strategy, you can make an impact. By following these tips and responding appropriately to your customers' needs, you will create long-term relationships with them. And is there anything more valuable than this in this business?
Ensure regular communication
Regular, careful, and above all FRIENDLY communication can help you build really lasting and valuable relationships. Special occasions throughout the year offer unique opportunities to grow your contact base. But don't forget about your customers on ordinary days as well, because it's these activities that will determine how many of them end up staying with you.
Do you want to increase your sales and build even better relations with your customers?
Book a free demo
Go for authenticity
Be natural in your actions. Put yourself in your customers' shoes and think about what they really need from you that day. After all, you've probably celebrated Valentine's Day more than once yourself. Encourage them effectively to take advantage of your offer, surprise them, intrigue them, while slowly convincing them to stay with you for longer. Before you know it, you have gained loyal customers. How? They will remember you and come back to you on future occasions. This will reduce your efforts in searching for new customers because you can then count on your loyal fans. What you give your customers now will come back to you like a boomerang in the future (and you better be prepared to catch it), and strong relationships and mutual loyalty are nowadays the key to mutual satisfaction.
Aleksandra Stankowska
Senior Content Designer
edrone
She cares about good quality content. Believes that success in e-commerce depends on the right approach. She claims it is good to know something about everything, but specializes in modern marketing. LinkedIn