You may not remember but you have already been convinced to buy a product through cross-selling…
One company that does this very well is Amazon, both on its product and checkout pages, with the section "People who viewed this also viewed" — dedicated to products related to what the customer is looking for. This sales modality, in addition to increasing the profits of your e-commerce, should be done to solve the customer's dilemmas and improve the shopping experience across your communication channels (website, social media, email).
In this article, you will see what cross-selling is, how it works, its main advantages, and how you can put it into practice.
What Is Cross-Selling?
Cross-selling is a sales strategy used to sell products related to what the customer is interested in.
It goes like this: a customer who is interested in a particular product will receive offers of additional, complementary or similar products (according to their purchase history or the history of other customers, when there is still not enough data about the customer in question) on the product or checkout pages, or through other channels, such as e-mail.
At Amazon, for example, when opening the product page, you usually see the section "Frequently bought together":

On the product page of a book, another example from Amazon, they show related products:

But it is important to remember that cross-selling and up-selling are different.
What is the difference between cross-selling and up-selling?
Despite being similar, the two sales techniques have a fundamental difference.
The purpose of cross-selling is to get the customer to make an additional purchase, while up-selling encourages him to buy more expensive products — usually because they are a premium version.
For example, imagine that you want to buy a smartphone.
The up-selling strategy would be to offer a more expensive phone with more features; on the other hand, cross-selling would be to offer a case or an earphone.
3 kinds of product to cross-sell
You don't want to make a good cross-selling strategy by offering a random product to the customer.
Complementary products: items used directly with the product that the customer wants to buy. For example, if he adds a shoe to the cart, you can offer three pairs of socks to complement the purchase.
Related products: As shown before, these are the products that the customer is also likely to be interested in. eCommerces tend to make suggestions based on the purchase history of other customers.
Services: cross-selling is not just about products. Services are also a great option, and a good example is a guarantee offered at checkout for more expensive products, such as a television or a computer.
The advantages of Cross-Selling
If you sell more, it is clear that your revenue will increase. But, in addition, cross-selling has other very interesting advantages:
More profitability: the margins for additional products or accessories are generally higher. Therefore, by offering this type of item to customers, you will also increase the profitability of your eCommerce.
Less spending to sell: it is easier to sell to those who are already your customers because this significantly reduces your conversion costs. According to the Retention Science website, 80% of your future profits will come from just 20% of your existing customers; also, the probability of converting an existing customer is 60-70% vs. 5-20% for a new prospect.
A more complete customer experience: offering customers additional products is an excellent way to help them solve their problems faster, improving their experience — you could give them some advantages, such as free shipping.
How to cross-Sell
You can cross-sell in three different ways:
On the product page: the customer is already interested in the product so this can be a good opportunity to suggest complementary products.
Remember that they cannot be more expensive than the main product.
In the example below, the main product costs $79.00, its complementary products are cheaper:

At checkout: after the customer has already added the product to the cart, you can also offer related products (cheaper than the main one.
Below, an example from the Walmart website with a suggested product after the first one was added to the cart:

By email: When you have email lists of prospects and customers, you can expand your offerings beyond the pages of your website; and that's absolutely awesome.
For that, an automated sequence of email marketing is fundamental. When a customer views, adds to the cart, or purchases a product, you can send an email hours later to offer related products.
This is exactly what happens in this e-mail sent by this Brazilian e-commerce for beauty and perfumery products. The customer viewed a certain perfume and then the store sent an email with other options: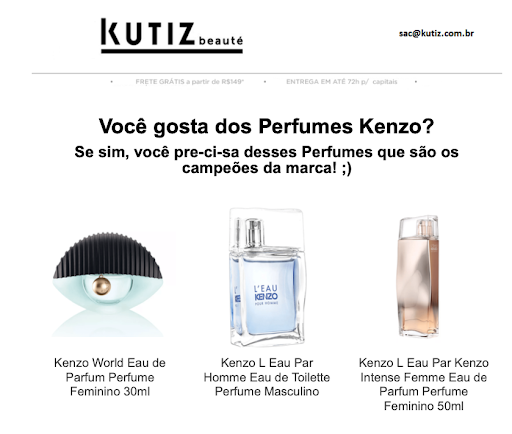 4 tips for cross-selling in your e-commerce
To finish this article, let's talk about the 4 main tips for you to start using, or improve, the cross-selling strategy in your e-commerce:
Make simple offers
Avoid offering too many products at the same time as this can confuse your customer.
Limit your cross-selling to three or four products per page, always with prices lower than the main product. That's how big sites like Amazon do it.
Start with your best selling products
Before cross-selling, you need the main product.
So, focus on starting with the best selling products — after all, they are popular on your site and probably have higher customer ratings.
In addition, because they are in this position, they also generate above-average traffic to your site, which is an opportunity to sell related and cheaper products.
Create product bundles
By creating complementary product bundles, you increase the customer's perception of value by making the bundle cheaper than if the same products were to be purchased separately.
Explain the value of additional products
Often, just offering related products is not enough to have a successful cross-selling strategy. So, you need to demonstrate to the customer that it is worth buying more products.
To do this, you can put product reviews by your customers on the product's page and use phrases like "What other items do customers buy after viewing this item?".
In your order confirmation email, it is also interesting to add customer testimonials with links to product pages for related products.
Start using a cross-selling strategy in your e-commerce today
Once you understand the importance of a well-prepared cross-selling strategy, you probably want to start using it or improve on your current one.
For this, the first step is to know which products can be related and complementary to others to form your cross-selling rules.
Always think about improving the customer experience on your website. Offer products that may be really important to him.
Start testing your strategies and adapt whenever necessary, according to the behavior of customers on your site as well as through your email marketing engagements.
Andre Floriano
Country Manager
edrone
Brazilian living in Poland. Lived for 10 years in the U.S. With experience in international business management and marketing. Currently, Country Manager at edrone Brazil.