SMS Newsletter – how to use it and if it is effective
Aleksandra Stankowska
Senior Content Designer
edrone
Can we imagine today's world without the Internet, computers, laptops and mobile devices? They are an almost inseparable part of our everyday reality. Year after year, new records are being broken in terms of user online activity.
It is estimated that the number of social media users will exceed 4.20 billion in 2021. Internet users account for 4.66 billion and as many as 5.22 billion people use smartphones. Mobile users in this case represent as much as 66.6% of the world's population! Since January 2020, the total number of phones has increased by 72 million and at the beginning of 2021 will already be over 8 billion.
Not all of us like to talk, some prefer to convey the most important content in the form of a text message. So it is hard to imagine how many text messages are sent and received every day if there are over 8 billion calls!
In addition, as many as 92.6% of users connect to the internet via mobile devices, and the average web usage time per mobile user is 3 hours and 39 minutes. This shows how important the smartphone is in everyday communication and the potential of including such devices in one's strategy.
As internet users have increased, so has the financial investment in eCommerce activities. Purchases via smartphone accounted for as much as 55.4% in 2021! That's more than half, which should be enough to convince you to make smartphones part of any marketing strategy.
In this article, we'll look at how you can capitalise on the popularity of smartphones and get closer to your audience with SMS-based communications.
What are the main benefits of using SMS Newsletter
Thanks to edrone's SMS Newsletters, you can inform your contacts about a new offer you have prepared, provide them with news on upcoming sales or an important message you want to share with them.
However, this method is also suitable for medium-sized and smaller businesses and is no less effective! Perhaps you've recently decided on email marketing or you've been using it for a while – complementing this channel with SMS might be a good idea. It's worth mentioning that receiving an SMS doesn't require an internet connection, so it's a great opportunity to reach your audience at any time of day or night, regardless of whether they are connected or not.
What are the main types of SMS messages?
There are several ways you can use bulk SMS messaging, each of which will help you increase the value of your customer interaction. Your customers may already be familiar with your brand, but in their busy lives they've forgotten about it. We live our lives in a constant state of flux, stress and tension, with a multitude of professional and personal responsibilities. It's easy to miss things, isn't it? Sending reminders can be a great idea in today's world!
Inform about a new or special offer
Are you launching a new product and want it to be known even before the official launch? With SMS marketing you can reach your users and inform them about what you are about to release. Maybe they will even feel honored to be the first to know about the upcoming novelty. Or maybe your product has recently seen the light of day, but needs additional promotion? Think about sending an SMS message and let users know about your latest offer.
Offer attractive discounts
If you want to engage your customers in an easy and effective way, offer them interesting and beneficial promotions. Send them a discount code for their next purchase, offer them an extra product for free, or include a fun giveaway such as colourful socks in their next order. This will encourage your customers to take action. And most importantly, both parties will benefit.
Inform about technical breaks
Sometimes your website, social media or other channels you operate on experience technical problems. Since SMS messaging is quick, easy and cheap, and 99% of users open your messages, you can let them know about temporary disruptions. You'll certainly reduce their irritation if they know in real time what's going on and when they can expect the problem to be resolved.
Last, but not least, take care of your loyal customers! Keep in touch with them via SMS, make them feel important and let them know you remember them. Stay in close contact with them so that they never think of leaving you!
How often do I send SMS messages to customers?
55.9% of customers want to receive an SMS newsletter once every fortnight and 29% once a week. If you run a large company and you have a large customer base and you want to reach them in a quick, easy and, most importantly, cheap way, then mass SMS messaging is the perfect solution. Remember not to do this too often or you may discourage your audience.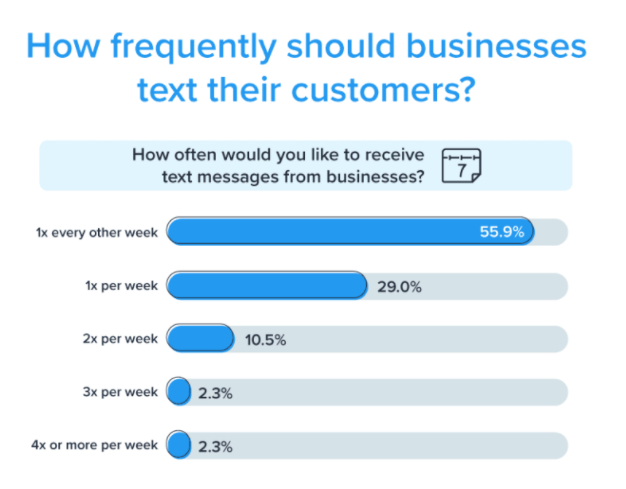 Is SMS Newsletter an effective form of communication?
As many as 77.6% of mobile phone users use their phones to check, send and reply to SMS messages. For this reason, among others, the SMS Newsletter is one of the most effective forms of maintaining relations with customers. It is also at the forefront when it comes to the level of user engagement. Some people believe that SMS has long since fallen out of favor.
Perhaps you yourself have moved to other messengers and don't send as many text messages as you used to. But when you receive an SMS, aren't you curious about what's inside? You open it without consequences, you don't have to click on insecure links, no one can see if it's been opened, like with messages on Messenger. You open it, look at it, delete it or leave it for later. If the content interests you, you probably go back, check it out and google the sent offer online. Your customers will do the same if you can convince them to take action with this short form.
What is the Open Rate for SMS Newsletter?
SMS Newsletters are a very useful marketing channel thanks to which you can ensure your success in today's world, where mobile devices reign supreme. The Open Rates in the case of SMS messages are extremely high and are at the level of 99%. In addition, 97% of messages are read within 15 minutes of delivery. Communication via SMS is so personal that it can even be compared to receiving messages from friends and family. However, it is important not to bombard users with messages one after the other. Read more about SMS Newsletter in edrone.
Aleksandra Stankowska
Senior Content Designer
edrone
She cares about good quality content. Believes that success in e-commerce depends on the right approach. She claims it is good to know something about everything, but specializes in modern marketing. LinkedIn