Everything you need to know about e-commerce – a glossary for beginners
Aleksandra Stankowska
Senior Content Designer
edrone
Are you starting up your first eCommerce business? Excellent! At this stage some industry terms might be incomprehensible to you or you have not learned about them yet.
That's why it's good that you are here. We have prepared a glossary of the most important terms for you that will help you enter the e-commerce world with a solid base of knowledge. Ready to dive in?
What exactly is e-commerce?  
Online commerce is the buying and selling of goods on the internet. Transactions between sellers and buyers take place exclusively there. Electronic commerce allows sellers to reach customers no matter where they are. From its small beginnings in the 1990's, e-commerce has grown to be a dominant force in global retailing.
Online stores operate in much the same way as their brick-and-mortar counterparts. Customers can enter, browse, select what they're interested in and complete the transaction at checkout, all in the virtual space.
e-commerce in B2B i B2C – important differences
The number and variety of online stores is already too great to track and growing at an amazing rate every day. For our purposes here, we will group them into two broad categories, those serving other businesses and those selling directly to end consumers.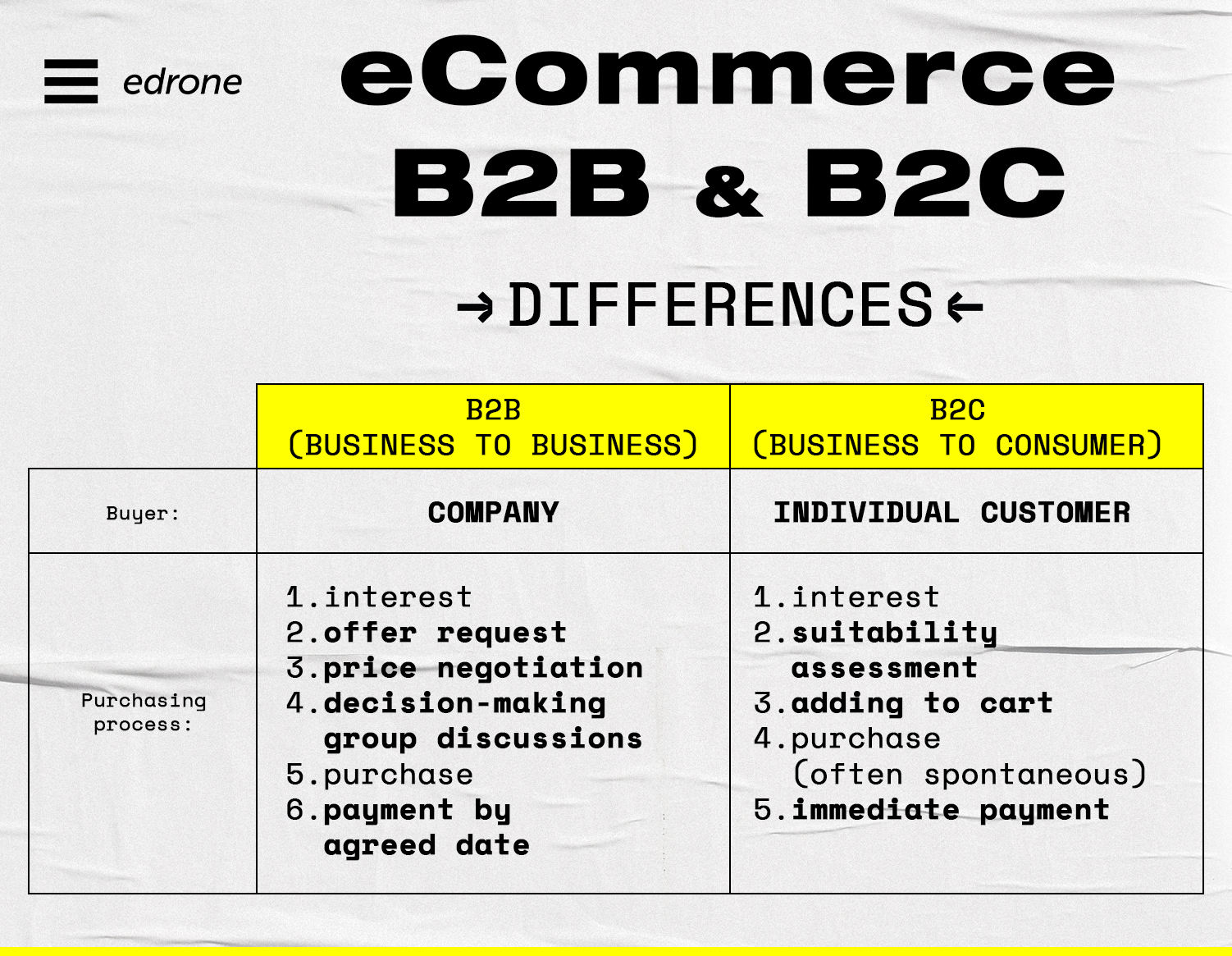 What is the B2B model for online sales?
If we are dealing with a company that provides its products or services to another company, then we are talking about the B2B (business to business) model. These types of relationships can be created between companies, suppliers, wholesalers and producers of semi-finished products or raw materials. An example of a company operating on the B2B model is Shopify, which provides online sellers with a ready-made sales platform. The platform provides online stores with comprehensive tools to take orders from customers: from the moment of placing the order to the shipping and billing stage.
What about B2C sales?
Another, completely different model of online trading is B2C (business to consumer), which is the most familiar relationship in the e-commerce industry. In this case, the company provides its   products and services to individual customers. The B2C model includes online stores that provide their customers with a variety of goods: clothing, books, household goods, food and literally anything else that is for sale.
General differences between the B2B and B2C models are one thing, but remember that each of them addresses different needs. If you decide to direct your offer to companies and operate in the B2B model, you will have to focus on an individual approach. Companies will come to you with specific needs, the implementation of which will be in your hands. Their goal will be profit, so the focus will be more on planning and a bit of bureaucracy before getting exactly what they need at the right price.
If you choose B2C and you want to sell your products to individual customers, you can count on a bit more spontaneity on their part. You probably know it well. After all, each of us can walk into a clothing store in search of one thing, and come out with several other things we never thought of before entering the store. When choosing the right model for you, analyze the key needs of your future recipients.
Do you want to increase your sales and build even better relations with your customers?
Book a free demo
Promoting your online store and attracting clients
So now you know what electronic commerce is and you know the main models of online cooperation between various entities. There are a few really important steps ahead of you: registering your business, buying a domain for your store, choosing the products you want to sell, designing your website and of course promotion. To find out more about what else you should do, click here.
You probably already have a vision of what it should all look like but there is still much to discover as well. That's why we have prepared some valuable tips for you on how to effectively promote your e-commerce online and gain customers.
Why it's worth promoting your online store on social media
No matter what the size of your business, social media offers great opportunities for everyone, so you shouldn't ignore their potential. A social media account gives you the opportunity to reach a huge number of your potential audience. The massive global user base for social media platforms like Facebook speaks for itself.
Especially at the beginning of your internet business, social media is a great place to gain publicity. Campaigns in social media are usually either a free or relatively cheap solution. If your goal is to increase brand visibility and gain likes, you can start with a modest monthly budget. However, it all depends on the effect you want to achieve and your financial capabilities.
Facebook fanpage – free channel of contact with supporters
The basic and, above all, free activities include running a fanpage, thanks to which you will be able to regularly inform your followers about your company and offer. Thanks to your presence in social media, you will build awareness of your brand and – as long as you offer interesting content – you will attract your first fans.
What kind of content helps you gain new clients to your online shop?
Content marketing, all the substantive content you produce to engage with potential customers, is your business card. It is worth adding a blog to your website, where you can post interesting articles related to your business. Share them on your fanpage, share graphics and videos – it will all help you generate traffic to your website. You can also create fun graphics, organize contests and thus engage your followers. In addition to advertising your products and articles, you can interest your audience with content created by other brands. Share interesting publications – maybe thanks to this you will familiarize observers with the industry in which you operate? Use it all!
Promoting your online store in search engines
Another way that your store can gain a new audience is through advertising in search engines. In this case, marketing activities can be divided into two groups: organic and paid. Both will increase your visibility in the search engine, which will make customers find you in an easy and quick way. Thanks to this, the probability that they will visit your website will increase significantly.
What is organic marketing and why should you take advantage of it?
Organic marketing includes a number of activities that attract audiences from search engines directly to your website, i.e. generate so-called organic traffic. Such activities include, for example:
articles
ebooks
case studies
videos
guest articles
customer opinions
At first glance, these are activities for which you do not need to spend any money directly. However, they require investment in your own business and its resources. Fortunately, everything stays with you and can be reused, repurposed and adapted as needed.
What is SEO and how does it help?
SEO (Search Engine Optimization) is part of organic marketing. It is a series of activities undertaken to increase the visibility of a given website in search engines and to generate organic traffic. SEO activities are used to optimize the website so that it is placed as high as possible in the search results (e.g. in Google). For this purpose, among other things, you can:
strengthen the text content – saturating it with words and key phrases or adding expert-level content
improve the way of navigation on your website – making it easier for users to find what they're looking for and move between pages
add the possibility of adding opinions about your products to your products,
improve internal linking, thanks to which you can send the user to any part of your own website
create link building – gaining links referring to your site that will be placed on other websites
Thanks to a properly positioned website, you are able to build your authority in search engines and among recipients, who pay attention to the position of a given page in search results, so you should be aware of the potential of SEO. 67.6% of all clicks are among the top 5 search results! Only 3.73% of the next 5 results. Keep that in mind!
Paid ads in search engines
Paid search engine campaigns are PPC (Pay Per Click) ads. They are usually visible in the form of sponsored links, text ads that are visible in a given search engine after entering key words and phrases. The price of this type of ad depends on the cost per click on it. This cost, called CPC (cost per click), is determined on the basis of the popularity of a given keyword or keyword phrase and the location of the advertisement.
Communicating with customers online
You already know how to gain an audience and generate traffic in your online store. In order for the customers you get to stay with you for longer, you need to take proper care of them. Regular communication can help you with this, keeping them informed about your activities. Let's talk about what methods you can use!
How does a newsletters help an online business?
A newsletter is a communication sent to customers in the form of an email. Only people subscribed to your mailing list receive it. To learn more about edrone newsletters and how to build a mailing database, click here.
The purpose of newsletters is to stay in constant and regular contact with recipients. You can use this type of message, for example, to:
inform them about a new offer in your store
provide information about upcoming promotions and discounts
send occasional (e.g. holiday, birthday) wishes or gifts
remind customers about viewed but not purchased products
encourage customers to take a specific action
You should send newsletters to your audience on a regular basis. They will probably be waiting for your message after some time! There are many tools on the market with which you can automate your shipping and be sure that your recipients will receive your communication. edrone also has such a solution, which offers ready-to-use marketing automation scenarios. Check them out!
Newsletter
Know & grow! Become one of over 1,000 online stores growing with our expertise.
CTA – what it is and what it does
To engage the recipients of your newsletter to take a given action, you can include a CTA (call to action) in it. It is a short text or button that can help you do this effectively. Thanks to your CTA, you will convince the recipients of your communication to, for example:
go to a product page
see your latest collection
view current promotions
purchase a product
You can also place this type of call to action on your website, fan page or blog.
SMS marketing campaign
Another method of communicating with your customers is the SMS newsletter. This type of news may seem outdated in today's modern online world. Nothing could be more wrong! It certainly has its advantages, so you have to at least consider it. As many as 5.22 billion people, 66.6% of the entire world population, use mobile phones today. Find out how to create a good and interesting SMS Newsletter with edrone.
Thanks to SMS communication, you can count on even more effective communication with your recipients due to the extremely high Open Rate, which is as high as 99%! It is estimated that 97% of SMSs are read within the first 15 minutes of delivery. No wonder, it's hard not to open a received SMS when you have your phone within reach most of the day, right? We can also immediately eliminate the risk that our message will end up in a spam folder.
SMS communication should be treated a bit differently than email communication. These types of messages are more personal. Therefore, their content, form and quantity should be properly planned.
Remember these 3 rules:
Only send SMS messages in exceptional and most important situations
Try not to send the same message again
Create short and understandable content so your audience can quickly read it
Make them understand that what they get on their phone will be of some value. Then it is more likely that they will not want to miss any of the messages. Remember that you do not need internet access to receive your SMS newsletter. This means that even if one of your online communication channels fails, the SMS newsletter will be your secret weapon.
Social media communication
The dynamic development of social networks has made them one of the main channels of communication with e-commerce customers. Almost everyone uses them, regardless of age group, gender or interests.
This is a great place to reach your audience directly, inform them about news, recent changes or published blog articles. This channel gives you unlimited possibilities and allows you to create a kind of community around your brand, thus building awareness of its existence. You can also get to know them better through this type of interaction with your audience. Try to analyze their behavior, interests and needs. This will help you tailor the right type of content to them, which may increase interest in your store in the future.
Aleksandra Stankowska
Senior Content Designer
edrone
She cares about good quality content. Believes that success in e-commerce depends on the right approach. She claims it is good to know something about everything, but specializes in modern marketing. LinkedIn