Cross-selling, or: "Do you want fries with that?"
You are looking at suede shoes in an online store. You made your choice, thought it through and you are determined to buy. You add the product to the cart and see the information "Customers who had bought this product also bought…" with some pictures of recommended products.
Among them, you notice a footwear cleaning fluid. "Suede can be tricky to keep clean" – you think, so you add the product to the basket and finally leave the store with two products.
Or perhaps you can recall a situation where you bought one thing, finalized the purchase, and a day later you received an email with information about goods that you might find handy? E.g. a selfie-stick for your new smartphone?
This is how cross-selling works. Simply put, it is a proposition of products complementary to those you have already purchased, based on the behavior of other customers. Cross-selling is one of the most effective selling techniques. The customer already knows the brand (and probably trusts it when they make a purchase), so keeping their interest requires a lot less resources and money than acquiring a new one. We may therefore expect a higher conversion rate, because we have already built a relationship with the customer.
Cross-selling brings the stores nothing but benefits. First of all: you lose nothing. The customer has already made a purchase decision, so they are more likely to add another product to the cart. You do not take the risk of losing a customer, and the ad itself is not intrusive – it concerns the products that customers are actually interested in. You also do not lose money, because cross-selling strategies are usually cheap, nor do you waste time, because product recommendations are generated automatically. The risk is small, the advantages are many, so let's get to work!
How to create an effective cross-selling scenario?
First of all, determine your strategy. Clearly specify what you want to achieve through cross-selling and adjust the tools to accomplish your goal. The next step should be getting to know your customers, their needs and their typical purchase path. Remember that using marketing automation tools allows collecting detailed information about your customers – it's no longer an anonymous mass of people, but a specific, living body with a name and other demographic details (not to mention shopping preferences and even social media activities). Knowing your customer's needs, you can further tailor your product recommendations to their expectations. Of course, some of the proposals are self-imposed, such as a shirt + a tie, a laptop + a bag, a book + another title by the same author. "Easy, everyone would recommend that," you might think. But thanks to systems that collect information about the customer during their online presence (and purchase history), you avoid suggesting products that they already own.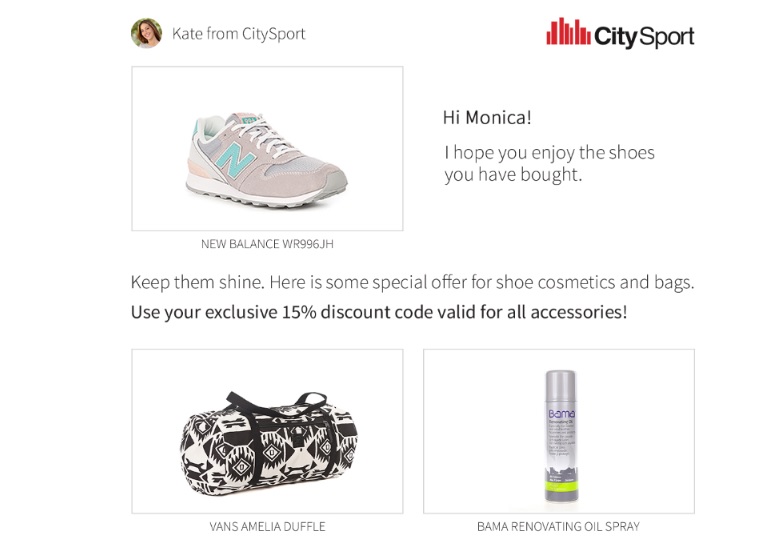 Then show the customer the benefits of using both complementary products. For example, prepare a style scheme using matching products and send pics with the complete sets via email. Or point to how having an external drive for one's laptop will help your customer secure and store their data.
How does it work in edrone?
At edrone, we have built our cross-selling strategy based on three possible scenarios:
The customer viewed the product
The customer has made a purchase
The customer has abandoned their cart
For the first group, we send an e-mail with product recommendations matching the goods that they viewed. In the second case, we suggest complementary products (e.g. phone case). The third customer will also be offered products from the same group as the product waiting in the cart (plus we can encourage them to complete the purchase by offering a small discount).
You yourselves will set the details as to when the customer receives a message, what products you are offering and which of the three situations you want to respond to.
You can also create your own messages based on available templates.
Steve Jobs used to say: "People don't know what they want until you show it to them", and in that sentence the whole strength and effectiveness of cross-selling is shown. It involves going out of your way to meet the expectations of customers – not only in theory, but also through the practical use of available tools. You get to truly know your customers and know what they can expect. And this knowledge is half the success.
CRM, Marketing Automation and Voice Commerce for online stores. All in one.