Master your target audiences
Marcin Lewek
Marketing Manager
edrone
Every advertising ecosystem is different, and each of them has distinct possibilities for reaching their audience. Each of them has its advantages and disadvantages.
The role of a marketer is to choose the right channel, the one which will work best for a given "mission." It's indeed undeniable, right?
Well, very often, marketers decide on several systems for entirely different reasons – they're easy to use or, even worse, they're popular. In the best case, they are driven by the popularity of the channel among the target group. In the worst case, by acknowledgment among the board of the company…
Among a few alternatives, the natural selection method is used to choose those that report the best results. In the CPC model, many channels – collectively referred to as "Social Selling" – do not withstand the pace, and the marketer resigns from them in favor of the more effective ones. Why is this inappropriate approach? You can find the answer in Krystian Kucharski's texts: "Social Selling" and "Modelling the Conversion Attribution." English versions of these are still in progress, so for purposes of understanding this article, I will extract the three most important pieces of information.
The Last Click attribution model is a bit outdated. It had some value when Google Adwords debuted on the internet – around the year 2000. But Digital Marketing has changed a lot since then.
Google Analytics is still a bit of an oracle. Most marketers and sellers only use it to analyze the effectiveness of their campaigns.
Ecosystems such as Facebook Ads will rarely be "last clicks." Instead, they appear on the path of most conversions and are an equally important element of a successful campaign.
But does it mean that ecosystems, like Facebook Ads, have to be limited to the role of supportive media? Do they have to be at the mercy of wise and fair conversion modeling? Not necessarily. Let's use the analogy of a football team – defender and midfielder also score goals!
Routine kills!
Facebook offers us various forms for reaching recipients – each one more sophisticated than the other. It is in the most clever and advanced of these that the power of the ecosystem lies. If you understand their real strength, you will be able to build a solid core for your marketing machine.
City dwellers? Certainly, geotargeting is a useful parameter, but it works best for narrowing down groups.
Interests and activity? They are one of the oldest ways of refining a target audience. However, they have a certain disadvantage. Let me show you why this in the quickest possible way.
This is a screenshot of my personal "interests," where advertisements based on my interests are displayed to me. Top 12!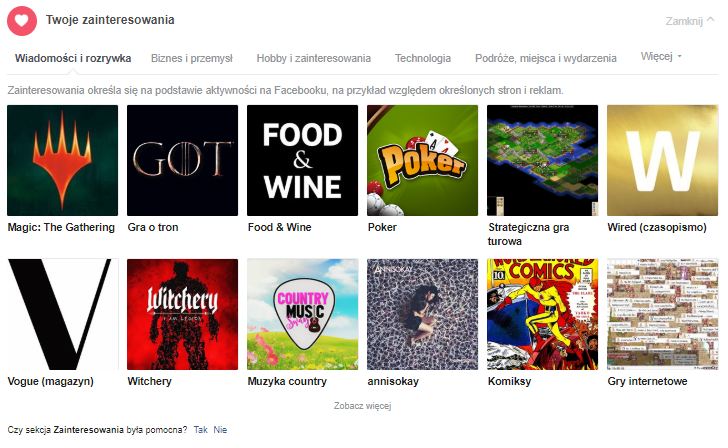 From the above list, in the circle of my actual applications, there are only three proposals. What is more, I have no interest in the two subjects at all. If you show me any advertisement based on these two black sheep, you will certainly burn your budget.
So, what should you do when creating target groups for your campaigns? In my opinion, you should be looking for support in the "solid" data, which are the actual reflection of the interest of our current and future customers.
Pixel
This one is so obvious that we will devote only a few sentences to it. The Facebook pixel has 3 main functions:
It accurately measures the behavior of users on any given site – including "checkpoints" on the path to converting your customers;
It allows you to create remarketing groups that have reached particular stages of the process;
It applies to the "knowledge" of the advertising system in a global way.
Videos
If you, as a marketer, have a video database that you can use to promote your brand, you are in a very privileged position – I hope you are actively using it?
Video is still one of the best weapons for a marketer. "Moving pictures will always be more eye-catching than static creations." However, this is not the most important thing; we don't want only to attract the customer's attention for a moment, do we? If a Facebook user is watching your content in its entirety, it's a testimony to something!
This approach is based on reliable, solid data. Don't waste such an attachment.

Events
Despite their high popularity, they are still treated as a form of organically building a community. However, events can also serve as an excellent target audience – it is enough that the advertising account has access to the event through the fanpage – the organizer of the Facebook event. What is most important – there can be several co-organizers, so it is possible – entirely legally – to become the owner of an interesting group, without the need to direct traffic outside of Facebook.
Lookalike
This feature can be called the black horse of the stakes. If you run paid campaigns on Facebook and you haven't had contact with them yet or just haven't had a chance to test them… this means that the best things are still ahead of you. But what is it all about, and why are LAs so cool?
The Lookalike is "a group of similar people."
We create such a group based on an already existing one, projecting it onto a given population in a certain percentage degree.Example: Using the Facebook pixel, we create a group of customers of your shop – those who have converted (our benchmark group). On this basis, we create a 1% Lookalike in Poland.
What did it give us? Based on the behavior of your customers (the benchmark group), Facebook selects 1% of all Polish users of the portal (which corresponds to 180,000 people at this moment). This is not just a random group. It is those whose behavior, also on external websites (with a pixel installed), is similar.
That's all? Yes.
What's so exciting, then? Everything about it!
It is good practice to exclude model groups from Lookalike. Then you can be sure that you are directing the message to new users, whose acquisition is the main task of Lookalike.
Facebook Ads Specialists most often create Lookalike 1%, 2%, and 5%. In the light of recently announced changes and constantly developing automatic optimization, there is a trend to create even wider, so we added 8% to the rate. Here too, it is a good practice to exclude the narrower ones from the wider Lookalike:
8% – 5%5% – 2%2% – 1%This creates a kind of cascading system, leading the user – once you manage to get his level of involvement – towards the sales funnel, or "up" the cascade – straight into the reference set, i.e., the "hot" one, on which you have based a group of similar recipients.
Regardless of the chosen goal and tactics, it is worthwhile using different combinations of the Lookalike range. It may turn out that LA 2%, LA 5%, or even LA 8% for some reasons will click better, the stake will be more favorable, or not at all – your return on marketing investment (ROMI) itself will be much higher…
Why is this so?
Lower CPCs or CPMs can easily be explained, for example, Facebook users who have an advertising ecosystem may have a lower price, but that doesn't mean they're automatically your customers. A larger group of recipients means more space for advertising, so the system will have more freedom to put them in different placements, which will result in a lower price during the auction.
What about when ROMI is higher?
At first glance, a cheaper conversion among people less similar to your clients (LA 8% to LA 2%) does not make sense. There may be many reasons for this, of course, but first, consider two options:
Lookalike 1% may be already familiar with you. It may be the percentage that was on the website, but for some reason wasn't purchased, and it is not going to be done on the terms that it found.
Outside the reference group, all people who have been in your shop are excluded from Lookalike. Focus on those who are FULLY new.
If you have invested a lot in this "refractory" group, it may be worthwhile to hook up those for whom the price was slightly too "prohibitive."
Perhaps your customers and Lookalike on their basis aren't your most valuable customers? Perhaps you have just made an exciting discovery. Pay special attention to this broader group. See how they react to other messages. Analyze them with any (and preferably all) available tools – the answer may be surprising.
Your intuition and knowledge of the industry is one thing, but in performance marketing, it's facts that count, and these clearly say that you haven't thought about someone, and they care about you very much.
What more can I do with it?
Lookalike appeared at the very end of the stakes for a reason. In fact, it can be applied to all targeting options. What can you do with them? Dear marketer, everything!
Simple remarketing, remarketing to a certain level of the conversion funnel, watching videos, being active on your site… the possibilities of creating Lookalike are virtually limitless.
Videos & Events + Lookalike
Videos and Events were mentioned earlier as hard groups of committed audiences. All the Lookalike groups creation rules apply to videos and Facebook events, as well as the "procedure" for testing them. But remember: these "rules" and "procedures" are only guidelines.
CRM + Lookalike
Target groups are nothing more than user sets. Use your existing customer base! If you know edrone, you know that one of the core functionalities is RFM analysis, and we pay a lot of attention to it. If RFM is a new term for you, then you just need to know that:
It's a type of analysis where we are using the segmentation of customers based on three variables: Recency, Frequency, and Monetary Value Spent.
Due to these three variables, we divide users into 10 segments. Each of them differs from the others in the suggested marketing message approach.
Important Fact: About 20% of your customers generate 80% of the profit (Pareto Principle). They belong to groups called Champions, Loyal Customers, and Potential Loyalists.
Imagine now that you are creating a group of customers to which these three segments belong. Let's recall: according to the RFM analysis, these are people who buy regularly and for large amounts in your shop. Generating Lookalike group on their basis, you choose, de facto, the top of the top, the most committed buyers in your industry.
Of course, we haven't listed all of the most effective methods of getting through Facebook. Remember what we wrote in the introduction to this text: it all depends on the chosen goal and attribution model in which you account for paid impressions.
There are no "golden methods" here. If you expect more than just reach from your ads, you should give these combinations a chance. There is only one answer to the question: "Is this an effective method?" It's "Test it!"
Marcin Lewek
Marketing Manager
edrone
Digital marketer and copywriter experienced and specialized in AI, design, and digital marketing itself. Science, and holistic approach enthusiast, after-hours musician, and sometimes actor. LinkedIn