7 ways to boost online sales in the run-up to Christmas
Aleksandra Stankowska
Senior Content Designer
edrone
A fragrant Christmas tree, colorful lights, Christmas decorations and mock-ups of presents stare at us from shop windows months before Christmas.
Have you ever found yourself strolling through shopping malls in November, humming Christmas carols coming from the shop loudspeakers into your ear? That's right, so you can see how early the Christmas madness starts.
So that you don't miss out on your offer and have to chase after customers that your competitors will surely want to attract, it would be a good idea to create a great offer and start your Christmas campaign earlier. Therefore, we have prepared for you some valuable tips that can help you increase your eCommerce sales in the run-up to Christmas.
Check the website design
This is a fundamental aspect that you need to take care of. The first impression is the most important one, so don't let users abandon purchases in your shop because of a poor interface on your website. Try to make it comfortable to use and intuitive to navigate. Minimise the number of steps in the whole process. You can add a progress bar that shows customers where they are in the shopping process. Also, make sure that the order completion process is smooth so that the user doesn't have any opportunities to get confused. Research by Baymard shows that $240 billion in lost orders could be recovered by optimising the order finalisation process in the US and Europe. You can see for yourself how important it is to design each step properly.
Replenish your stock
Since the pre-Christmas period is a great opportunity to increase your sales, eliminate anything that might get in your way. Check your warehouses, don't let them run out of stock! This special time means that you need to have even more products available. The huge number of customers buying all kinds of gifts, discounts, sales, in a word the shopping frenzy – take it all into account and plan it well. Analyse previous years and how much you managed to sell then. This is very important, because the complete absence of an item that a customer wants to add to their basket can cause a negative perception of your brand. And after all, you don't want your customers to be taken away by your competitors, do you?
Strengthen your marketing efforts
Ok, you already know how not to lose customers, but what can you do to get them? Especially during this period, it's about strengthening your marketing efforts. Plan regular social media activities. Communicate with your potential audience wherever possible. Let them know what you have prepared for the pre-Christmas time, show them what products you offer. Maybe you have something that no one else has? Use it! And don't forget about your loyal customers – maybe a special offer will get them even more involved?  Design a special, personalised newsletter for this occasion. You can offer Christmas promotions or include photos of products that you think would make great gift ideas. After analysing previous years' sales, you'll know what sells best.
Recommend desired products
To tailor your message accordingly, you can organise your customers' information in one place. Imagine that you want to create a mailing or design a newsletter and you do it based on the data you have collected there. This will allow you to easily and quickly create the right message to engage your audience. Customer Profiles in edrone are pages where all the most important information about a given user is collected. Their interactions with your shop are monitored, so you know exactly what they need and what you can offer them – also for Christmas.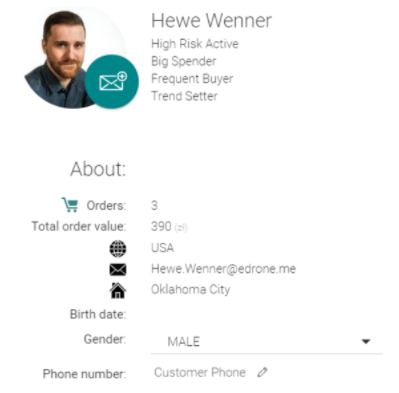 Take care of delivery stuff
Gift selected? Then let's move on. In the run-up to Christmas, most people worry about whether the product they ordered will arrive on time. Consumers panic when another day passes and the parcel still hasn't arrived. This period is particularly stressful! It is important that orders are delivered to customers as quickly as possible. You don't want them to place their next order with your competitors, do you? You might want to consider additional delivery options, such as express delivery or same-day delivery. Before the holidays, customers are willing to pay extra to have everything under control and not to be late in giving their loved ones a gift. Don't forget to keep them updated on the status of their order, which will certainly put their minds at ease.
If you can afford it, offer free delivery. This is not only a great benefit for your customers, but also for you. You don't have to cover the shipping costs yourself, just add it to the product price. By offering free delivery, you can increase your customer base, the number of orders, and their value. Customers will definitely feel that they can put more products in their basket or choose more expensive ones if they don't have to pay for shipping. This is a particularly beneficial option if its terms go hand in hand with a friendly returns policy.
Offer to return gifts
The sheer volume of products in the shops, the array of gadgets and things that can become Christmas gifts, makes people go on a shopping spree. It's not always easy to find the right product for the tastes and interests of family and friends, so gifts sometimes have to be returned. Even before you place your order, you may wonder whether the product will live up to your expectations. So you can clearly communicate to your users that they can take a risk, because they can easily return the purchased goods. Specify the return period – you can also add instructions. Convince your customers that they are not losing anything.
Improve your customer service
The pre-Christmas period certainly means increased traffic to your eCommerce site. Your visitors will range from those who know what they're looking for to those who are unsure and need you to address their concerns. It is important that they receive an answer in the shortest possible time – even before they have time to leave your website. For this purpose, you can implement a Chat Widget, which we also offer at edrone. This feature has been created to help online shops provide quality customer service. Show your visitors that they are important to you and that you are there to help them. This will definitely increase the likelihood that more people will complete a transaction with you.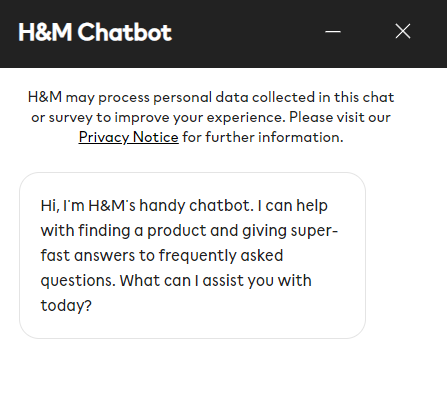 Before the Christmas madness begins, but also before any important occasion, identify your main goals. This will help you to plan your activities. If you know where you want to get to, you can also analyse the path that leads there. Measure performance indicators that will allow you to put your actions into perspective in the future. You'll be able to use the information and data you gain in future years, allowing you to be even better prepared for the next big thing in your eCommerce business.  
Aleksandra Stankowska
Senior Content Designer
edrone
She cares about good quality content. Believes that success in e-commerce depends on the right approach. She claims it is good to know something about everything, but specializes in modern marketing. LinkedIn