Customer Care in the Age of Digital Technologies
Andre Floriano
Country Manager
edrone
Understanding the importance of customer care in the digital age and how you can improve your eCommerce with it is a game-changer for your business.
It is no secret that serving customers well should be the priority of any eCommerce that wants to increase its sales, have a good reputation with customers, and a prominent position in the market. However, with the evolution of technologies and new functionalities coming to the market, this has even more importance now.
In this scenario, Customer Care — in other words, the way customers are served when they interact with a company — deserves special attention.
Customer Care in the digital age
Have you ever paused to think about the changes that have happened in the digital age regarding how you can interact with your customers?
Market Finder, a tool from Google, listed some of the main differences between the past and the future of Customer Care: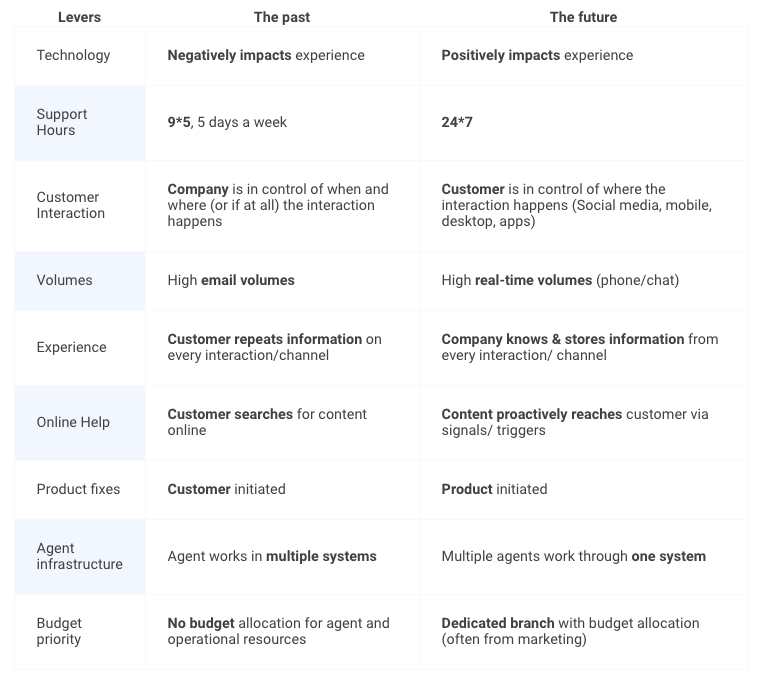 Customer Care matters
Why Customer Care can increase your sales and improve your reputation with customers?
Here are the three main reasons:
Serving well means greater customer retention
When you worry about offering quality service to your customers, you have a great advantage: they will tend to continue shopping in your eCommerce and not buy elsewhere.
To understand this better, it is important to quote a survey by Zendesk, a reference company in online customer support. According to it, a good reputation for customer service is the main reason for 40% of customers to start buying from another brand.
So, good customer service is synonymous with savings, since customer retention is much cheaper than acquiring customers. Selling to someone who is already your customer is easier than buying from you.
You don't have to dispute prices with competitors
As your eCommerce has a good reputation for customer service, you have a great competitive advantage: you don't have to lower your prices to compete with other brands.
Your margins can remain the same and, even so, your number of customers can grow simply by having good customer service.
This is because there is a shortage of customer care in the market. So customers may pay higher prices for products or services from companies that care about them.
According to a RightNow survey, 86% of customers are willing to pay up to 25% more for better service.
Your eCommerce can take advantage of free marketing
The best marketing, no doubt, is that done spontaneously.
Besides retaining your customers, worrying about customer care will probably make them refer your eCommerce to other people (family, friends, acquaintances, etc.), creating a spontaneous marketing campaign without you having to pay anything for it.
Similarly, the opposite also happens. When a customer has a bad experience with a brand, they tend to share it to discourage people from buying from it.
So pay close attention to how your customers are being treated when they communicate with your company because it will directly determine how your brand is perceived by them and all the people they share their experiences with.
How to apply Customer Care to your eCommerce
Now that you understand the importance of Customer Care, it's critical to know how to apply it to your eCommerce.
So, let's go to the 7 steps of implementing Customer Care:
Map the customer's journey
The customer's journey serves to identify the status of your customer (if you have already purchased your product or service, you only know, you are still a potential customer, etc.) and understand how to tailor the communication to your profile.
Different customers should be treated in different ways, always respecting the current state they are in and seeking their loyalty.
Know your product or service
To ask questions and solve your customers' problems with your product or service, you obviously need to know how it works.
With this, you can prepare yourself to answer the most frequently asked questions about each product or service, decreasing the waiting time of the customer and making the process much easier.
Train your employees
It doesn't matter how big your eCommerce is. From the very beginning, your employees need to understand that good customer service is a fundamental part of the company.
And this does not only apply to employees in the Customer Care area, but to everyone – after all, customers must be well taken care of in all contacts you have with your brand.
Show respect and proximity
In the digital age, we have several chatbot tools that allow automatic messages in the chats of the sites. On the one hand, this feature is interesting to decrease the waiting time of the customer.
On the other hand, such solutions still aren't flawless. A bot can answer simple questions, like terms of returns, or opening hours, but in more urgent cases, their clumsiness can make the situation even worse, when they will face the rather annoyed customer, or fulfill a more delicate query.
Answer quickly
As said before, chatbots allow automatic answers and faster forwarding of customers to a certain sector according to their questions.
But employee service, while being humane and welcoming, must also be fast and focused on solving problems. After just 5 minutes, the chance of purchasing a product after a query falls drastically. After 10 minutes chances for conversion fall, even more, around 400% in comparison to queries answered within a 5 minutes window. This difference matters!
The speed of your service can be a differential for the choice between your brand and your competitor's.
Constantly ask for feedback
After making the calls, always ask for feedback. Understand your customers' complaints about the way they have been treated to make sure everything is going as planned.
Without listening to the most important person in customer care (the customer himself), it becomes very difficult to improve the process to solve new demands and needs that your customers will eventually have.
Use feedbacks to improve
There's no point in asking for feedback and not using them for anything.
So, after gathering a good number of feedbacks (the 1-month accumulation, for example), pay attention to all of them and start identifying if there are standards among customers.
Next, study improvements that can be implemented in your eCommerce's customer care from the most recurring feedbacks and start training your team according to them.
Conclusion
At this point, I hope you have understood that Customer Care deserves a lot of attention in any eCommerce that wants to succeed.
After all, this is one of the best ways to take care of your company's biggest asset: the customer.
So don't neglect this process. Implement it in your eCommerce, train your employees, and serve your customers with practicality, humanization, and focus on solving problems.
Andre Floriano
Country Manager
edrone
Brazilian living in Poland. Lived for 10 years in the U.S. With experience in international business management and marketing. Currently, Country Manager at edrone Brazil.