Push Notifications – How to survive in the tough times of AdBlock
Do you want to finally reach customers who ignore newsletters? Are you tired of AdBlock and spam filters? We know how to solve this! Learn more about push notifications, that enable you to reach up to 76% of the users visiting your online store. Make your customers receive personalized messages tailored to their needs, and […]
Do you want to finally reach customers who ignore newsletters? Are you tired of AdBlock and spam filters? We know how to solve this! Learn more about push notifications, that enable you to reach up to 76% of the users visiting your online store. Make your customers receive personalized messages tailored to their needs, and thereby increase the Open Rate by 50%, and increase the Click Through Rate as much as two-fold.
What are Push notifications?
Push Notifications are messages that appear on the screen in the form of small, rectangular announcements. They allow you to establish relations with customers of your store in real time in a 1 on 1 form. When a customer visits your store, they receive a message asking if they want to receive notifications. If they agree, they receive messages concerning the website both while browsing it, and after leaving it.
The essence of push notifications lies in real time communication with the customer and displaying content based on what the user is doing at the given moment in our store and what products they are viewing. Push Notifications are a great complement to our newsletter, reaching customers who typically ignore such emails. Push Notifications do not require data such as email address to send a message because the messages appear directly on the screen. This allows us to react immediately, for example, when a customer abandons the shopping cart.
Image 1: Push Notifications appear on the screen as rectangular announcements. A user will receive them even after leaving the website.
The more or less conspicuous advantages of Push Notifications
One of the less obvious advantages of Push Notifications is the need for the user to accept the notifications. It would seem that this could reduce the reach of our messages, but it actually helps to increase the trust towards the company and to build lasting relationships with customers, because we do not scare them away with aggressive advertising. In addition, the user is more inclined to click on the Push Notification due to the fact that they agreed to them.
As Push Notifications are a new channel of communication, they are not yet as widely utilized as e.g. newsletters, which are used by almost all online stores. That is why the competition is small, and we are taking in the profits. Don't wait!
An important advantage of Push Notifications is also their resistance to Adblock and spam filters. This is great news when more than a third of Polish internet users employ AdBlock, isn't it?  (Similar statistics are observed in Germany and the UK, while in France about 10% of users block ads, and 16% do so in the USA). Therefore, in contrast to advertising purchased on websites we do not have to worry that our message will not reach the recipient.
Image 2: Subscribe window opens after clicking on a bell icon.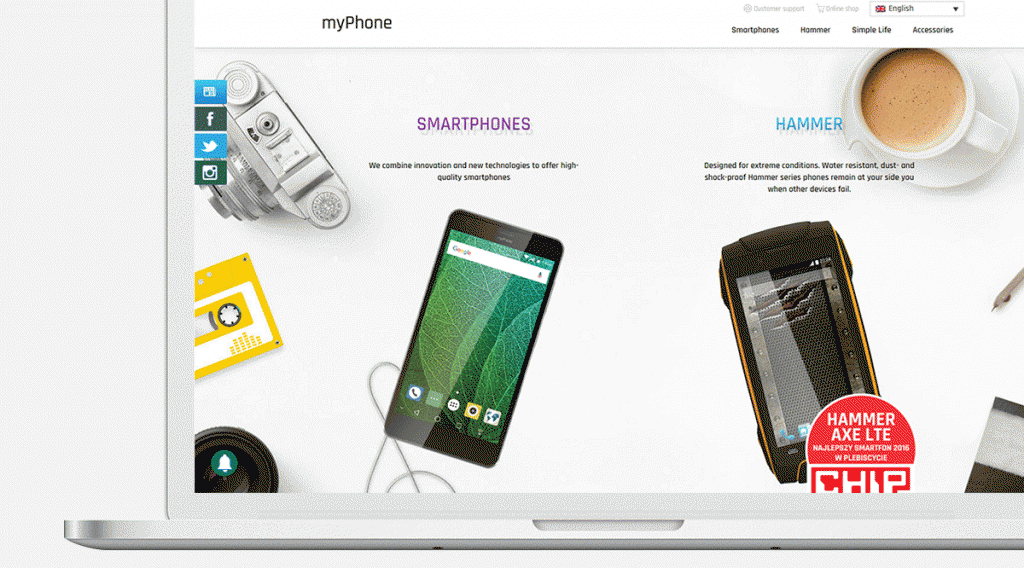 All these factors influence the remarkable effectiveness of Push Notifications. Among users between 18 and 34 years of age up to 76% agreed to receive them. In addition studies shown an open rate higher by a half, and a click-through rate that was twice higher.
This does not mean, however, that Push Notifications will be equally effective every time. It's worth to stick to certain rules, that will help to improve their effectiveness. How can we "squeeze" as much as possible out of this tool?
7 tips on how to use Push Notifications effectively
1. Don't be pushy
Sometimes less is more. Even the most faithful customer will get fed up, if they are bombarded with messages from every direction. Additionally, notifications that are received too frequently will distract the user and draw their attention away from shopping. You should, therefore, adjust the number of notifications so as not to scare the customer away.
2. Be creative
You do not have to flood you customers with offers alone. Build relationships. Send messages that will intrigue the customer and make them return to the store. You can, for example, thank them for visiting the store, express your hope that their shopping was successful and that they will return soon, or suggest reading a text from blog, if you have one.
3. Be consistent
To ensure that notifications do not look like spam, their content should be consistent with the image of the brand and should be tailored to the intended audience. After all, you will not use youth slang if your target group consists of people aged 50+, will you?
4. Maintain a uniform design
Adapt the subscription box to the appearance of the entire site. Instead of a pop-up window that resembles an aggressive advertisement create one that is consistent with the visual identification of your brand. Use the same color scheme and typeface. This will increase the likelihood that your customer agrees to receive notifications, and after all this is necessary for your messages to reach them.
Image 3: Push Notifications subscribe window should be deisigned to visually match the website.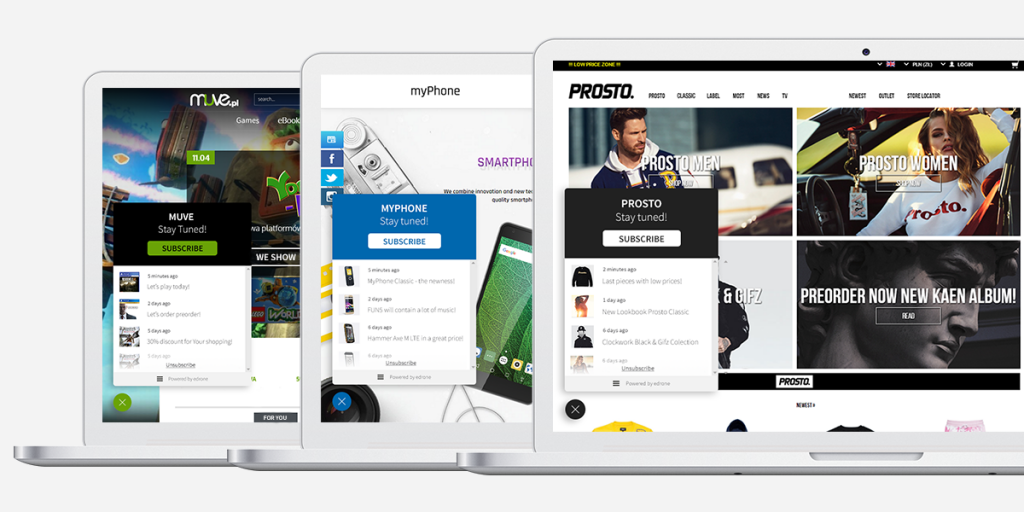 5. Draw the attention of the user visiting your site
Let's be honest –  there is a lot of elements on the screen Make sure that the recipient doesn't overlook your message. Include your company logo or another image consistent with the content of the message. A colorful image attracts attention a lot more than regular text. An additional benefit from the placement of your logo in the message is that the customer will know that the message came from you, even if they see it after leaving your store.
6. Adapt the message to the customer
Notifications should be tailored and adapted to the customer and their needs. Utilize the data that you have about the customer in order to create the most adequate content. The more information you have, the better the result.
7. Be there "on time"
According to research the best moment of the day to send Push Notifications is between 12 and 17 from Tuesday to Friday. These data, however, apply to the average person. If your target audience, for example, works at different hours than the typical 9AM to 5PM, you should verify what time will be the most appropriate to send notifications. The best moment is when the users are not too busy with work, so they can read the message, but we should also avoid disturbing them during their free time.
How does it work?
edrone gives you the ability to independently design push notifications tailored to your needs, starting with the subscription window that you can design to ensure that it is visually consistent with your website. Then you proceed to create the notifications that your customers will receive. The content of the message and the graphics are solely up to you – you can therefore use your logo or any other image. In addition, you can specify when the message will appear to the user. Immediately after the confirmation of subscription? Or maybe at a specified time? Once you design the entire message you can send out a test notification to see how it looks in full glory.
After sending your message, you can evaluate its effectiveness – check how many notifications were sent, how many were delivered, and how many were clicked on. Therefore you get a measurable tool whose effectiveness can be tangibly verified.
Push Notifications can also serve as a channel for the implementation of ready-to-go scenarios available at edrone, such as rescuing shopping carts or recommendations. Because the push notifications that we provide to you are a coherent part of a larger tool, the data about users are collected by a single system. This way you can avoid the duplication of recommendation sent by push notifications and by email or create your own procedure for rescuing abandoned shopping carts. For example, if a customer abandons the basket they will receive a message after 15 minutes in the form of a push notification, and if they do not respond to it, they will receive another message in the form of an email.
Thanks to edrone you receive a tool that gives you new abilities for comprehensive development of customer relationships and reaching them through various channels. By delivering your messages, offers and newsletters through various channels, you reach a wider group of customers, including both those who have already signed up for the newsletter, as well as those who visited your store for the first time. By using our tips, you are able to create effective push notifications that will not only translate into increased sales, and consequently profits, but will enhance your brand's image and  building confidence in it. This increases the likelihood that the customer will come back to you.
Register on WEBINAR
CRM, Marketing Automation and Voice Commerce for online stores. All in one.