Black Friday is about to knock on our door – this year, it will fall on 25 November. Shopaholics are already in their starting blocks in anticipation of attractive discounts and promotions!
In keeping with tradition, they will celebrate this annual shopping holiday by taking advantage of countless deals created especially for them.
However, not all bargain hunters will choose to shop in brick-and-mortar stores. Some of them will spend this autumn evening curled up in an armchair with a mug of their favorite tea, ready to spot any tempting price markdowns online. Every year, there are thousands of promotions available. As an e-commerce owner, you are well aware of what this means, as each year you are tasked with getting them ready in time. 
Read on for some useful ideas on how to entice potential customers and boost your sales! Take a look at the top 7 Black Friday strategies and types of newsletters you can send to your subscribers to encourage them to keep on shopping. 
Discover: What is a product data sheet and what should it look like?
Check the stock levels of your products
The first step is about assessing your product inventory. Take a close look at your stock levels. See what products you have plenty of and which are running low so as to prevent them from running out of stock in the middle of a promotion! All these irresistible offers and discounts mean that Black Friday equals much higher numbers of online shoppers than usual. You should always keep this in mind. The unavailability of a purchased product can put your brand in a bad light. Analyze what customers bought in previous years, which products sold the quickest, and which promotion was the most successful – and remember to stock up! 
Start your social media campaign early
Allow potential customers to notice your store before they notice others. Start your promotional campaign in advance and make yourself memorable ahead of Black Friday. 
Make yourself seen on social media – let young people find you and discover your store.
Announce your special offers – remind users about upcoming promotions every few days by adding dedicated images or videos to your profiles. 
Provide clear information about your promotions – let your customers know exactly what you have in store for them and try to answer any questions they might have. Leave them no space to question your brand. And above all, make yourself memorable! This will increase the likelihood of them buying from you. 
Send newsletters reminding subscribers about your special offers
If you already have a customer base, use it to send out newsletters advertising your Black Friday promotions. After all, customers always look for the opportunity to make some savings and put any attractive discount vouchers to good use. With edrone, you will personalize your messages, add discount coupons and deliver them to your target audience. The system will automatically assign the users to individual segments according to specific criteria (transaction value, frequency of purchases, subscription status). 
Don't forget to find out: How to build a mailing list?
Newsletter
Know & grow! Become one of over 1,000 online stores growing with our expertise.
Be original and gain an advantage
Black Friday is a celebration of amazing discounts. Prices are plummeting, and customers hunt for bargains, but is this all about discounts? Absolutely not! Discounts alone are not enough, as they are almost identical from one seller to another.
In all of this, originality is the key.
How could you help your customers to distinguish your brand from others? Everyone offers 30/50/70% discounts, so you should come up with something that will set you apart – a catchy slogan that customers will remember and which will make you recognizable, a new product launch, or limited offers that leave customers less time to make a decision.
Give your promotion a special meaning. How about donating a few percent of profits to a charitable cause? All these methods can assist you in winning over online consumers. Don't forget to analyze your activities from the previous year. Take a peek at what your competition is doing to avoid duplicating the same practices and boring your potential customers. 
Customers perk up when something's afoot! So give it some thought!
Remember about abandoned shopping carts 
On Black Friday, the ratio of abandoned shopping carts reaches record highs. This is no surprise. Customers compare a variety of offers when seeking the best available deals. Is there a way to minimize shopping cart abandonment? The solution is simple for the already registered customers, as the Recover Abandoned Carts scenario can be easily modified for the duration of these few days. 
What about customers who are not listed in your database? This is where the exit pop-up, launched in the shopping cart, will be useful. A customer wanting to leave the site before finalizing their order will be shown a pop-up where you can offer an additional discount for leaving their details. Once you have acquired the necessary data, you can effectively reach out to your new customers using the abandoned shopping cart scenario. 
Make the most of cross-selling
To increase sales in your online store, look no further than cross-selling campaigns. The edrone system lets you cross various product categories with each other. This way, when selling a coat, you'll be able to offer customers additional products – elegant winter boots, a scarf or a matching hat. Will they give in to temptation?
This is more likely to happen on Black Friday!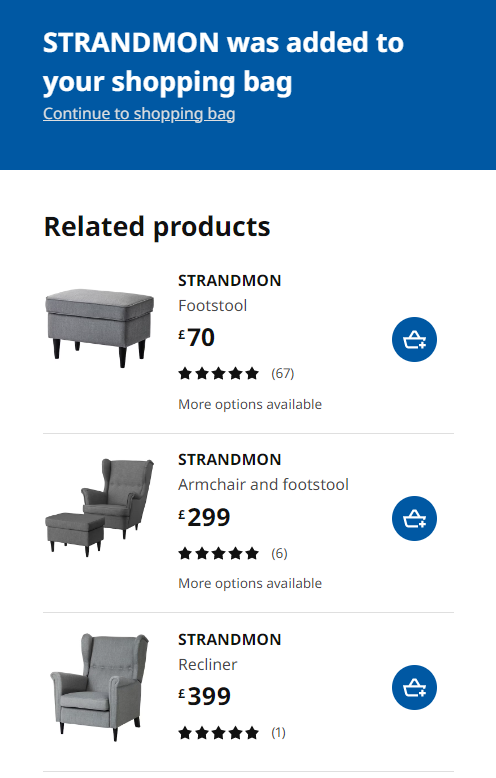 Reduce shipping costs
Another method of boosting your sales is offering free shipping. How many times have you got to the shopping cart only to abandon your order because of high shipping costs? This has happened to me so many times! Remember to inform your customers of delivery costs right from the start. If you cannot afford to provide free shipping, try reducing it as much as possible. This could be one of your biggest advantages over your competitors. Don't forget to announce this ahead of Black Friday – use your social media posts and any other channels featuring your campaign.
What type of newsletter is suited to Black Friday? 
Before you send any emails to your subscribers, think about the objective you want to achieve and the target audience you wish to reach. Here are some examples of emails that can work well for Black Friday (and on other occasions!): 
This basic option involves creating a universal message and a single promotion for all your customers. Here the focus should be on delivering a clear message with a visual emphasis on the promotion, instead of giving it a context, for example, one related to products. This will allow your customers to feel like real hunters – which they genuinely are during the Black Friday season. Even the fact of receiving your mailing is evident of a certain degree of attachment. Seize the opportunity and give them time to review your special offer. 
Newsletter for the top customers
It pays to reward your best customers on this special day by preparing a special offer just for them. This is where advanced segmentation will come in handy, as it will enable you to clearly identify your most valuable shoppers. Based on our experience and the database of our customers' results, we know that freebies added to orders and 2+1 promotions are the most effective. Offering free shipping is also an effective incentive to place an order. 
An email reminding customers of the ongoing promotion
Black Friday promotions last all day and sometimes even the entire weekend. For this reason, it's a good idea to contact your customers outside of working hours. Your message will be displayed at the top of the inbox, informing of the time left to take advantage of the best promotional offer. Use the subject line to remind your customers that they only have 1 day, 4 hours or 59 minutes to snap up your products at a bargain price. Doing so will generate a FOMO effect, i.e. a sense of urgency to make a purchase. 
Email about special offer extension 
The shopping frenzy does not have to end at the close of Black Friday itself. For example, you can extend your promotion by 48 hours and inform your customers by email. If you're unwilling to offer such substantial discounts for 3 days straight, cut them to size and offer 25% instead of 50% – trust us, they will also be incredibly effective. Such deals are especially useful for a Johnny-come-lately who has missed out on Black Friday. Your special offer will be a real lifesaver for them. 
An interesting alternative could be to extend the promotion by a whole week but only for those customers who made a purchase on Black Friday. Such a solution would certainly work in e-shops with a lower shopping cart value. Have confidence in creativity, as it's the driving force of great marketing. 
Message reminding customers about their abandoned carts
Black Friday is shopping madness. Customers fail to keep track of countless discounts and often add products to their carts, only to abandon them moments later. Black Friday is known for its record-breaking number of abandoned shopping carts. During Black Friday 2021, this number amounted to almost 80%! 
However, you can employ some effective methods to recover abandoned shopping carts:
you can send a dedicated email and offer your customers free delivery,
you can also increase the discount by a few percentage points
you may also consider extending the promotion for those who abandoned their carts on Black Friday.
Don't forget to find out: How to create newsletters? 
Do you want to increase your sales and build even better relations with your customers?
Book a free demo
Catching the eye of your potential customers among hundreds of offers is no easy task, especially on Black Friday. Remember that even the best system won't do all the work for you. In the frenzy of hundreds of orders and campaigns, keep in mind that there is another human being on the other side – one just like you. And it's not in your customers' interest to generate profits for your store. Your customers are willing to leave a certain amount of money with you in return for the ability to improve their quality of life, make it more fulfilling and interesting, and have the option of growing or investing in themselves. Your role is to make sure that they remember their purchase as worthwhile. 
Aleksandra Stankowska
Senior Content Designer
edrone
She cares about good quality content. Believes that success in e-commerce depends on the right approach. She claims it is good to know something about everything, but specializes in modern marketing. LinkedIn