As we all know, smartphones rule the mobile market today, and adjusting to it is nowadays in fact the necessity of virtually any company. There is no mercy!
Possibility of bulk SMSs is a very applicable and useful marketing channel which helps to be successful in today's, yet mobile world. This should not be surprising – open rate in the case of SMS messages stays at the level of 98% and this within three minutes after the transmission! Isn't it impressing?
No other tool provides such excellent effects as the transmission of SMS making it the most convenient form of communication with a customer. It would seem that SMS is a thing of the past. Eventfully, we have mails, telephone connections, push notifications, pop-ups and many, many others. Advanced technologies have rapidly taken over markets of today, but – easy – that does not mean that "old, good times" have passed away forever. Contrary, SMS is still a leader in terms of users' engagement. Specialists, who do not give up this traditional method of attracting customer's attention, know about it. Look at the below graphics, it will serve well as the answer to the following question: Why it is worth sending SMSs to customers?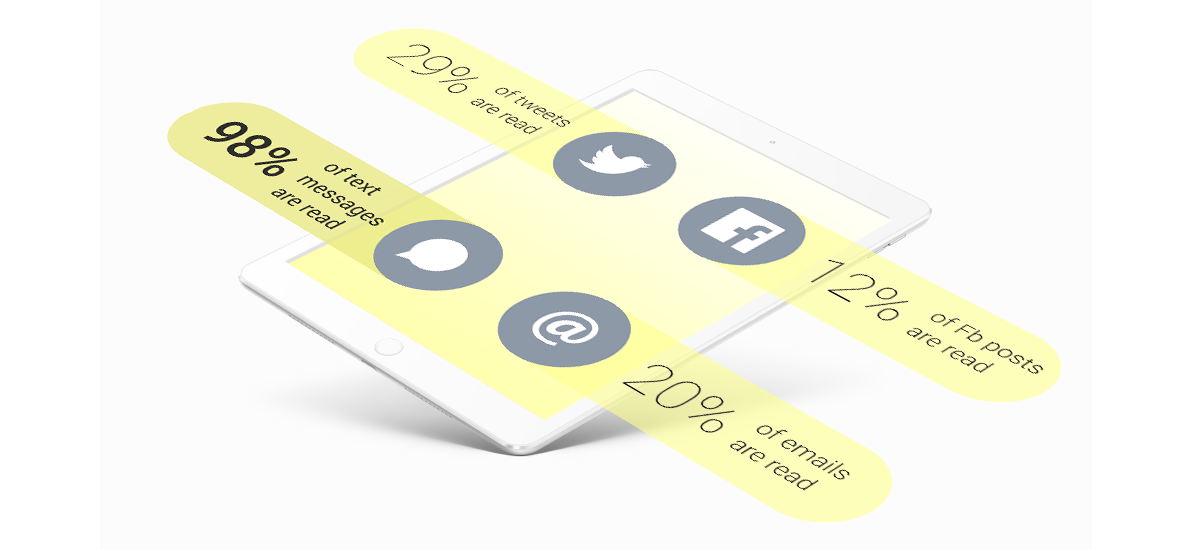 SMSs as a way of maintaining long-term relationship with your customer
Do you want to improve marketing communication with your customer? Send him/her an SMS. Why? Because it is a fast, relatively cheap, and what is most important – effective method. In addition, we remain within user's "circle of interest" much longer.
Both big enterprises and small companies may benefit from it. Neither the model of telephone nor telephone network has any importance. In simple terms – bulk SMS will allow you sending large number of SMSs within the same time. In terms of cost-effectiveness of your business – it may be bull's eye. In the same time this represents huge opportunities for companies, thanks to good targeting of messages that match up the target group.
Bulk SMS is most often used as:
Advertising
Sending notifications (e.g. "Join our loyalty program")
Reminders (e.g. "Still just a few days left till the end of sale")
Short messages
Verification of protections (password confirmation)
Product information
News
SMS newsletter
Why it is worth?
If your customers database is extensive and you want to reach them fast (and in the same time) with a specific message – there is no better method than bulk SMS. Regardless of whether this is a reminder of commercial offer, important message or message with news. Bulk SMS is not reserved merely for big companies, SME may also successfully benefit from their own marketing strategy. And although it seems that e-mail marketing is the most effective way of reaching customers, it is worth noting the small percentage of openings of such messages and supplement it by e.g. SMS. Due to the fact that these messages directly reach the user's devices – which are (usually) held by everyone, and what is most important – do not require Internet connection – they are opened in approx. 98% of cases.
Think about bulk messages as additional business offer, which may increase your sales and revenues, as it gives you opportunity to reach your customer through channel that suits them best, with most important information or services that you want to offer them.
Who should benefit from the possibility of bulk SMS? Most of all Internet stores – there is much that you can do here and with no limitations and it depends merely on your marketing strategy. But this is not all: Private and public schools may also benefit from bulk messages to send fast any information to parents and teachers. Hotels and restaurants should also consider possibility of sending special offers or invitations by means of SMS. Publishers, theatres, cinemas, galleries may use them in order to announce premieres of new books or invite people to opening nights and exhibitions.
How your company make benefit from bulk SMS?
These are just few examples, how you can make use of sending bulk SMS to improve the value of your interaction with customers.
Send reminders – we are in constant move, so are your customers – and like everyone, they may forget about something. That is why they need fast and specific information from companies they collaborate with.
SMS marketing increases your sale – it assists you in marketing of new products and services directly through SMSs.
Keep up – to – date with your customers – maintain your loyal customers close and make them feel important.
Send notifications if there are any problems which your customers should know about – for example temporary failure of system operation or inoperative discount code etc.
Integration with SMSAPI. How does it look in practice?
We have known for a long time about the fact that we would like to offer our customers the possibility of sending SMSs to their databases. We have opted for integration with SMSAPI. Why?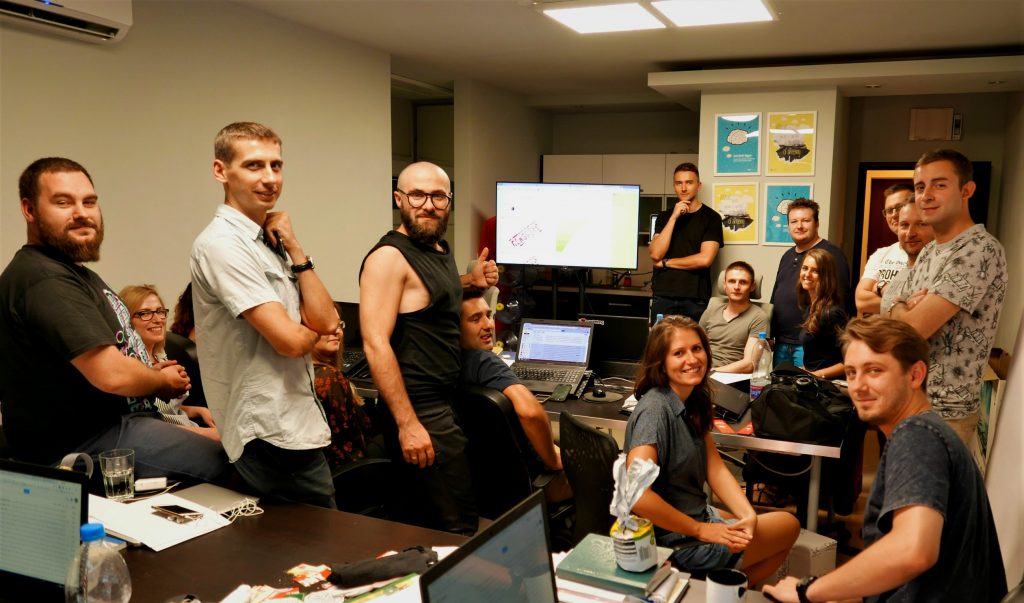 Most of all, they make available many tools which support bulk SMS, among other things the possibility of easy import of database with numbers in the form of such files as *.csv and *.xls. You may not only import the recipient numbers, but also other details, e.g. recipient's name and content of message which allows you implementing transmission of fully personalized bulk SMS.
We use integration with SMSAPI in the case of baskets abandoned in edrone. Primarily to fully benefit from possibility given by sending bulk SMS to customers, you have to properly configure the account in SMSAPI system and link it with edrone. You do not know how to do that? Our instructions will help you.
We start with "adjust" section. Here you have the possibility of selecting the channel through which your customer will receive a message. You also determine which one your customer will get as first, second or third (depending on indicated number).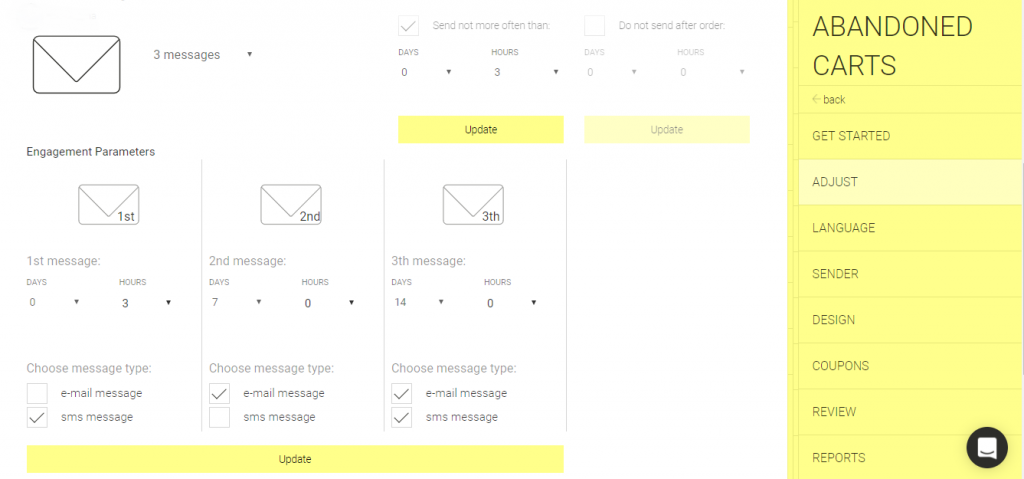 In the next step you have to define the sender- you will do that in SMSAPI panel. Sender's names are automatically imported to edrone and we select them in "adjust" section.
Then we move to "design" section where we determine the message to be edited. Remember that you may click only on the message which appears in a given scenario.
You will find more detailed information about integration with SMSAPI in our FAQ section.
CRM, Marketing Automation and Voice Commerce for online stores. All in one.