5 changes in SEO to watch in 2022
Wondering how to optimize your website so that Google will display it in its top search results? Everyone is. The trick to effective SEO optimization is to keep up with all the changes browsers and search engines introduce. Unfortunately, there are a lot of them but it's a challenge that can be met. After all, […]
Wondering how to optimize your website so that Google will display it in its top search results? Everyone is. The trick to effective SEO optimization is to keep up with all the changes browsers and search engines introduce. Unfortunately, there are a lot of them but it's a challenge that can be met.
After all, they all eventually come down to the same thing: search engines, and Google, in particular, want to offer a positive user experience so that people keep coming back, rely on their services, and pay for their ads. And while these intentions may not be 100% altruistic, they still encourage businesses to put the user first.
Remember the good old days when all you had to do to appear in Top-3 of Google's SERP was to sneak in a couple of keywords and blend them into the background of your page? Those days are over and they aren't coming back. Today, we live in the world of human-centered optimization powered by Artificial Intelligence. And while a world run by AI algorithms might still be far away, they are much smarter than they used to be and able to do more than ever before.
That's why your SEO strategy shouldn't depend on keyword stuffing. Instead, it should provide actual value for your actual users. With that, it's time to see how to achieve just that in 2022.
A quick recap of the SEO basics
We're sure you already know all this, but you can never be too careful. So let's quickly go over the basics of search engine optimization.
Once a website is published, Google (or any other browser) sends out its bots, called crawlers, to search for it. The crawlers' job is to identify your website, its content, the audience it may potentially be interesting to, etc. Having a sitemap included in your site's code allows search engines to see what the page is all about, how many pages there are, how recent the updates are, etc.
The bots are trained on a model to make their interaction with a site as close to human-like as possible. Of course, where we see bold designs and flashy images, they have code lines, but they don't seem to complain. That's why it's important for your site to follow a specific structure (Title – Header 2 – Header 3, and so on). Here, paying close attention to how clean your HTML code is would be a good idea.
Basically, you want your site's code to be clean, readable, and easy to navigate for both search engine bots and the potential users who will land there. That's on the developers' side, though. Let's take a look at what you could personally do to make sure your company's website appears on Google's top 10 this year!
Do you want to increase your sales and build even better relations with your customers?
Book a free demo
The latest SEO changes to keep up with in 2022
When it comes to SEO best practices, you must keep your end-user in mind at all times. We marketers are getting smarter, but so is everyone browsing online and, more importantly, so are Google bots. Follow these 5 strategies in 2022 and you'll be sure to hit higher positions on Google's SERP for sure!
Following the EAT principle
In SEO, EAT stands for Expertise, Authoritativeness, and Trustworthiness and represents a critical concept Google centers all its website evaluation around. In short, it asks you to only create content that you can share based on your personal expertise or authority as it grants it higher credibility.
As such, an e-commerce website's SEO could benefit from a blog post about the best e-commerce practices but would only lose points in Google's eyes if it shares something about the latest trending show on Netflix. Stay in your lane and get rewarded.
Keeping content relevant to the title
Once you've got your theme aligned with the core industry you operate in you'd need to make sure that users get exactly what they searched for. No tricks, no bait and switch — exactly what they're looking for.
If you promised your readers "10 amazing Shopify plugins" you need to make sure that there will, indeed, be 10 Shopify-centered plugins listed as the core theme of your content. Just like you opened this blog post hoping to find SEO changes that will matter in the next year, your clients want to get exactly what they were promised. And crawlers know that.
Embrace long-tail keywords
As we've already established, in 2022 SEO is going to be all about a personalized quality-assured user experience. And what can be more personalized than terms as close to your search query as possible? That's precisely why long-tail keywords are so important.
In order to create an effective long-tail keyword, you need to think of the core theme of your website (such as e-commerce) and then go into the specifics based on the niche you operate in. Let's say you have an online store that sells cosmetics. Instead of going for a simple "vegan makeup" as your main keyword, you can come up with countless problem-specific long-tail keywords like "the best vegan makeup brands".
Evaluating your site's performance
Non-tech people tend to mistake SEO for a purely content-based game. In fact, there are many processes that affect your page's chances of popping up higher on the SERP that have very little to do with its content. Among the most important factors that will affect your website's fate, there are two that stand out the most.
Newsletter
Know & grow! Become one of over 1,000 online stores growing with our expertise.
First, there is the total time it takes for the page to load. The faster the better and the difference between the 12th and the 8th position on Google's SERP could be measured in milliseconds. You need to make sure all images are optimized and compressed, animations are on point, and links are correctly set up.
Secondly, there is mobile optimization. While you don't necessarily have to code your entire site mobile-first, you definitely need to keep mobile users in mind. After all, mobile devices generated almost 55% of online traffic last year!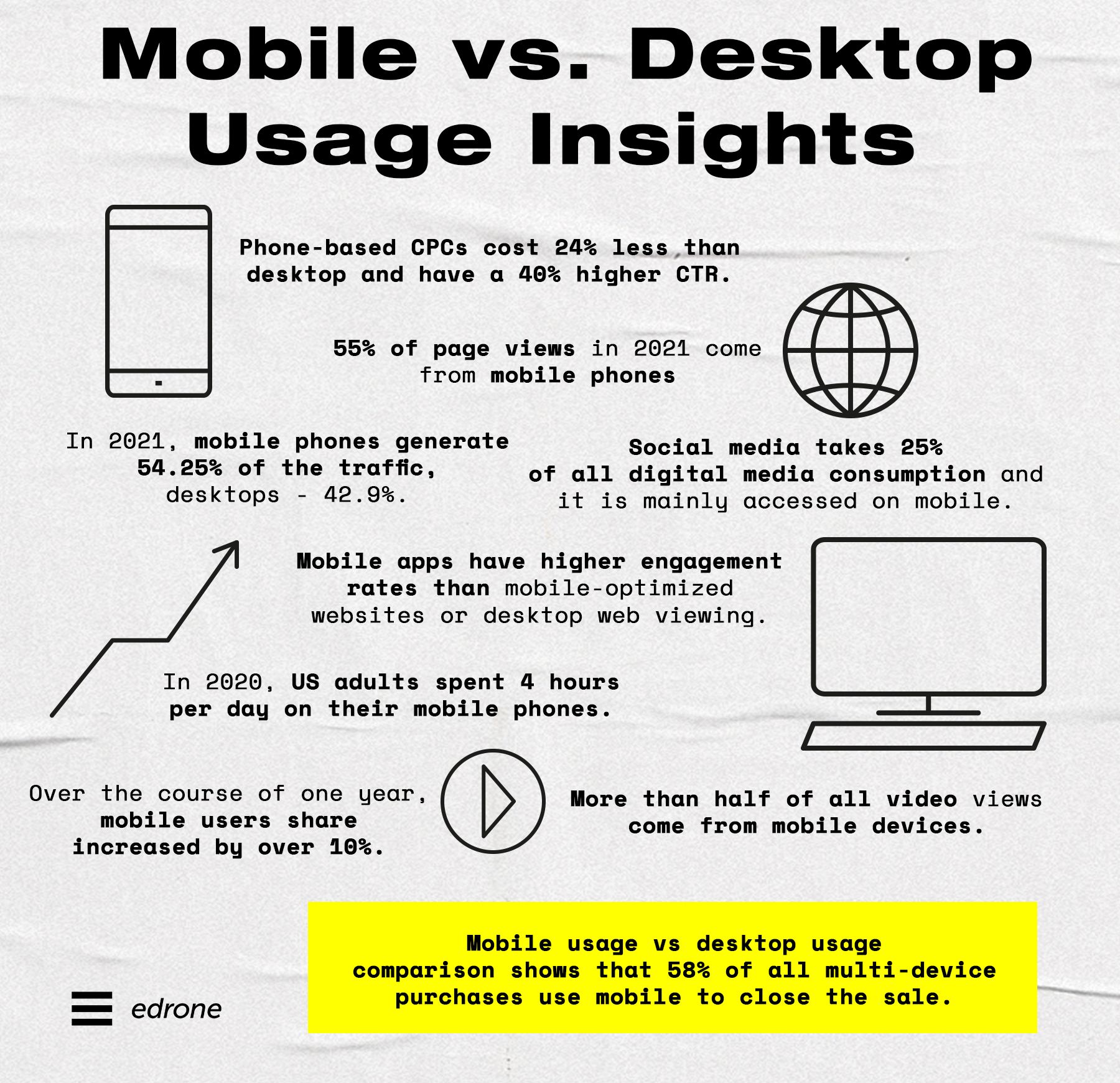 Popularizing voice search
Finally, don't forget about voice search. There are more than 1 billion voice searches requested every month and if your website isn't optimized for this feature you're missing out on a huge chunk of the audience. Don't you worry though, because optimizing for voice search is really simple: you simply need to think of your potential keywords in a more conversational style.
Remember our example with vegan cosmetics? A perfect voice-search keyword for this situation would be something like "what are the best vegan makeup brands" or "how are vegan cosmetics made?" Rely on "wh-" and "how" questions and try to keep your keywords as natural as possible. This way you will be able to compete with the highest-ranking brands.
Summary
All of the most important SEO changes for 2022 are dedicated to creating a more human-oriented personalized user experience that will make people want to come back to your site over and over again.
The good news is that with this strategy in mind you don't always need to heavily rely on third-party optimization tools and be incredibly tech-savvy, you simply need to put yourself in your customers' shoes and create content that can help them with their problems. It's a win-win!
CRM, Marketing Automation and Voice Commerce for online stores. All in one.