ZooArt:

For the love of our furry pupils! Nearly 67% of returning customers
1341.04 EUR
Revenue for every 1000 emails sent using automation scenarios
66.6%
of ZooArt customers impacted by edrone returned to shop again within 1 year
11.4%
increase of the Average Order Value for ZooArt after implementing edrone's solutions
7.0%
Average monthly growth in Purchase Frequency (impacted by edrone)
ZooArt is the most visited online pet store in Poland. They opened in 2012 and currently are processing tens of thousands of orders each month. They sell a wide variety of products including food, toys, equipment and accessories for all types of pets – from domestic animals (e.g. cats, dogs, fish), exotic pets (parrots and chameleons) to farm animals (pigs, horses).
By working with edrone, email marketing has become one of our biggest sales channels. Automation allowed us to save time and effort and focus on our overall marketing strategy. In addition, the email marketing scenarios used were implemented by default, so there was no need to configure them ourselves.

Eryk Jakubik

Performance Marketing Manager at ZooArt
Challenges
One of the major challenges for ZooArt was increasing conversion from email marketing. The brand kept their focus on:
2.
Growing their current mailing list
3.
Increasing sales from e-mail marketing
ZooArt also realized that keeping existing customers, who have already trusted them, engaged has a key impact on the continued success of the brand. 
Secrets behind their success and results
Pop-up + email automation
Over 5000 new subscribers every month
By showing a welcome pop-up offering a discount on the first purchase, ZooArt encouraged new visitors to register to their newsletter.
This helped them continuously grow their list by more than 5000 new subscribers every month.
After confirming their subscription via Double Opt-in, these new subscribers received a welcome email inviting them back to the store.
This welcome email had an astounding average Open Rate of 83% and generated, on average,
3651 EUR in revenue for every 1000 emails sent.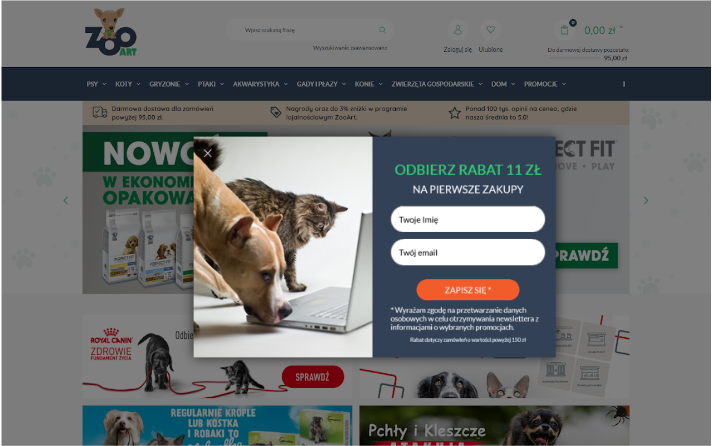 ---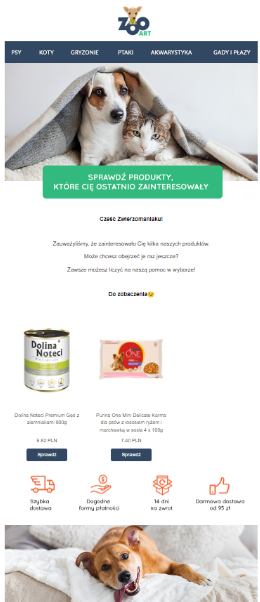 Viewed Products
26,3% average Open Rate, 3,4% Conversion Rate
Customers happily browse products, but very often it ends just there. However, implementing the right tool can help them to make the decision about purchase. 
That's exactly what ZooArt did with edrone's Viewed Products scenario, and the results speak for themselves: 26.3% average Open Rate, 3.4% Conversion Rate, and 1643 EUR in revenue for every 1000 emails sent. And all that just from sending a reminder, no special deals or anything!
---
Abandoned Carts Recovery
30,7% average Open Rate, 5,3% average Conversion Rate
Abandoned carts are inevitable – but losing sales is not!
ZooArt knows this and sends abandoned cart reminders to their forgetful customers.
Two automatic emails are triggered when a customer leaves their store with items in their cart: one after 3 hours, and another one after six days.
Together, these emails achieved an average Open Rate of 30.7%, a Conversion Rate of 5.3%, and over 3000 EUR in recovered sales for every 1000 emails sent.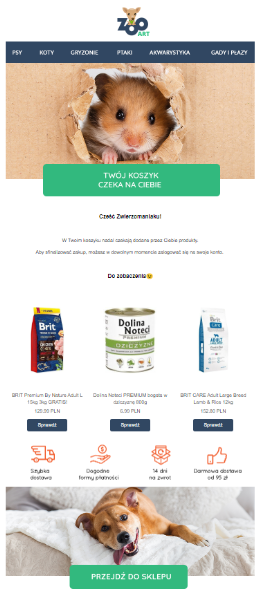 ---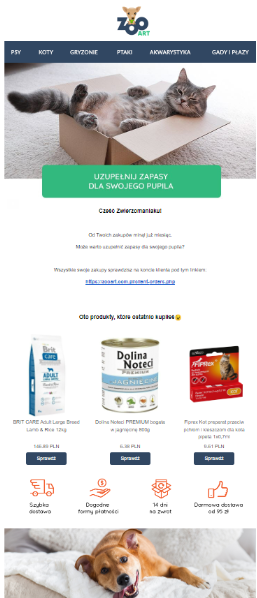 After Sale
Over 800 new orders a month 
Shopping for animals must be done on a regular basis. ZooArt implemented a scenario that reminded their customers that their pet's favorite products may run out soon.  
30 days after a purchase, ZooArt sends an automatic After Sale e-mail to remind the customer that it's time to come back and replenish their supplies.
Does it work? Well, this automation alone was able to bring in over 800 new orders every month, generating more than 2100 EUR for every 1000 emails sent.
---
Dynamic Newsletters
18% average Open Rate, 0,8% average Conversion Rate
ZooArt did a great job in extracting the most value out of its Email Marketing strategy through a smart use of segmentation and systematic testing.
Almost all of their Newsletter campaigns were sent to three or four different groups, segmented by tags according to parameters determined by the company.
As a result, even with a massive list of subscribers, they were able to maintain an average Open Rate of 18% and an average Conversion Rate of 0.8% while continuously gathering data about their customer's interests and behaviors.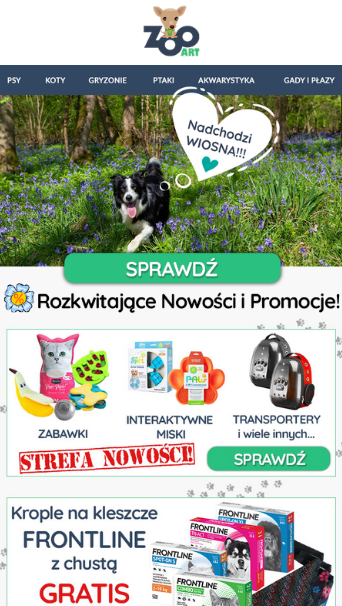 ---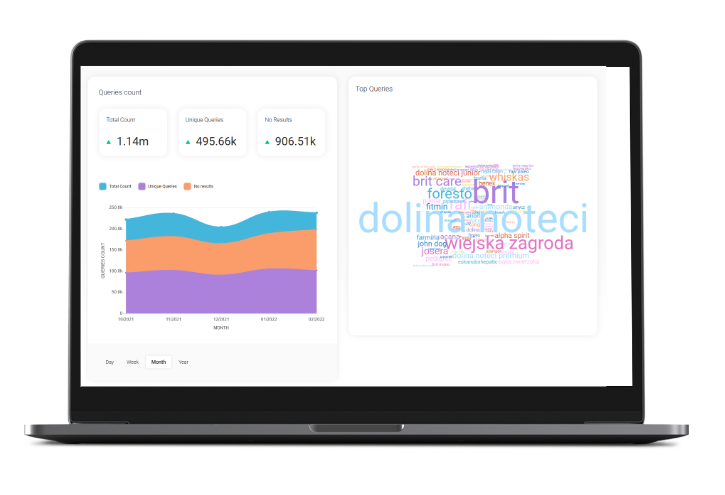 Search Dashboard
Monitoring nearly 200k search queries a month
Customers often use the native search bar inside an online store when they are looking for a specific product, or when they have a specific need – in ZooArt's case, that means over 200k search queries every month.
These customers demonstrate a high purchase intent. Therefore, knowing exactly what they are looking for, and how these searches are changing over time, is extremely valuable information. 
Using edrone's Search Dashboard, ZooArt was able to keep track of all search-related metrics, such as the most searched queries, how many of them were unique, and which queries produced no results.

Nurture
Welcome messages are opened by 9 out of 10 new subscribers. Don't lose their attention. Thanks to edrone's scenarios you can build long-lasting relations and your customers will happily come back to shop more.
Learn more
Implementing the tool in our shop took no time at all. Everything – both during onboarding and use – was easy and intuitive. We could always count on edrone's immediate support, constant monitoring and reporting of our shop's progress.

Eryk Jakubik

Performance Marketing Manager at ZooArt
ZooArt has noticed a significant improvement in results in many areas thanks to the implementation of edrone's solutions. Within 1 year, 66.6% of customers impacted by edrone's solutions returned to the store. The average monthly revenue of ZooArt increased by 2.64% and the frequency of purchases by 7%. It is also worth noting that for every 1000 emails sent, the revenue amounted to nearly 1341.04 EUR.