Nemira:

Reading pays off! 3 simple scenarios to achieve a 913% investment return
2100 EUR
of income for every 1000 sent e-mails
30%
Open Rate using the Viewed Products scenario
37%
Open Rate using the Abandoned Carts scenario
Over 15 900 EUR
of income in Q1 2021 thanks to edrone's solutions
Founded in 1991, Nemira is one of the first private publishing companies in Romania. Initially focused on science fiction literature, Nemira was the first to translate into Romanian important authors such as Frank Herbert, Philip K. Dick, Isaac Asimov and Stephen King. Since then, Nemira has expanded their offerings into several different genres by translating foreign books and fostering original Romanian literature. They were also the first publishing company in Romania to make ebooks, further establishing their position
as a leading brand in the industry.
Our mission is to promote reading among customers of all ages. To achieve that, we need to reach a wide audience and connect with every single person that visits our website.With edrone, we are able to engage with our customers in a meaningful way, offering personalized product suggestions as if they were being given by a close friend. The automated emails help us optimize our resources, freeing
up time to focus on our marketing strategy.

Catalina Nicolau

Executive Director at Nemira
Challenges
Every bookworm knows that bookstores are magical places. The smell of paper floating in the air, labyrinths of bookshelves in which you can discover previously unknown positions and, of course, the shop assistant – a master in his profession, who always gives best advice and shares all of the newest positions. It is difficult to find a more personal relationship between the customer and the store than the one that is born in the favorite bookstore. Nemira, as an online bookstore, faced the following challenges:
1.
Recreating the atmosphere of a physical bookstore in an online one
2.
Book recommendations based on customer's interests
3.
Recovering abandoned carts
With such a large offer and diverse audience, Nemira needs advanced tools that will make every customer feel noticed. This is exactly when edrone comes in.
Secrets behind their success and results
Viewed Products
Average Open Rate of 30%
When you walk into a bookstore and start browsing, a salesperson might approach you and ask about what you're looking for, or what your interests are, and then suggest a few relevant products.
How can we reproduce this personalized shopping experience online? With edrone's Viewed Products automation!
By simply viewing a product on Nemira's website, a subscriber might later get an email with a reminder for that product and other relevant recommendations.
Since Nemira implemented this automation scenario, it has brought in an average of over 2,000 EUR a month.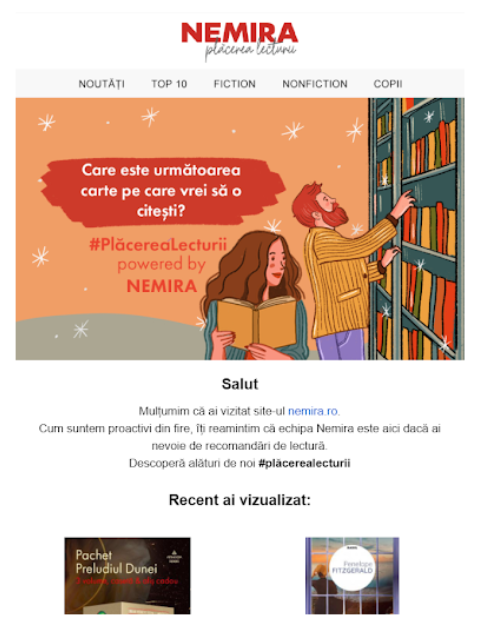 Nurture
Welcome messages are opened by 9 out 10 new subscribers. Don't lose their attention. Thanks to edrone's scenarios you can build long-lasting relations and your customers will happily come back to shop more.
Learn more
---
Abandoned Carts
Average Open Rate of 37%
Using edrone's Recover Abandoned Cart automation, Nemira has been able to recover otherwise lost revenue.
By sending a sequence of two emails, the first right after the user leaves the website with items in their cart and the second three days later, Nemira has recovered more than 15,900 EUR over the first quarter of 2021.
---
Restore Customers
Average Open Rate of 39% and Conversion Rate of 22%
Nemira is constantly adding new titles to their portfolio, so it makes sense to send automated reminders to customers who haven't visited the store in a while and show them what's new.
Using the Restore Customers scenario, Nemira is able to effectively promote their new releases and increase Purchase Frequency, a key metric for calculating Customer Lifetime Value.
In recent months, they have achieved 2,111 EUR in earnings for every 1,000 emails sent.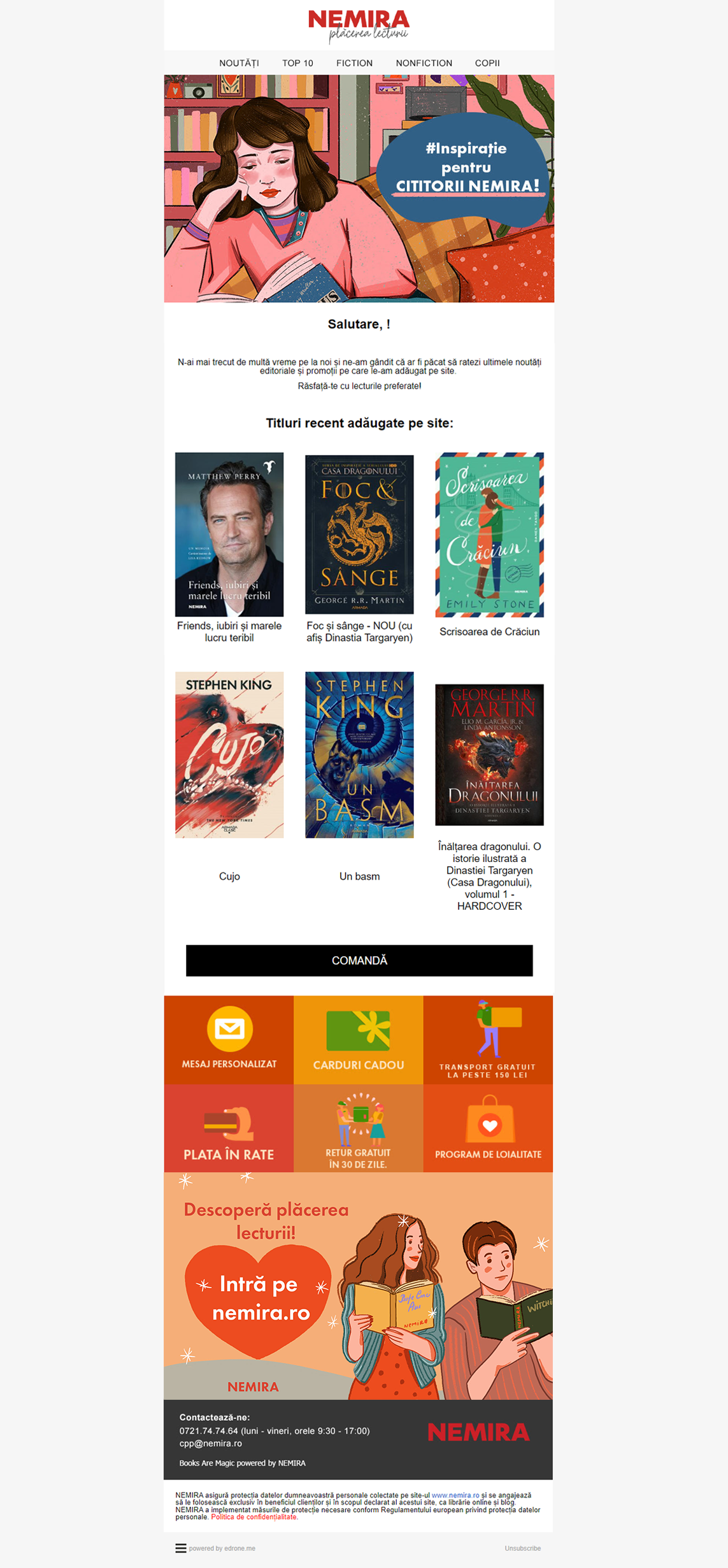 Nemira is always trying to keep up with all of our customer's needs, and edrone helps us stay ahead of the game.

Catalina Nicolau

Executive Director at Nemira