Case study
Household Goods
Leifheit:

Home care on the highest level! And nearly 9000 EUR of additional income for the brand
700
new subscribers each month
73%
Open Rate for e-mails sent with Product Recommendation scenario
5500 EUR
income for each 1000 sent e-mails
61%
Open Rate for e-mails based on Abandoned Carts scenario
For more than 60 years, Leifheit has been one of the leading suppliers of household products in Europe. Based in Germany and operating in several countries worldwide, Leifheit is known for their high-quality products that make housekeeping easy for consumers.
Leifheit is an international company with a longstanding tradition, where high quality and innovation have always come first. For many years, the brand operated in the B2B model, selling products through distributors, and recently launched the B2C channel, which turned out to be successful. From that moment, our online stores use the edrone marketing platform, which effectively activates our customers.

Katarzyna Bronowska

E-commerce and Marketing Manager at Leifheit Polska
Challenges
Although traditionally focused on B2B, e-commerce is currently their second largest distribution channel, behind only hypermarkets. In 2020, their B2C online operations accounted for 19% of their 270 million EUR revenue, up from 16% in the previous year. This is a result of their own Online Marketing and e-commerce efforts combined with a general trend of e-commerce growth. Currently their online store is their second (after traditional stores) source of distribution. It gives the brand amazing opportunities but comes with its own challenges too.
1.
Creating an online store suitable for the market leader
2.
Managing three separate websites
3.
Personalizing offers based on customer's previous orders
edrone supports Leifheit's online operations in three countries: Poland, Austria and their home turf, Germany. Every day, thousands of Leifheit customers are engaged by edrone's on-site and off-site features.
Secrets behind their success and results
Dashboard
Three websites with large product bases serving tens of thousands of customers across three countries – all managed from one place!
As you can imagine, Leifheit's online operations generate a ton of data.
Luckily, they have our new General Overview and Engagement dashboards at their disposal!
This allows Leifheit to have a complete picture of each operation's health and performance, including metrics such as Customer Lifetime Value, Engagement Revenue and many, many others.
Everything automatically updated and
beautifully organized in one place!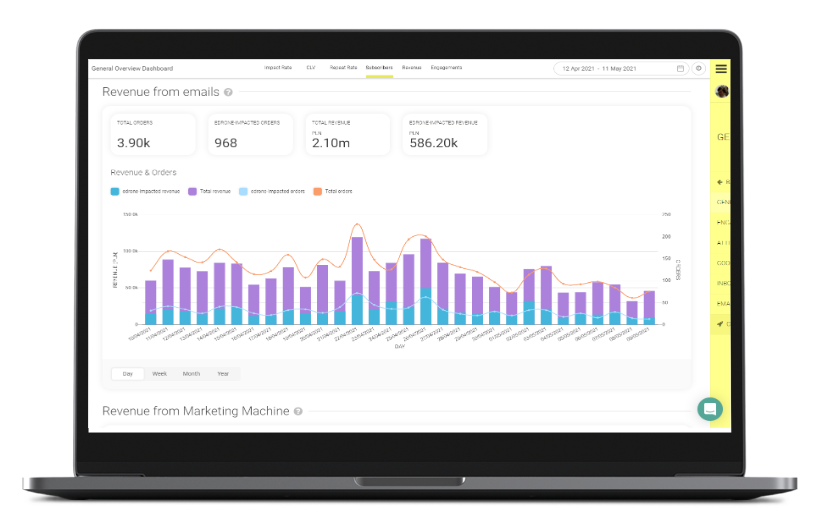 ---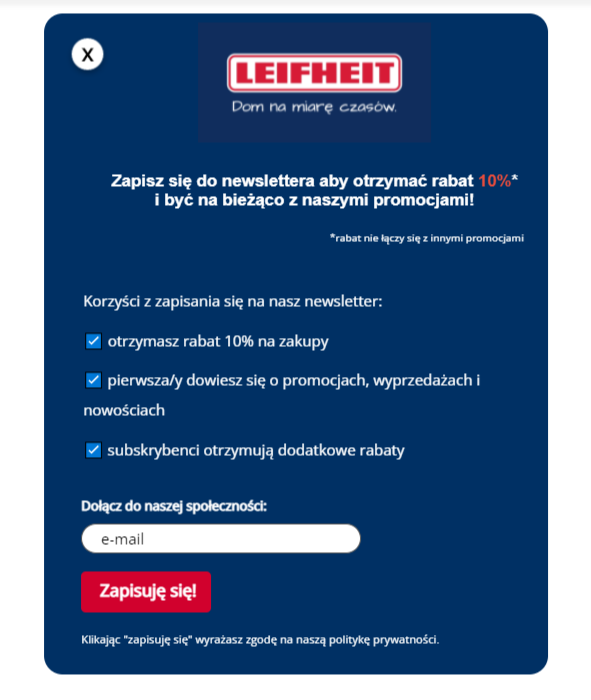 Pop-ups
Average rate of over 700 new subscribers each month
Leifheit Germany uses Pop-ups to convert visitors into subscribers.
By offering a small discount of 5 euros for every new subscriber, they are able to continuously grow their contact base.
---
Welcome E-mails
92% Open Rate and nearly 9000 EUR additional monthly revenue
After signing up to Leifheit's newsletter, subscribers receive a confirmation message (Double Opt-in). Then, once subscription is confirmed, it triggers an automated welcome email with the unique coupon.
Since this simple Pop-up + Welcome Email automation was implemented, it has brought in an average revenue of 8,965 EUR every month, while maintaining an astounding 92% average Open Rate!
This is a perfect example of how a few basic tactics can bring in exceptional results when expertly combined with effective targeting, automation and personalized messages.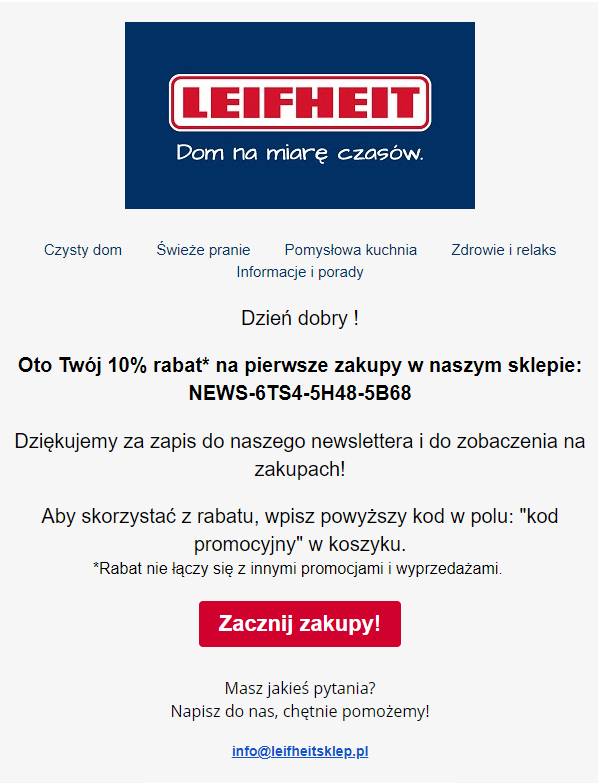 Nurture
Welcome messages are opened by 9 out 10 new subscribers. Don't lose their attention. Thanks to edrone's scenarios you can build long-lasting relations and your customers will happily come back to shop more.
Learn more
---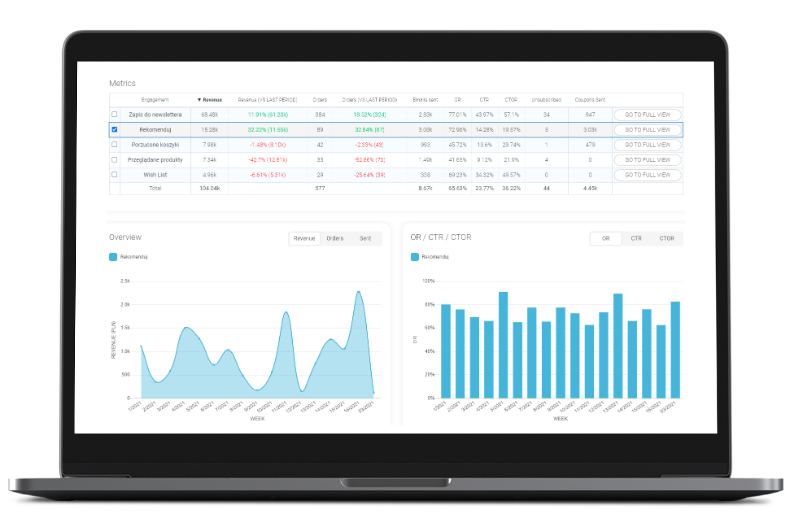 Recommendations
Average Open Rate of 73% and 912 EUR
in revenue for every 1,000 emails sent (for Leifheit Poland)
Leifheit's products are highly complementary to one another; therefore, it was important to have an effective way of recommending products based on each customers' interests and shopping history.
edrone's Recommendations scenario takes into account all the products a given user has viewed, added to cart and/or purchased, and then uses Machine Learning to sends emails recommending other relevant products – with increasingly better results.
Machine knows best!
---
Abandoned Carts
Average Open Rate of 61%, and for every 1,000 emails sent, Leifheit recovers over 3,700 EUR in revenue
Using edrone's Recover Abandoned Cart automation, Leifheit Germany has been able to recover otherwise lost customers.
These simple yet powerful emails are designed using our Drag'n'Drop Editor.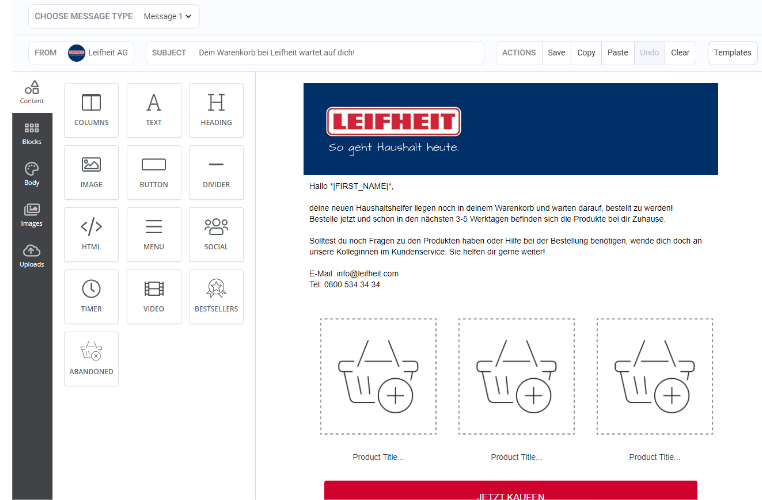 ---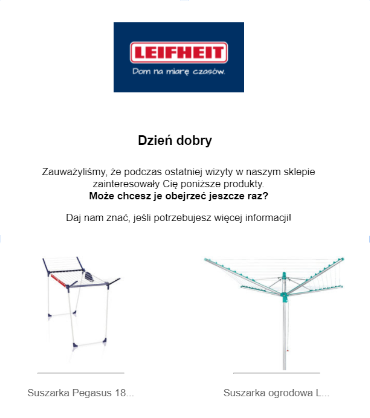 Viewed Products
For every 1,000 emails sent using this automation scenario, Leifheit Poland earns an average of 1,254 EUR in revenue
Customers who leave the store with items in their cart are not the only ones that Leifheit is able to engage with.
By simply viewing a product on their website, a subscriber might later get an email with a reminder for that product and other relevant recommendations, effectively turning prospect customers into buyers.
---
Wishlist
Average Open Rate of 73% and a Conversion Rate over 10%
Leifheit Germany takes full advantage of customer wishlists, making sure they don't miss the opportunity to sell to a customer that is literally waiting to buy.
edrone's Wishlist scenario sends an automated email to a customer whenever a product from their wishlist becomes available.
For Leifheit Germany, these emails provide 5,500 EUR in earnings for every 1,000 emails sent.
That's the power of sending the right message at the right time!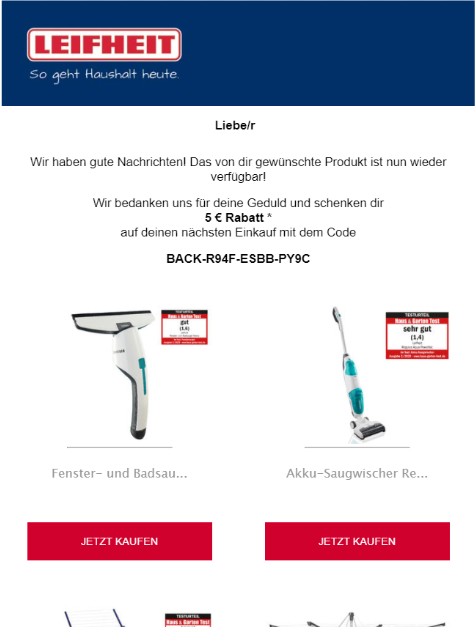 Thanks to edrone, we communicate with them, having the possibility of easy segmentation and personalization, and the user panel itself is simple and transparent. Automation scenarios perfectly support our other activities. It is an important tool for us in everyday work with our e-commerce.


Katarzyna Bronowska

E-commerce and Marketing Manager at Leifheit Polska