Case study
Fashion & Clothing
Mosquito:

Fashion without compromise. How to recover 115,000 EUR from abandoned carts?
115,000 euro
earned thanks to the Abandoned Carts scenario
28%
more contacts in the database thanks to Pop-ups
52,3%
average Open Rate for the Loyalty Program
92.6%
average Open Rate for the Welcome Messages
Their story
Mosquito is one of Poland's leading women's clothing brands. Founded by designer Alicja Komar, the company follows her vision of fashion as a means of expressing personalities and feelings, as well as building self-confidence. While the brand does not compromise in quality, it does make an effort to keep their products as affordable as possible in order to democratize access to great pieces of clothing. Based in a small town around Lodz, a city renowned for its textile industry, Mosquito's products are all 100% designed and sewn in Poland and sold through their online store.
edrone is a key tool in our Marketing Technology stack. With it, we can very effectively engage our clients with new collections and promotions and keep track of the results to continuously improve our strategy. The same goes for the automation scenarios which allow us to send highly segmented and personalized messages without having to spend a huge amount of time and effort into every single campaign.

Jakub Roskosz

Managing Director at Mosquito
Challenges
Fashion industry is one of the most competitive on the market. Mosquito, like many other companies from this segment, had to face rapid development of e-commerce and keep up with these changes in order not to be left behind. An ordinary online store was no longer enough to meet the expectations of consumers, for whom the latest solutions and the most convenient shopping have become a standard.
1.
Maintaining good relationships with clients
2.
Growing their contact list
3.
Recovering abandoned carts
Cooperation between edrone and Mosquito allowed us to achieve the most important goals – building a group of loyal, returning customers and developing an advanced online store where shopping is pure pleasure.
Secrets behind their success and results
Pop-ups
Even with over 100k emails in their database, Mosquito was able to grow their list by 28% over the first half of 2021.
Mosquito uses Pop-ups to increase their contacts base and automatically engage each new subscriber.
Of course, pop-ups weren't the only method used to achieve this, but they did play an important role! edrone allows for total flexibility regarding when and where pop-ups are shown, and Mosquito takes advantage of that by showing pop-ups only for mobile users and on specific pages of their website.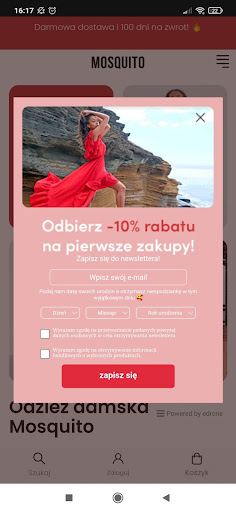 ---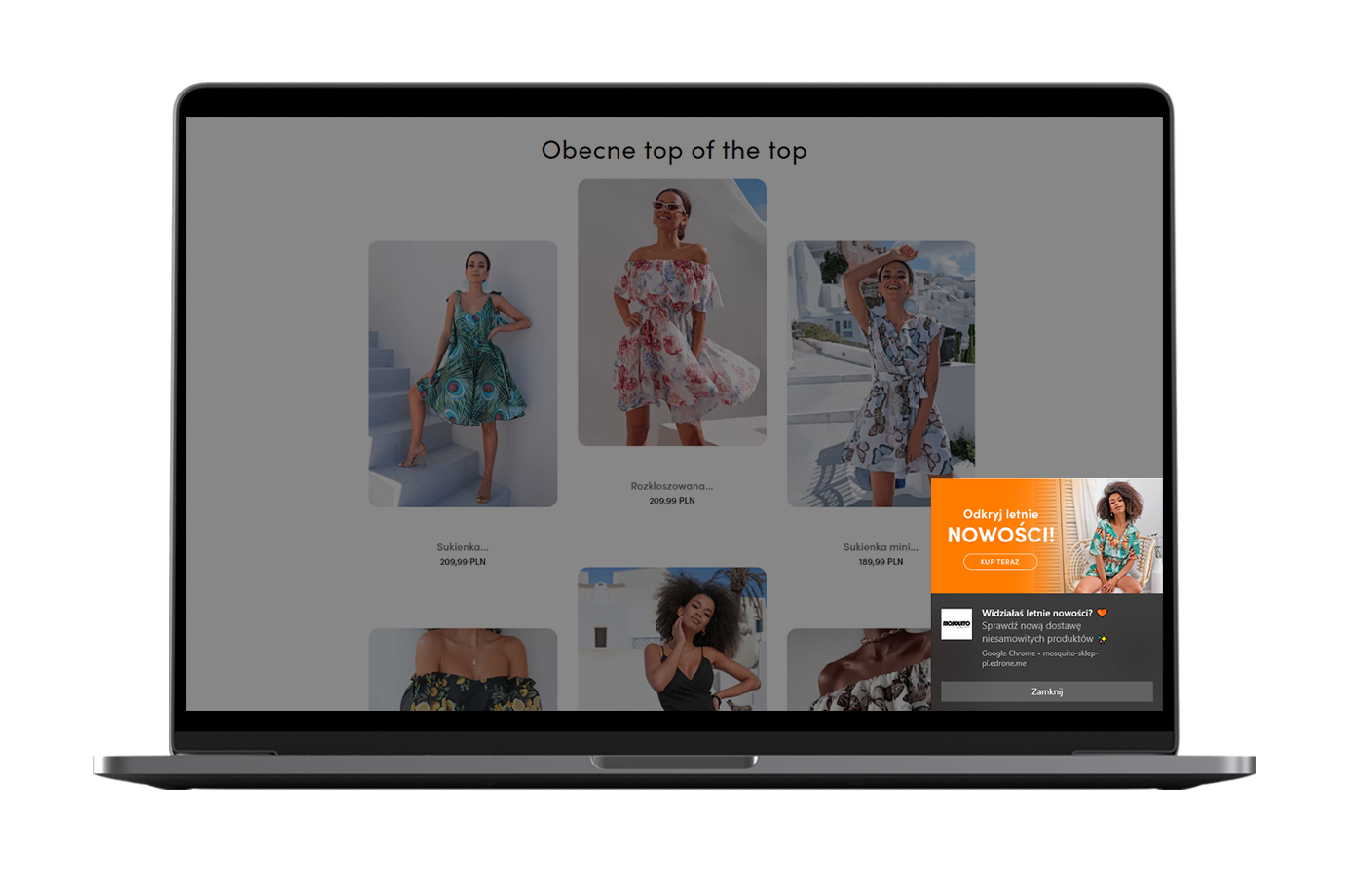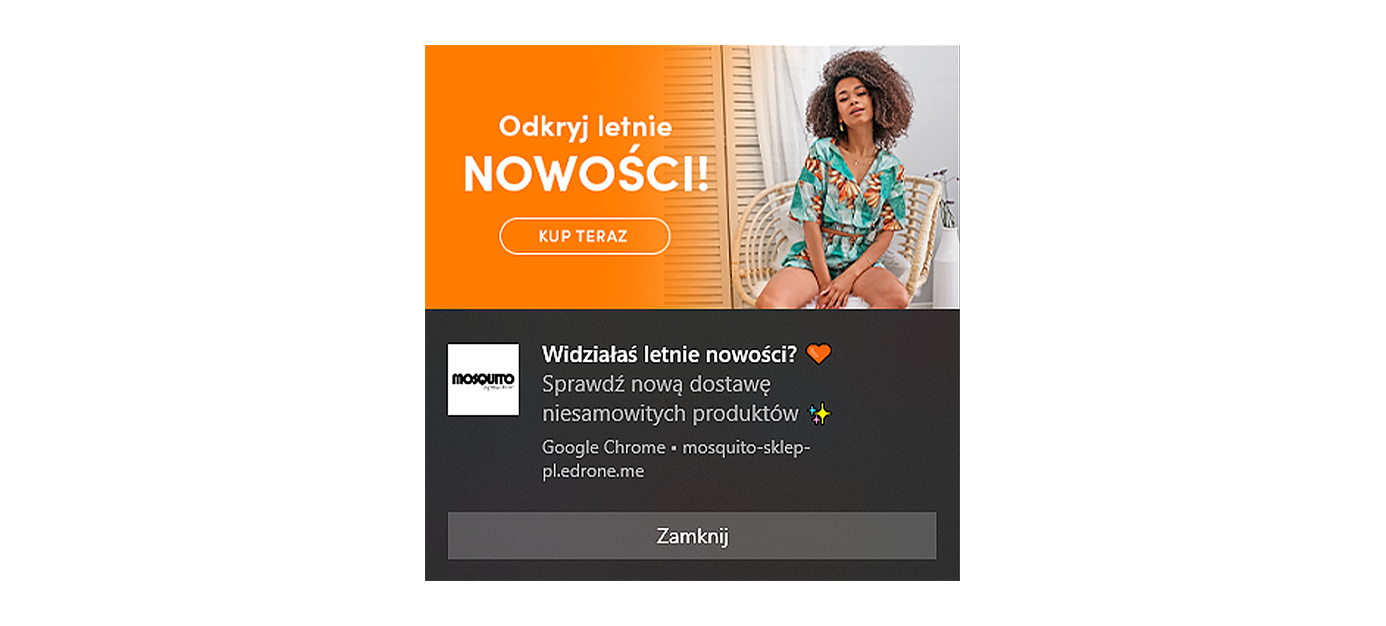 Push notifications
Average Open Rate for Mosquito's push notifications is 33.7%.
Mosquito uses push notifications to engage with customers while they are browsing other websites.
For example, a customer might be browsing through their favorite fashion blog and suddenly get a notification from Mosquito about their new collection. But does this work?
And don't worry about privacy issues – as with all edrone features, this is also fully GDPR compliant.
---
Welcome messages
Average Open Rate of 92.6%
Once a visitor subscribes to Mosquito's newsletter – for example, through the mobile pop-up form – they get a confirmation email (Double Opt-in) and an automated welcome message with a coupon.
Over the first half of 2021, Mosquito's welcome messages generated 9.25 EUR in revenue for every single email sent.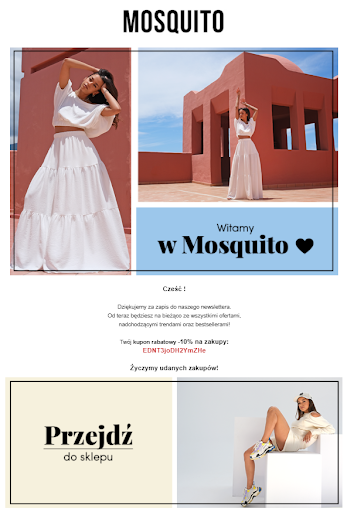 Nurture
Welcome messages are opened by 9 out 10 new subscribers. Don't lose their attention. Thanks to edrone's scenarios you can build long-lasting relations and your customers will happily come back to shop more.
Learn more
---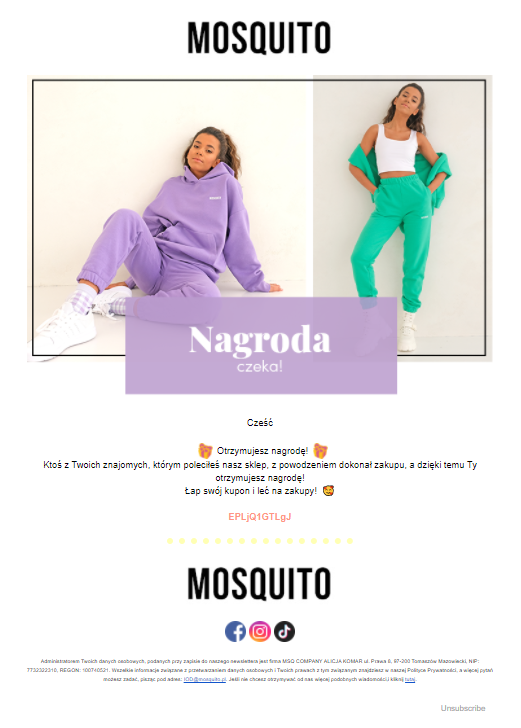 Refer-a-friend
Average Open Rate is 57,1%
We mentioned pop-ups as a way to grow a contacts base. Well, here's another one!
Mosquito uses the Refer-a-friend Program automation to reward customers for spreading the word about their store.
Each customer in the Program gets a unique referrer link, and every time someone shops using that link, both the referrer and the referee get a discount coupon. Every customer in the program brings in, on average, 2 new customers, and each email sent generates 4.64 EUR in sales.
---
Abandoned carts
Using the Recover Abandoned Carts scenario, Mosquito has recovered over 115,000 EUR in otherwise lost revenue over the first half of 2021
Sometimes, customers need to interrupt their shopping sessions, and most of the time they end up forgetting about it.
Not Mosquito's customers! At first, they get a gentle reminder to complete their purchase. If after a few days they still don't come back, they get another email, this time with a coupon of 10% off.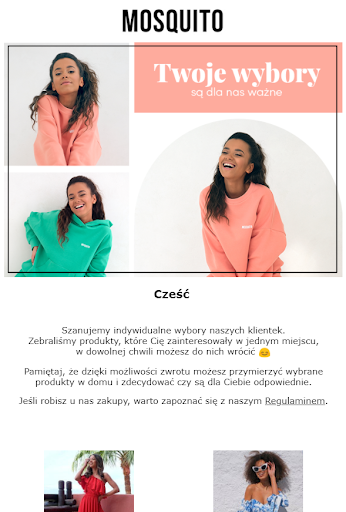 ---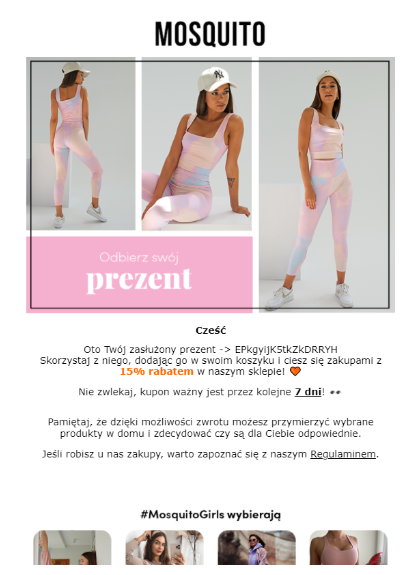 Loyalty Program
Average Open Rate of 52.3%
Using edrone's Loyalty Program automation, Mosquito is able to reward customers based on how much they have spent over their entire shopping history.
Every time a customer shops, they come closer and closer to the automation's threshold. When they cross it, they get a nice discount for their next purchase! Over the first half of 2021, Mosquito's Loyalty Program generated 990 EUR for every 1000 emails sent.
This has freed up our Marketing team to work on higher value activities. That way, we know we're getting the most out of our Online Marketing strategy and can focus on what's most important for us: helping our customers look and feel wonderful!

Jakub Roskosz

Managing Director at Mosquito