Case study
Fashion & Clothing
Distinctive:

How Distinctive doubled the Average Order Value thanks to Marketing Automation
Take a look at one of the clients shared by edrone & VTEX: Distinctive!
Let's agree that people can be divided into two groups: those who buy clothes online and those who will do so.
The second group started to shrink during the height of the pandemic. Despite this upturn being an opportunity for well-grounded e-commerces and hybrid retailers, offline fashion retail outlets found it a challenge.
Their story
Distinctive.ro entered the digital space during the pandemic-induced lockdown of all Peeraj Brands International brick-and-mortar stores (12.4 mil. Euros in revenue in 2021) – established in 2006 as a distributor of well-known brands such as Skechers, Geox, Armani, Kazar and Tous. The launch of Distinctive secured the position of Peeraj Brands International as the fastest-growing company in Romania's retail industry.
This August marks the anniversary of edrone and Distinctive's cooperation. It's a perfect opportunity to assess the efforts made to reach the common goal: boosting Distinctive's sales.
Year of rapid growth thanks to automation
Marketing Automation is cool, but as with any digital tools, it must be used as part of a single coherent development strategy to generate any benefits.
1.
Growth of the client's database thanks to smart onsite marketing
2.
Engaging customers via email marketing
3.
 Securing revenue via smart marketing automation
4.
Seizing all opportunities by recovering abandoned carts
5.
Re-engaging customers that start to slip out
As VTEX partners, edrone offers plug-and-play integration, so upon starting our shared journey, connecting the system with Distinctive took a couple of seconds. We were able to begin to execute the growth strategy immediately. 
---
Let's get the basics right – Database
Challenge: Several brands under one agenda. The strength of Distinctive is that it has many brands in its portfolio. However, in this case, it wasn't as easy as relying on brand awareness – at least in the beginning. 

Database has growth: +49,89%
The primary goal was to build a solid client database that we could communicate with and loyalize through several marketing automation methods. 
We used a slider: a non-intrusive but eye-catching banner that rolls up when clicked. 
The slider encourages the client to subscribe to the newsletter and receive a 10% discount on the first purchase.
Although the number of registered clients is essential, their quality is even more so. 
We chose the double opt-in method requiring the client to actually log in to their email account and click the activation link. This method:
Helps to avoid legal risks.
Secures the quality of the collected database.
Thanks to this strategy, the subscriber database has grown by 49,89% over the past 12 months. 
Let's engage – Recommendations
Challenge: Lack of assistance provided by salespersons. Selling fashion over the internet has some limitations. For example, it's difficult for clients wandering alone through the website to choose without an expert advising them and recommending perfect matches or tempting alternatives to the viewed product. Here is where artificial intelligence comes in handy. 
Average Order Value (AOV) +104.15%
We ran a campaign based on smart product-based recommendations. When the customer is viewing, adding, or ordering products, the algorithm analyzes what they are interested in, and a personalized mail with product-based recommendations is sent. As context-based recommendations are always a good choice, it was an easy decision to implement them; however, the results exceeded our expectations.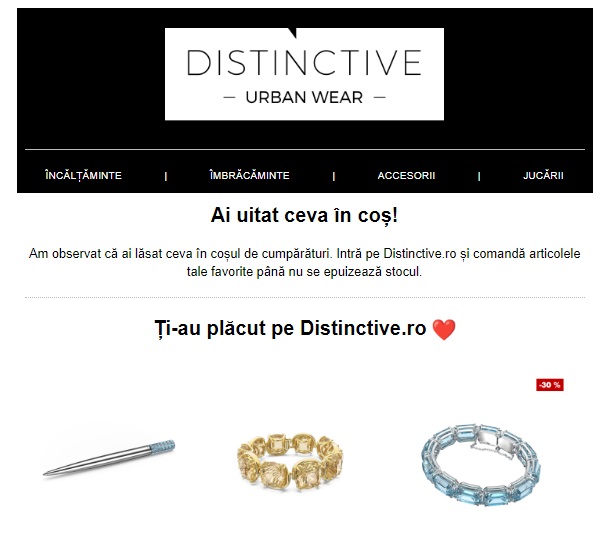 The recommendations campaign achieved an increased Average Order Value (AOV) of 104.15% compared to the AOV without artificial intelligence support.
---
Let's loyalize them – Repeat rate
Challenge: To encourage customers to return. A peak AOV level had been achieved; however, this wouldn't have been a complete success if the customer had purchased only once. Remember that acquiring a new client costs ten times more than retaining an existing shopper.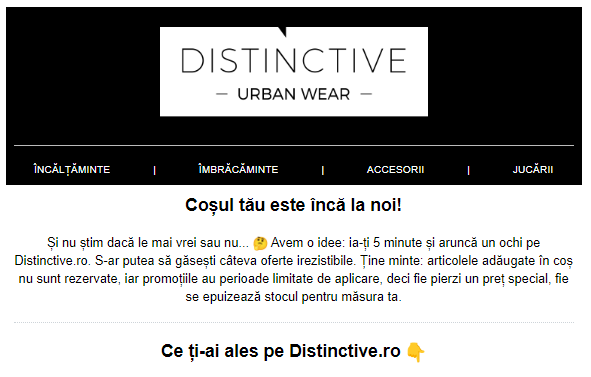 In parallel with the strategies mentioned above, an essential pillar of Distinctive's strategy execution were campaigns aimed at restoring clients. 
Recovering Abandoned Carts – essential since fashion customers often treat their carts more like a wish list. At the same time, they show what they are actually interested in. 
Restoring Customers – a similar campaign targeting customers recently absent from the shop, however, with documented browsing history. Based on this information, users can be quickly brought back when they see products that were interested in.
Note: Distinctive's customers are especially keen to make purchases with decent discounts. During Black Friday 2021, after we introduced marketing automation to Distinctive, results were around 20% better than the year before.
Conducted campaigns resulted in a 43% Repeat Rate (edrone impacted).
This means that almost every second Distinctive client that had contact with edrone advertising has returned. At the same time, those who were not impacted by advertisements returned in lower numbers (13% Repeat Rate). Compared to the first month of cooperation: edrone impacted RR = 20%, vs. not impacted = 6%.
Client's commentary
Online and offline sales, of course, are different and, although based on similar principles, require completely different challenges to be addressed. edrone has a customer-friendly approach that we really appreciate, especially in the very beginning, at the stage of product implementation. Helpful consultants and high-class specialists. Integration with our store platform was effortless. We consider edrone very easy to use, as it is an intuitive tool; also, creating advertising emails is very simple. The system is definitely a good investment. We noticed an increase in sales from the first days of using edrone.We started our cooperation in August last year, and over the past 12 months edrone has been a reliable partner who understands these differences perfectly and has helped us adapt to the realities of this ever-changing market.

Luiza Dumitru

Marketing Manager at Peeraj Group