An AI application asks the user what product category he is interested in (i.e. women/men/kids) and displays this category's bestsellers. Then, with each user's on-site activity, the machine knows his expectations and displays customized offers.
This article is about one of the most exiting features an eCommerce might add to its operation: edrone's Marketing Machine. It's bright, beautiful, and the best option to take an online store to the next level.
What is the Marketing Machine?
edrone's Marketing Machine is an interactive on-site recommendation frame. edrone' system analyzes the behavior of each customer entering the store's website, it gets to know his interest, compares it to the interests of other customers with similar interests, and, thanks to that, it displays tailored offers to each client.
The customer enters your website — he builds his profile with every click.
Based on his behavior, we create recommendations for best-fitting products.
Thanks to the principle of Segment of One Marketing, the website will have as many versions as customers and visitors.
We treat each client individually and create a tailored offer for each person.
With each visit, and even refreshing the site, the offer will be better suited to the visitor.
What are the advantages of using it?
Implement in your website the same technology used by giants such as Amazon and Netflix.
Make your visitor's experience get better every time he returns to your store by personalizing your displays to what interests him.
When showing what your visitor wants to see, you retain his attention; the more attention you have, the more sales you make.
Ways you can use it
Complementary Products
Preconfigured matching sets of products will be displayed on the product page.
Your product feed is being extended with additional traits – matching products based on your marketing experience and product familiarity.
Bestsellers
These are every marketer's secret weapon. Clients know best! The frame displays best selling items from your product feed.
Setup Bestsellers at least as your third recommendation instance. This strategy is highly agile, so in case of empty slots in the primary strategy, your frame will always look and perform excellent!
New Products
There are just a few things more thrilling and exciting than premieres!
New Products recommendation is presenting brand-new products in your shop. When you add a new item to the product list, it appears in this frame.
A new collection, long-time-no-see size of best selling shoes, or simply new fancy item your clients will love… display them as a part of the Marketing Machine.
Collaborative Filtering
Machine Learning at its best!
Recommendation based on all user's activity:
product view
add to the cart
purchase
The frame displays products chosen by other clients who share similar behavioral models.
There is no better choice for your 404 error page display. This tactic ensures an almost seamless shopping experience, even for the most impatient customers.
Market Basket Analysis
In machine learning, this is a sub-technique of "Affinity Analysis"; however, with respect to eCommerce, we should say "purchased products analysis."
The recommendation is based on products that are often bought together.
While browsing the product, the client sees recommendations to the displayed item.
While the client is watching a category, the recommendation algorithm displays products based on a few items in that category.
Abandoned Products
Sometimes customers "say" precisely what they are interested in. All that they need is a little push.
The abandoned product recommendation is based on the client's abandoned carts.
The frame displays a history of abandoned products, even if the cart is empty at a given moment.
Abandoned product displays are an excellent conversation starter. Use it also as pop-up or newsletter content to smoothly revive expired interaction thread with your brand!
Viewed Recently
Recommendation frame based on viewed products.
Regarding your eCommerce category's dynamics, you can pick the date range to keep control over how far the browsing history is taken into account and displayed.
Recommendation frame with the recently viewed product is a truly hot start for a shopping session. The home page or any other landing page will perform more than excellent with this one.
Preferred Category
This recommendation frame is used to initial preferences reconnaissance. Contains products representing various categories.
Upon clicking on it, algorithms tag users and set up the related category as a primary choice.
When arriving at the homepage, they can start browsing by going on a bit unusual path…
"Are you buying for yourself, or are you buying a gift?" — asks AI, and the matching process starts over, adapting to the updated conditions.
Awesome, right? But we are not finished yet… there are several other wonderful possibilities to be explored. And, believe me: you won't regret having spent this few minutes learning about them. Keep up the great work, then!
Up-selling & Cross-selling
Boost Artificial Intelligence recommendations, with proven sales techniques.
Up-selling is when you offer a very similar product, fulfilling all the client's requirements, but in a premium version — more expensive, in higher price range, upgraded, fulfilling requirements that clients didn't take into account.
The recommendation frame will display products that share a category.
You can select the price range of items if you want to perform the up-sell technique.
Cross-selling campaigns are performed when a complementary product is offered to the primary product. For example, you can offer the consumer an additional mouse and a bag to carry the equipment when buying a laptop.
The recommendation frame will display only products that belong to any chosen category.
You can also select the price range of recommended items, making sure your cross-sell succeed.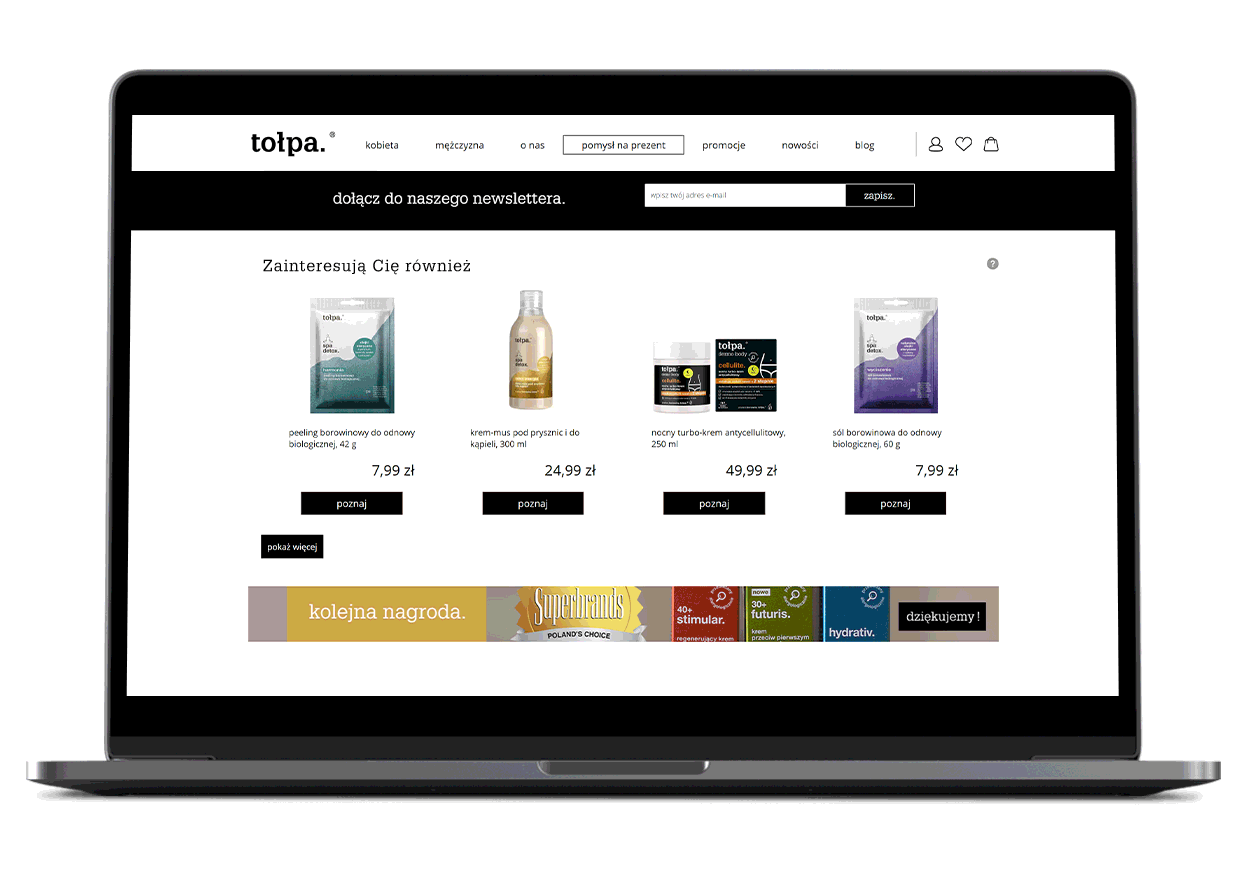 Offer Always Ready
Shop sell products, not empty shelves. eCommerce isn't an exception.
When your recommendation frame can't be filled with products from a given filter or category, the Marketing Machine fills empty slots with products matching secondary priority recommendation.
There are 3 levels of priority available;
Setup Bestsellers at least as your third recommendation instance. This strategy is highly agile, so in case of empty slots, your frame will always look and perform excellent!
Price Thresholds & Blacklist Category
The recommendation is sometimes about not to show some items!
Price threshold: allows you to control the value of recommended items. edrone will recommend products in a specific price range.
This filter is critical for up-selling and cross-selling techniques.
Blacklist Category: if you don't want to recommend a particular category in the frame, simply exclude it. The Marketing Machine will fill slots with other best fitting items or secondary priority recommendation type.
Discounts Only
Discounts, cuts, promotions are quite a lovely recommendation alone!
Followed with AI selected items, such recommendation is a truly hot offer for your customers.
The product list available for recommendation is being narrowed to the ones that are offered with a discount.
Ensure that the final list is large enough to display a recommendation frame with all slots filled.
The minimum size of recommendation set for good looking display is 12 (products).
The safe recommendation set size is 24+.
Design
Our Marketing Machine is part of your website.
Adjust the font to the one used in your shop to make sure it matches perfectly!
Garnish displayed items using adequate stickers:
Strikethrough price
Bestseller label
Discount label
New product label
---
Wow! I know it might be overwhelming, however, fueling your eCommerce with the best of artificial intelligence is simpler than you thought. What you need to do is to let us do what we do best: boost your sales to unprecedented high levels with the power of machine learning.
Please do not hesitate to contact us at hello@edrone.me and we will help you to start a new chapter in your eCommerce's history — a history fueled by intelligence.
Andre Floriano
Country Manager
edrone
Brazilian living in Poland. Lived for 10 years in the U.S. With experience in international business management and marketing. Currently, Country Manager at edrone Brazil.