Nemira – how did a bookshop use 3 simple scenarios to achieve a 913% return on its investment?
Nemira online bookshop, in partnership with edrone, has succeeded in meeting one of its biggest challenges. The company has achieved the near impossible task of recreating the magical atmosphere of a stationary bookshop in an online setting.
Nemira has made use of three of edrone's automation scenarios in this process. It is very frequent for e-commerce businesses to experience obstacles that arise when interacting with customers online. On the face of it, this specific type of commercial relationship is very challenging to build and maintain. Customers visit brick-and-mortar shops counting on face-to-face contact with a salesperson, the ability to ask questions and get help. The salesperson, in turn, can get to know the customer through observation. Things are done differently in e-stores.
Can customers count on understanding and assistance in online stores? Can the seller genuinely get to know the customer? Of course! Surprised? Read on.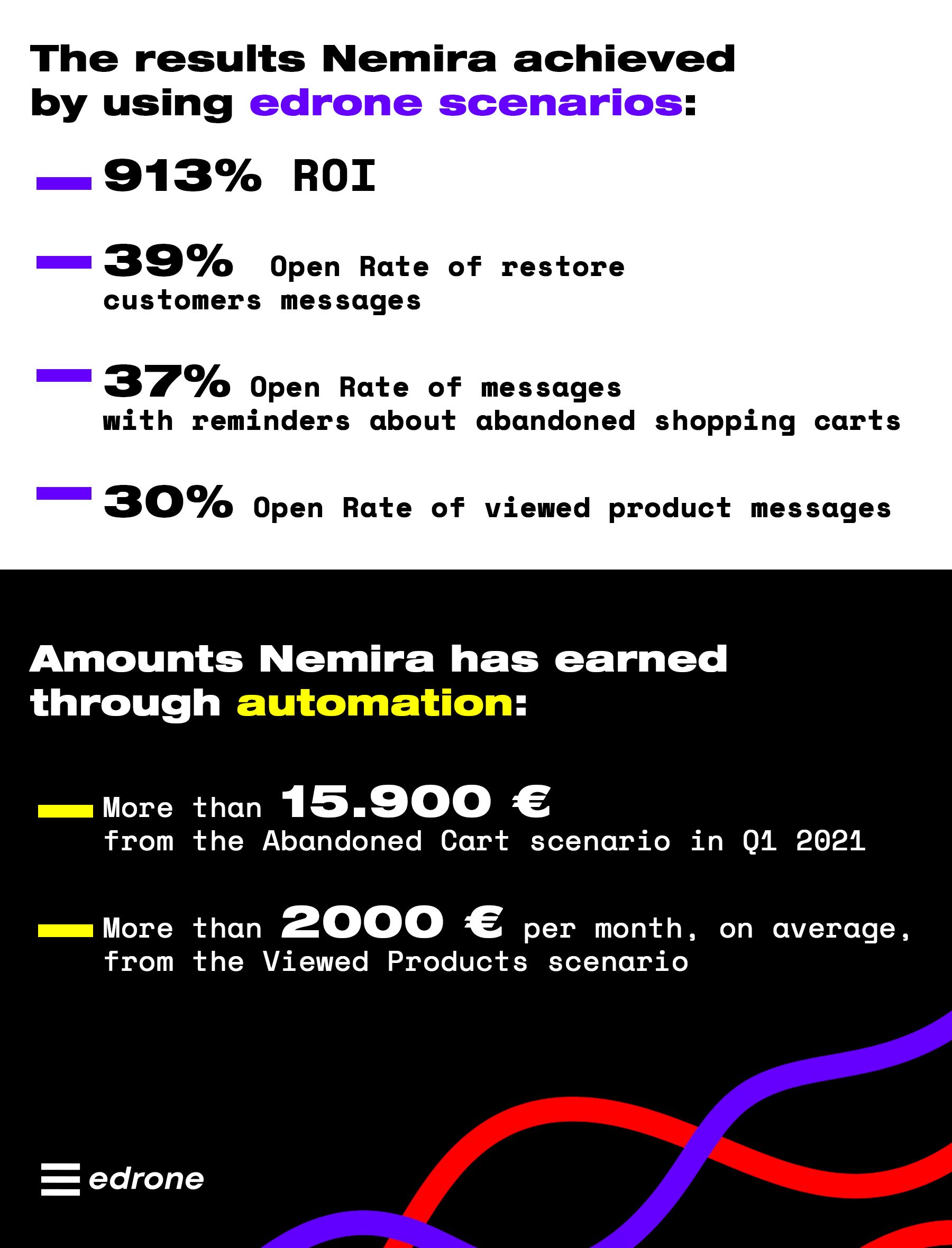 Do you like the results? Find out from this article how we achieved them together. If you want to find out more, we'll tell you about edrone.
Is it possible to establish a personal relationship with an online customer?
Nemira, with the support of edrone, has succeeded in making its customers feel both important and noticed. By acquiring real customer data, the online bookshop has developed perfectly tailored methods of communication and product recommendation to customers. Nemira took advantage of edrone's personalization-focused Marketing Automation scenarios to bring a new dimension to customer relations.
"Nemira always strives to keep pace with all our customers' needs, and edrone enables us to do this faultlessly!"
— Catalina Nicolau
Nemira's Executive Director
Viewed Products
In a stationary shop, while the customer is browsing, the salesperson has the opportunity to accompany the customer at every stage of the purchasing process – providing the customer with advice, discretely persuading the customer to make a purchase or presenting the advantages of a product.
Can this situation be transferred to an online store?
Nemira has solved this challenge by implementing the Viewed Products scenario. When a customer enters the online store, looks at a selection of books and then leaves the store – edrone's role is to make sure that the customer does not forget about them. Each time, the system sends a notification with a summary of the recently viewed products. The message also contains recommendations of other, similar items in which the customer may be interested.
Figures validate the effectiveness of the adopted solutions.
The Open Rate of messages with viewed products is 30%. As a result, Nemira gains over €2,000 per month.
"Our mission is to promote reading among customers of all ages. To achieve this goal, we need to reach a large number of people and make contact with everyone who visits our website.
Thanks to edrone, we are able to interact with our customers
in a purposeful way, offering them products that are suited to them as if they were recommended by a friend. Automated emails help us save time that we can put to use on developing our marketing strategy!"
— Catalina Nicolau
Nemira's Executive Director
Restoring Customers
A great number of customers only make single purchases and take a very long time to return to the online store (if ever!). It is certainly worth trying to influence this kind of customer behavior in order to build on the positive customer relationship previously achieved. Customers have made a purchase from your store, so something about your brand must have caught their interest.
To continue building relations with dormant customers, Nemira employed the Restore Customers scenario. This scenario enables edrone to send engaging messages to customers, which inform them about promotions and new products available in the store.
Nemira regularly reminds customers of its existence. The brand has observed that many of its dormant customers are willing to return to make repeat purchases.
Messages sent under the Restore Customers scenario have an Open Rate of 39%.
Abandoned Shopping Carts
This problem is very common among e-commerce businesses. The customer enters the shop, finds a product they are interested in, adds it to the basket and… leaves.
Why do customers abandon their shopping carts and how do you fix this problem?
First of all, you need to look at whether the customer journey is suitably designed. Perhaps it's too long, there are additional costs added to the shopping cart, you don't offer the most popular payment options, or perhaps you require too much information from the customer at the order completion stage?
If there is nothing wrong with the customer journey, is there anything you can do to prevent customers from abandoning their shopping carts?
Nemira has launched edrone's Recover Abandoned Carts scenario. When a customer abandons a purchase and closes the page, an email about the unfinished transaction is sent to their inbox. If that message fails to persuade the customer to finalize the purchase, another reminder will be sent out three days later.
In addition to information about the products left in the basket, it is also possible to send a gift in the form of a discount code. Gifts are always very effective in swaying customers!
The Open Rate of messages with reminders about abandoned carts is as high as 37%!
By implementing edrone's scenario, Nemira gained €15,900 in the first quarter of 2021. But for the Recover Abandoned Carts scenario, this amount would have been lost.
Results of Nemira's collaboration with edrone
Has Nemira made the right decision when implementing our scenarios? The answer to this question can be found in the Dashboard – the analytics panel available in the edrone system. It contains a summary of all key metrics:
revenue generated,
customer lifetime value (CLV),
average order value (AOV),
purchase frequency (PF).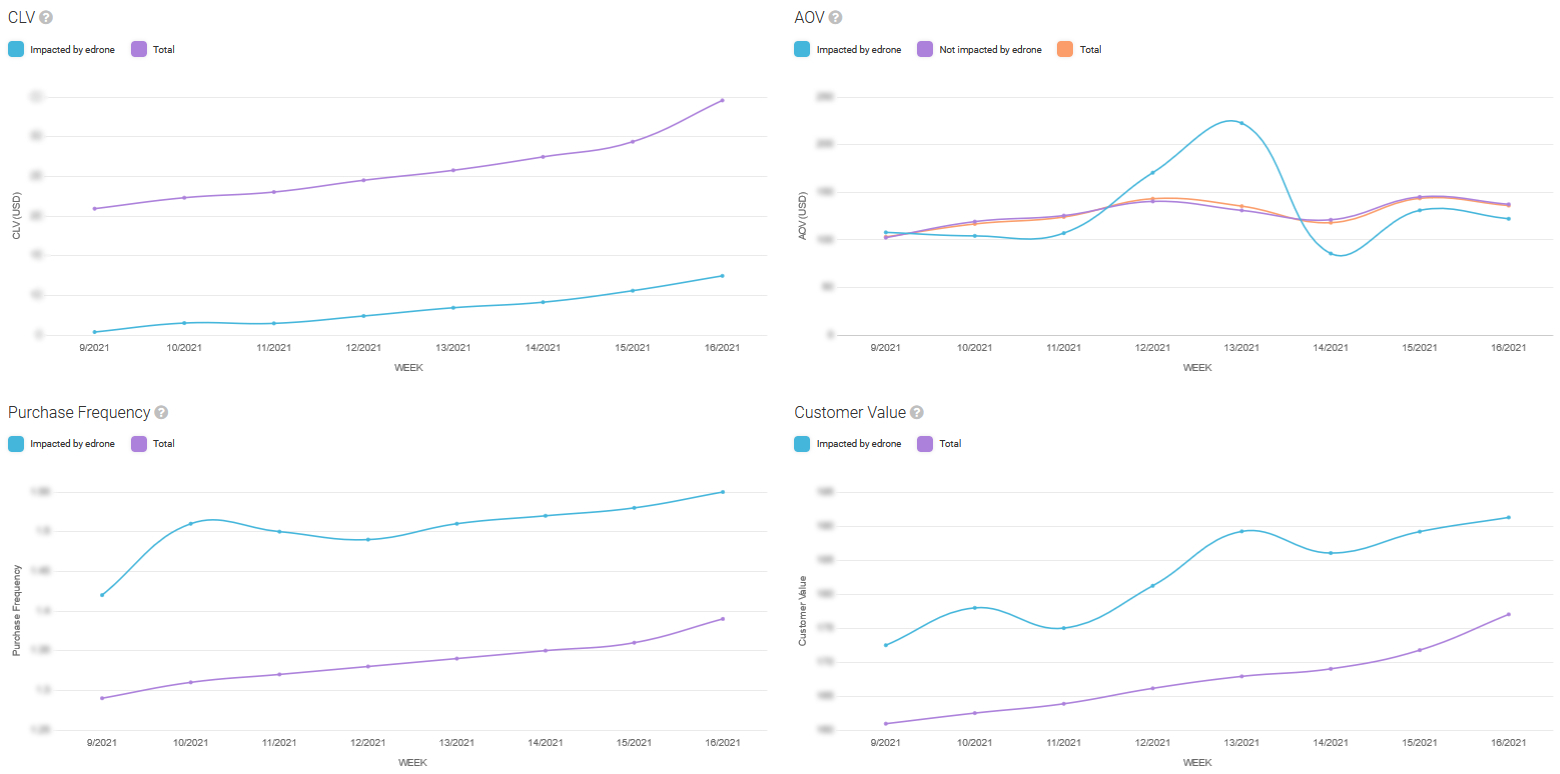 Would you like to achieve such results?
We will show you the possibilities of edrone!
edrone is an AI-fueled SaaS platform providing Instant ROI and Customer Experience solutions for eCommerce. Over 1000 Brands use our technology in 25 countries around the globe.