Mosquito – how to stand out in a competitive industry and achieve an Open Rate of 92.6%?
The fashion industry is one of the most competitive markets. The Mosquito quickly became aware of this when the brand faced the challenges presented by the rapidly developing e-commerce sector.
To keep pace with the changes and the competition and, above all, to fulfill customers' expectations, it was necessary to modify the current communication methods. In these circumstances, most stores would focus on acquiring as many new contacts as possible.
However, Mosquito took a slightly different approach and, in addition to expanding its customer base, it also made sure to retain its existing customers.
The Mosquito team knew that this method would be much more cost-effective. To this end, the brand has partnered with edrone, jointly creating and implementing a plan based on four pillars, which this article will tell you more about. Read on to find out what results Mosquito has achieved through its partnership with edrone!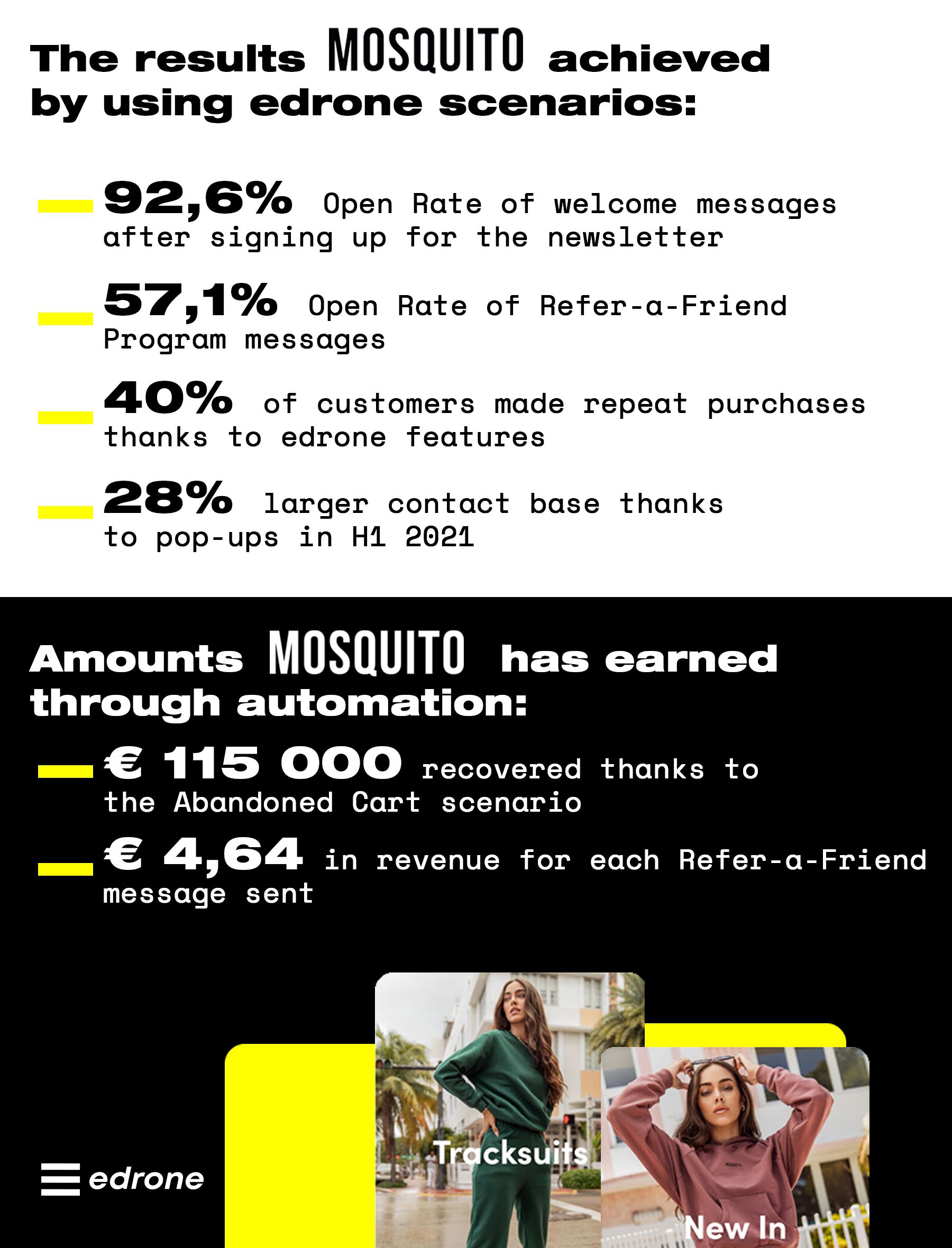 Do you like these results? This article will illustrate to you the methods of attaining this shared achievement.
If you want to find out more, we will tell you about edrone.
Mosquito is a women's fashion brand that aims to help its customers express their emotions through clothing. All products are designed and sewn in Poland – in a famous town for its long textile tradition. At the same time, the company strives to make its products affordable to make every woman – without exception – feel special every day.
Let us now analyze the scenarios Mosquito has chosen to implement to improve its performance. We will take a look at the results we have managed to achieve.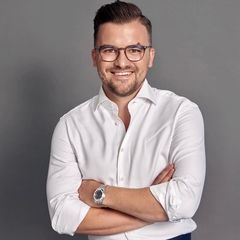 edrone is our tool of choice when it comes to available marketing technologies. It allows us to engage our customers in new collections and promotions effectively. In addition, it makes it possible for us to monitor the company's performance to improve our strategy continuously. The same applies to automation scenarios that enable us to send segmented and personalized messages without putting much effort into each campaign.
Jakub Roskosz
Mosquito's Managing Director
Expansion of the contact database and welcome messages
In the first half of 2021, the Open Rate of Mosquito's welcome messages was 92.6%. For each email sent, the shop earned PLN 43.5 in revenue.
Mosquito was conscious that at the stage of building a customer base, nothing is more important than the first impression. That is why customers could look forward to gifts right from the start.
When a user signed up for the newsletter – for example, via a pop-up – a welcome message was automatically sent to their inbox, containing a discount code for future purchases. This was all thanks to marketing automation from edrone and a Newsletter subscription scenario that allows up to four automated messages to be sent to new subscribers.
Take a look at sample multiple messages sent from the edrone system.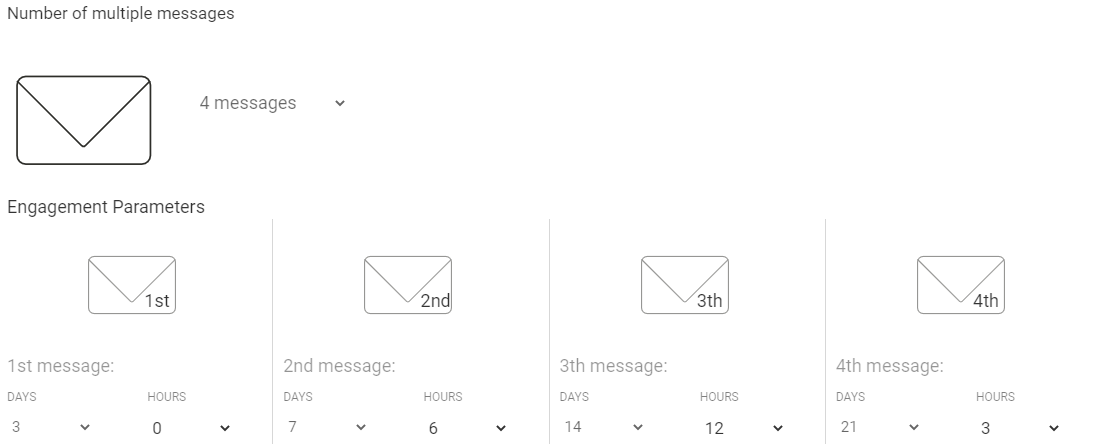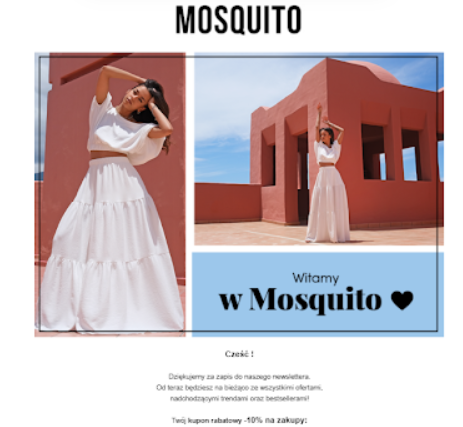 On-site marketing
Pop-ups were another method used by Mosquito to engage users from their very first moments of interacting with the store. In the desktop and mobile versions of the store, visitors are shown pop-ups encouraging them to subscribe to the newsletter. In return, they receive a 10% discount on purchases, and exclusive product offers created especially for them.
Through Advanced Pop-ups from edrone, Mosquito has progressively expanded its contact base. It grew by as much as 28% in the first half of 2021!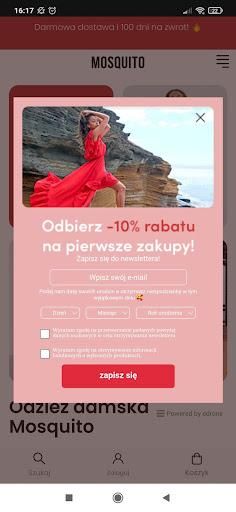 Customer loyalization and the Refer-a-Friend referral program
It is said that word-of-mouth marketing is the best form of advertising. Encouraging customers to share information about your store should be an essential part of your marketing strategy. The Mosquito brand has followed this advice and made excellent use of the Refer-a-Friend recommendation program offered by the edrone system.
As the company already had a base of loyal customers, it decided to implement this effective tool to grow and retain its existing customers for longer. Has the program proved effective? Each customer gave Mosquito an average of two new users. These results speak for themselves!
Mosquito recorded the Open Rate of reference messages of 57.1%, and each email sent generated EUR 4.64 in revenue.
How do referral programs work?
1. Customers receive their reference (referral) link.
2. They send the link to their friends or family.
3. After each purchase using the link, the customer and the person who received the link are rewarded with a discount.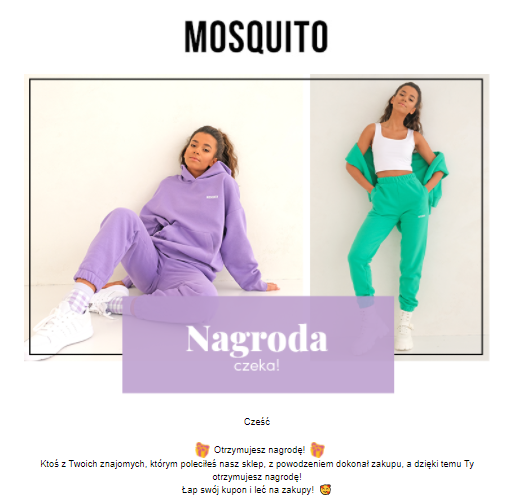 Marketing automation
Mosquito knew that it had to implement Marketing Automation solutions to remain competitive in the market. Nowadays, a modern e-commerce company can't function without this technology. By using as many as 10 of over 20 automation scenarios from edrone, the brand could optimize its resources while saving time and money.
Each scenario allowed specific objectives to be met, such as:
– increasing the number of newsletter subscribers,
– post-purchase relationship building,
– recommendations of products reviewed,
– abandoned shopping cart recovery
and much more.
Abandoned shopping carts are one of the biggest challenges for e-commerce enterprises and an integral part of the business. Fortunately, companies have at their disposal effective methods of recovering abandoned carts.
One such method is scenarios prepared by edrone. By using the Abandoned shopping carts scenario, Mosquito – in the first half of 2021 – recovered more than EUR 115,000 in revenue through finalized purchases.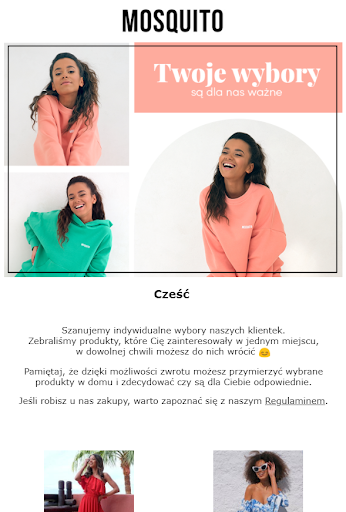 Results of Mosquito's collaboration with edrone
By collaborating with edrone, the Mosquito brand could meet its key objectives and significantly improve its performance. Moreover, thanks to edrone's analytics panel, our client can continuously monitor the results of its activities and analyze the elements contributing to its success.
As many as 40% of customers who came into contact with edrone's tools used by Mosquito made repeat purchases. By comparison, only 10% of customers not affected by edrone's automation solutions chose to return to the store to make another purchase.
Our team can now start tackling other matters while we remain confident that we are obtaining maximum gains from our marketing strategy. This allows us to focus on what is most important: making our clients feel and look great!
Jakub Roskosz
Mosquito's Managing Director
Would you like to achieve similar results?
Let us show you the possibilities offered by edrone!
She cares about good quality content. Believes that success in e-commerce depends on the right approach. She claims it is good to know something about everything, but specializes in modern marketing.