How did Leifheit earn an extra €8965 thanks to Marketing Automation?
Leifheit has been selling household essentials for more than 60 years. These include accessories for cleaning, ironing, cooking and storage. The store has everything a customer may need to keep their home tidy and comfortable.
What sets the brand apart is its versatility, the compatibility of replacement items for different products and the high quality of the available range. After taking Germany by storm, Leifheit was able to tackle international markets.
Although at first, the company exclusively targeted B2B sales, in recent years, it has decided to enter the world of e-commerce. In 2019, 16% of Leifheit's revenue came from online activities. In 2020, this revenue share was already 19%! Currently, the online store is Leifheit's second largest distribution channel.
How do you create a modern e-commerce?
The Leifheit brand, in collaboration with edrone, has focused on developing its online sales. To progress in this area, the company needed a solid business partner – and it chose us.
edrone has all the necessary tools for successfully manage and run businesses in modern e-commerce. The edrone system inspired Leifheit's active involvement in the online sales process. The company wouldn't have been able to accomplish such goals through brick-and-mortar shops. What were the contributing factors? Without a doubt – the company's marketing automation, the contact database expansion and personalised recommendations. Why don't we take a closer look at these aspects?
Having considered a choice of potential options, we have settled on edrone, as the edrone system stood out because of its functions and was specifically developed for e-commerce. From then on, it has become a fundamental part of the company's online activities.
Katarzyna Możdżyńska
e-commerce and Marketing Manager at Leifheit Polska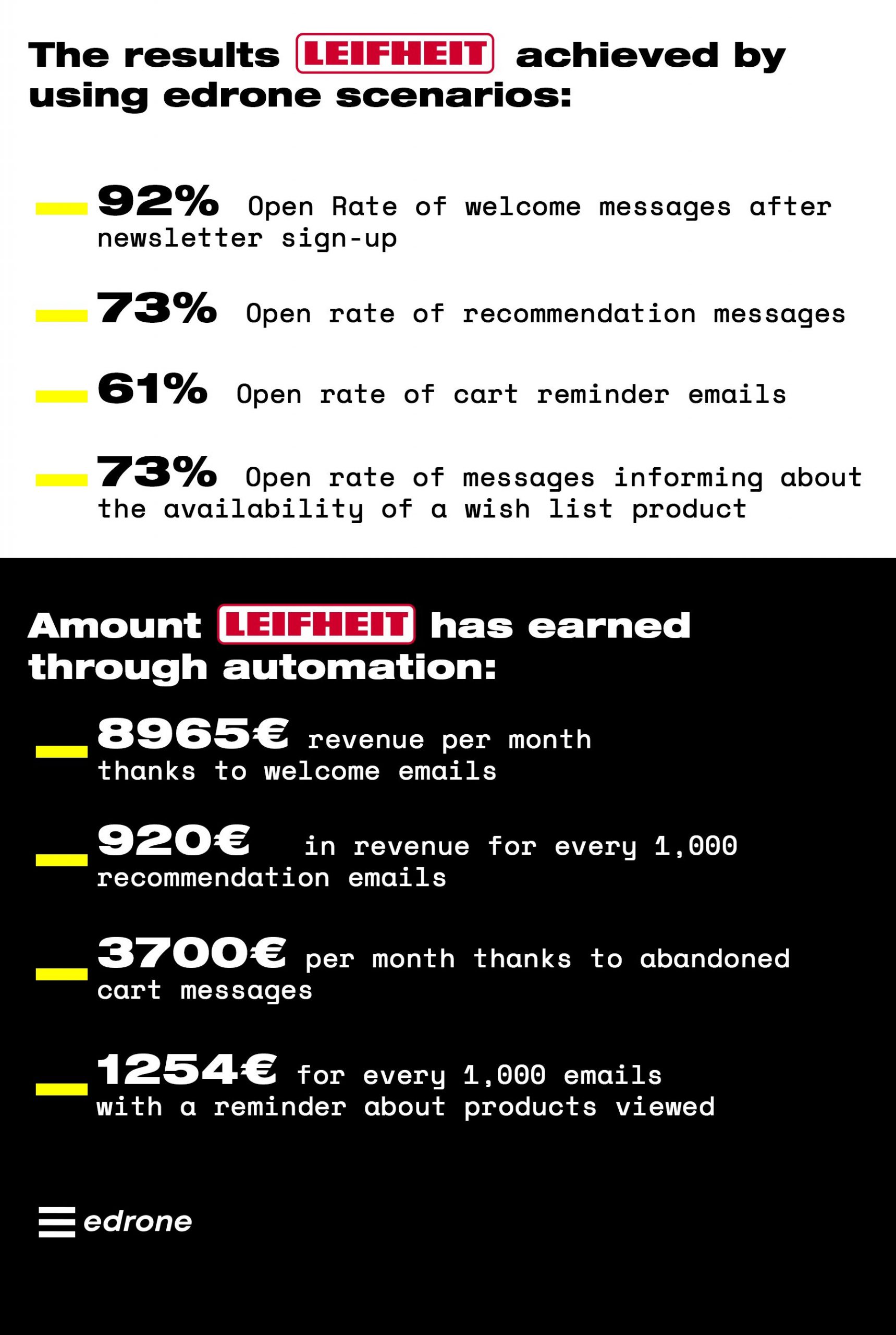 Do you like these results? This article will illustrate to you the methods of attaining this shared achievement.
If you want to find out more, we will tell you about edrone.
Pop-ups
By making the best use of advanced pop-ups from edrone, Leifheit has converted visitors to its online store into subscribers. This has enabled the company to gain as many as 700 new contacts per month! The brand saw that the key to successful online marketing was building a contact database. With access to customer data, it is much easier to tailor the company's communication methods and product offer suitably.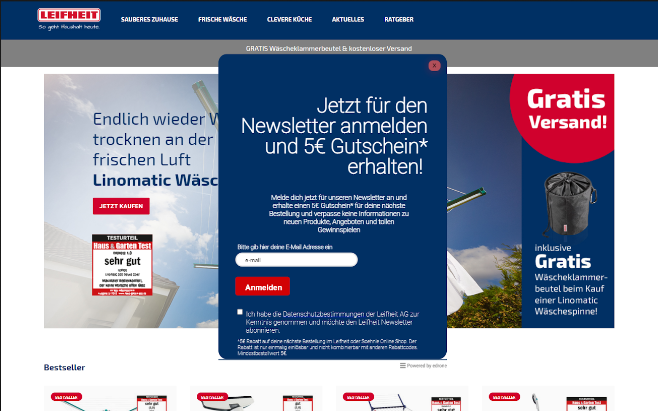 Welcome emails
The building of a subscriber database by Leifheit takes place using the Double Opt-In model, which is one of the safest methods available. The user subscribes to the newsletter database. Once that is done, the user receives an email asking for subscription confirmation. The user is given a welcome message with a unique discount code if consent is given.
Welcome emails provide Leifheit with average revenue of EUR 8,965 each month. Their Open Rate is as high as 92%! It's an incredible achievement!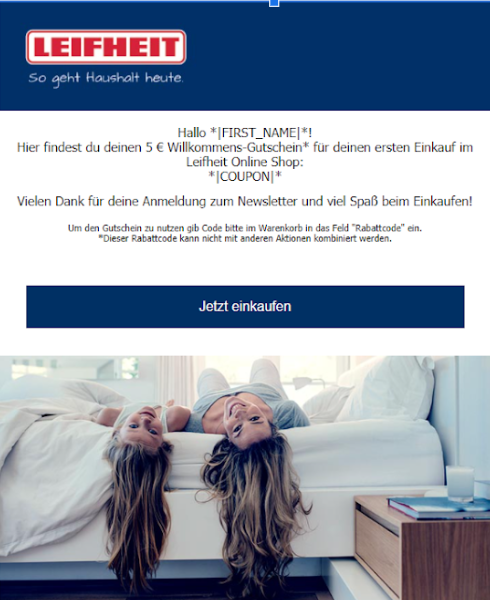 Marketing Machine
Leifheit products are complementary to each other, which means that individual products can be easily combined. Leifheit's customers are provided with recommendations of products and solutions determined by the company as the perfect fit. Such assessment is conducted based on previously collected data and customer interests. How is that achieved?
The Marketing Machine recommendation system from edrone allows you to analyse all the products users have viewed and those they have added to their cart and purchased. edrone creates customer recommendations by taking advantage of artificial intelligence.
For example, if a customer has bought a mop, they may also be interested in a wringer bucket.  
Thanks to recommendations from edrone, Leifheit earns more than EUR 910 in revenue for every 1,000 emails sent. The Open Rate of the messages averages 73%!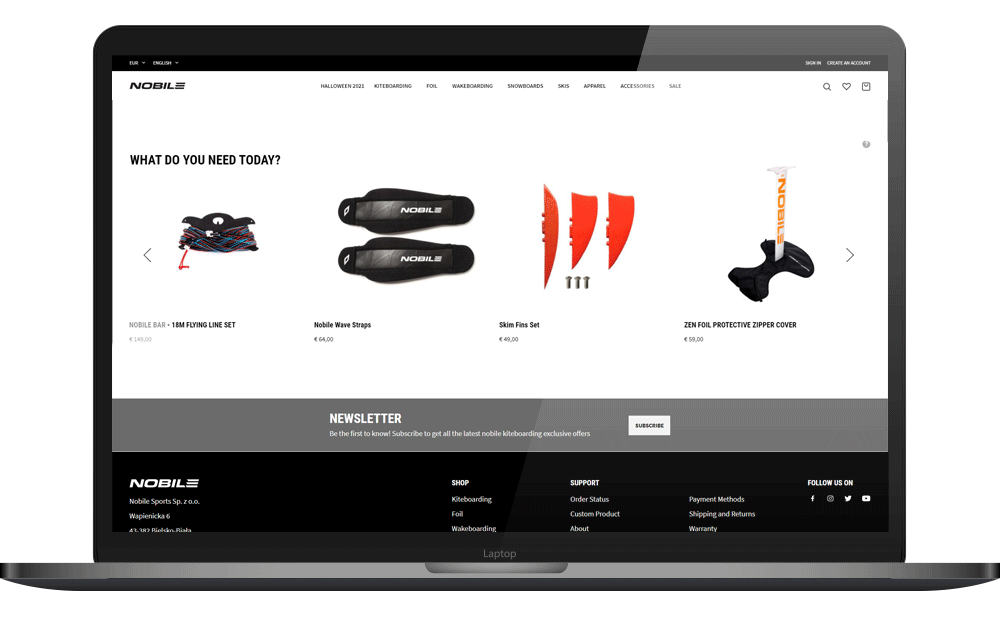 Abandoned shopping cart recovery
Leifheit, like any other e-commerce business, faces the challenge of shopping cart abandonment. edrone's recover abandoned carts scenario has come to the rescue to encourage customers to complete their transactions effectively.
Leifheit began sending messages reminding customers about their abandoned shopping carts. These messages have an Open Rate of up to 61%, and the brand recovers an average of EUR 3,700 per month!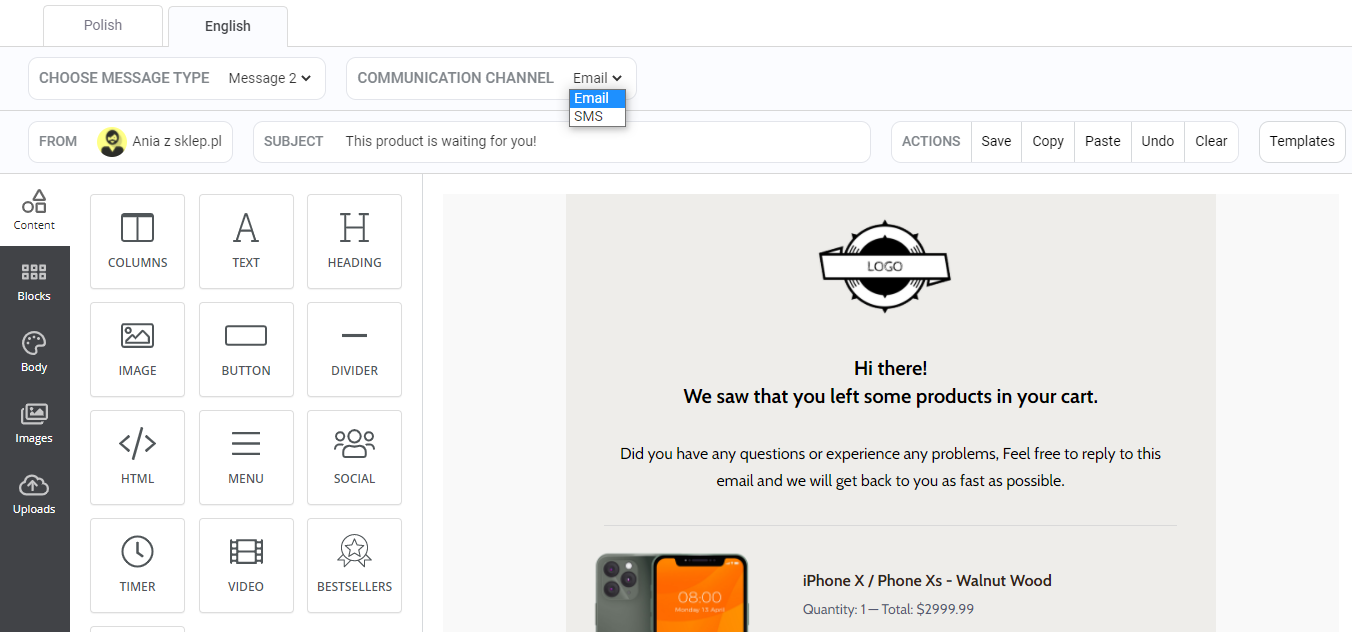 Viewed Products
In addition to customers abandoning their shopping carts, Leifheit also stays in touch with those who have browsed products on the website. The brand sends them reminder messages about products they recently looked at. These emails often contain additional recommendations.
What are the results? For every 1,000 emails sent, Leifheit earns an average of EUR 1,254. The company steadily converts visitors into active buyers.
Check out our viewed product scenario.
Wishlist
How do you sell something you don't happen to have? It's simple. A customer wants to buy a product you don't currently have in stock. You give your customers the ability to add products to their wishlist, and they receive a notification when the product becomes available once more. Wishlist automated scenario from edrone sends emails to your customers.
The Open Rate of these messages averages 73%, and the conversion rate exceeds 10%! Moreover, Leifheit earns around EUR 5,500 for every 1,000 emails sent.
The collaboration between edrone and Leifheit has allowed the brand to take the initiative, acquire new customers and sell more online.
Do you like these results?
She cares about good quality content. Believes that success in e-commerce depends on the right approach. She claims it is good to know something about everything, but specializes in modern marketing.