10 Facebook Ads campaigns for e-commerce that you have to try!
`To disregard the power of Facebook Ads can be a hiccup, especially in some industries. A well thought through and effective campaign on Facebook or Instagram can generate a high return on investment.
I will present 10 Facebook Ads campaigns which can be a great success! The article is very inspiring, you won't find detailed information here about how to conduct a given scenario step by step, but you will get to know a few campaigns which you probably haven't run into before. Here we go!
Double your preciouses
What could be better than a satisfied customer? Two satisfied customers! Facebook algorithms are so advanced that they are able to find people similar to those you point out to them. Use them to find like-minded people to your existing customers. The more orders you have in store, the more likely it is that the advertising system will display your creations to the right people who decide to buy from your store. Simple? Yes, but that's not all!
Remember to choose the right percentage of a group of similar recipients to the budget you have at your disposal. Too much daily expenditure causes aggressive displaying of advertisements – often to the same people, which results in the opposite effect – a negative perception of the brand and your money will simply go up in smoke…
Be the champion
The previous campaign concerned new customers – people who had no previous contact with the brand. However, you should never forget about those who have already bought in your shop. All the more reason to remember the people who are your regular customers – they have already bought, perhaps many times, and this means that they are satisfied with the products you offer. Always inform them about promotions or novelties – this is very fertile ground for this type of content.
All right, by now you're probably asking yourself how to reach your best customers? There are many ways, but the most effective is RFM segmentation.
What exactly is this segmentation?
It is a division of customers into 10 segments taking into account the time since their last purchase as well as the frequency and the value of purchases. You can read more about this in the article about RFM segmentation by Patrycja Haber.
We are interested in the segment of champions because they are the best customers – they've bought recently, they do it often, and they spend the most money., Such a target group does not exist in Facebook Advertising Manager… Fortunately, this campaign can be created with the help of the Social Advertisement functionality in edrone.
A well-prepared message will result in a high return on investment and may also make your Champions group feel more appreciated, hence establishing an even closer relationship with your brand. They may even become ambassadors of your brand, people who will send positive feedback about your brand to the outside world.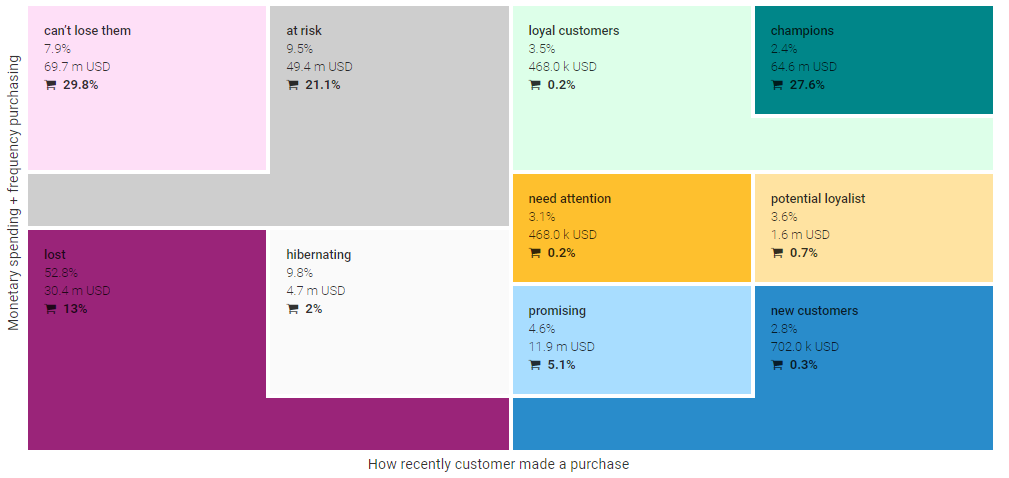 Do you like me or not?
it isn't just about campaigns aimed at a quick profit, man is alive! Sometimes it's worth investing. Invest in activities that will pay off in the future.
It's a good practice gaining new fanpage likes at a low cost, but above all, likes from people who are very much interested in your products. It is crucial because generating likes in e.g. Middle Eastern countries while your business is established in Europe is still surprisingly quite popular, and yet it does not bring any measurable benefits, not to mention the return on investment. What's more, it can spoil remarketing groups and reduce the organic reach of published content.
Displaying an advertisement to people who have just made purchases in your shop but haven't yet liked your Fanpage is a guarantee of a high-quality traffic on your profile. It's a big step forward for you to locate your new customers, because liking a fanpage is a guarantee of maintaining quality contact. It's about keeping your customers close to the brand , displaying news or inspiring content.
If you're expecting your campaign to pay for itself on the very first day, (it is not likely to happen) you'd better let it go. This type of a campaign is an investment. Investing in loyal customers who will soon come back to buy again. It is well worth looking at the bigger picture and not only suggesting what is here and now. Think ahead!
Upselling Classic
Each transaction is a reason to be satisfied, but the higher its value the more benefits it brings. And it is up-selling campaign that increase the value of orders.
In Facebook up-selling campaign, an ad is displayed to people who have viewed or added selected products to their shopping cart. The user receives personalized product recommendations, tailored to give them the best chance of making an order. However, don't worry too much about it – edrone's machine learning will take care of matching the products and transferring them to the Advertising Manager. Artificial intelligence analyzing thousands of user behaviors will select the right products and efficient automation tools will allow you to generate hundreds of sets of products in no time.
Does it really work? Sure. Not so long ago, we've conducted an A/B test in which we displayed two types of advertisements to the same group of recipients: classic dynamic remarketing and up-selling recommendations. The results showed that thanks to the recommendation, the average order value increased by 6.1% and the total return on investment was 11.5% higher than in the case of a classic remarketing campaign.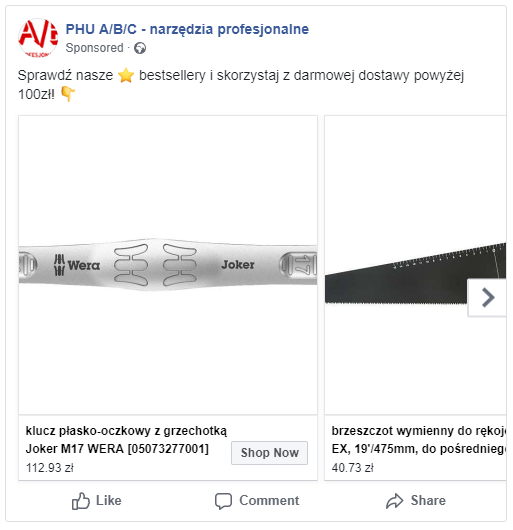 It's almost there…
The fundamental stage on the conversion path is a visit to the website. However, as the statistics show, only 10% of purchases are made during the first visit to the website. What about the remaining 90%? Logically, these are people who have visited the shop's website several times. It's natural – a purchase decision is a process. The good news for you is that you can influence this process.
Direct your advertising to people who have visited your website in the last 30 days. Keep them in check and help them make the right purchasing decision. Show interesting content and convince them at a crucial moment with promotions and a clear message calling for action.
Take care of your cart
If we are in the process of making a purchase decision… then we cannot forget about people who are already a hair's breadth away from the purchase! They are only inches from the finish line, but without your reaction, they may not reach it. Who are we talking about? The people who have abandoned their carts.
There are many reasons for this. It can be a simple lack of time, product unavailability or just plain indecision.
The aim of this campaign is to reach out to people who have abandoned their baskets. They are usually worth a lot of money, so the level of profitability in this campaign is really high. The number of people who didn't finish shopping at this stage is usually not so high that you can't afford to reach all of them with your advertisement. It usually takes a really small amount of capital to convince them to complete their purchases.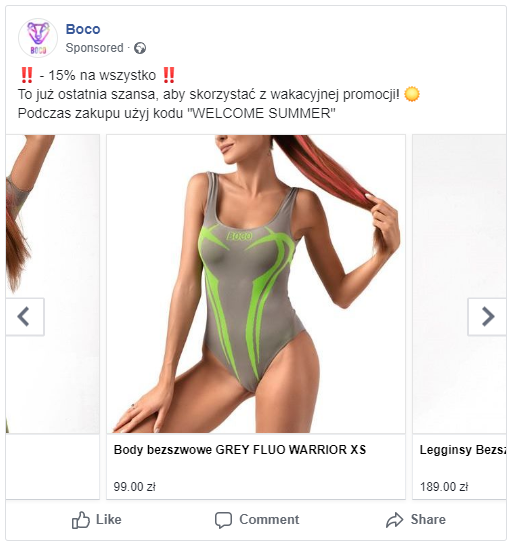 Friends buy more willingly
It has been known for a long time that the opinion of family, friends or acquaintances can make it easier to make a difficult decision. In 2016, the opinie.pl website decided to check who or what has the biggest influence on the decision to buy in eCommerce. The results of the survey show that over 50% of people admitted that the greatest influence on the decision to buy was the recommendation of friends. As they admit, for them it is a guarantee of satisfaction with the product, as well as a more comfortable transition of the purchase process.
How to use this psychological aspect to increase sales from advertising on social media? It is very simple if you know the Facebook advertising system well and you know what targeting possibilities it offers. Display advertisements to friends of people who liked your shop's fanpage, and in addition to the classic advertising message, they will see a note about which of their friends also liked this fanpage. This is a trifle, often underestimated, but when you test a lot of advertising campaigns, you will notice that this one achieves very good results. A skilled marketer can use these psychological games to generate more turnover in the store. Try it for yourself!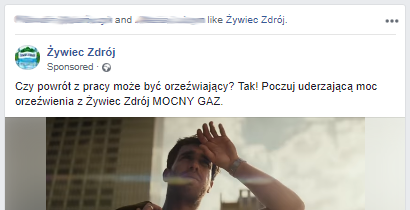 It's time for next purchase
Sometimes, you don't need to follow sophisticated psychological tricks or complex targeting methods to achieve a satisfactory ROAS. Just hit the group that knows your products well, because they already made purchases in your shop.
What time period should I choose? It depends. From what? From the industry, and even from a specific store. For example, in the electronics industry, the time when customers return to their next purchase will be relatively long, and in the case of mobile phones, it may even a year or two. However, in the cosmetics industry, loyal customers can make purchases every month or even every two weeks. It is best to check how it looks in your shop and choose the appropriate time range from the last purchase – then the effectiveness of the campaign will be even higher!
Feel the power of iOS
If we are already in the electronics industry and technology in general, it is worth mentioning that, thanks to the information Facebook has about the operating systems used by its users, we are able to easily segregate these users. For example, because of their wealth or susceptibility to global trends.
It is well known that this is not a method that will bring us 100% effectiveness, because it is not excluded that someone uses the latest model of iPhone "on credit" or just some wealthier person prefers Android. However, the goal is not 100% efficiency of segregation but rather a higher return on investment in advertising – and such targeting is able to guarantee this if we offer products that interest this particular group of recipients.
Similar to your subscribers
E-mail marketing is a strategy that, with a large and qualitatively good email database, can become a regular profitable activity for your shop. Facebook gives you the possibility to generate new subscribers in two ways; either directly through an advertisement with a contact form or indirectly through a transfer advertisement on the landing page, where the user can subscribe to your shop's newsletter.
In order to create an ideal group of recipients, it is worth choosing an ideal model sample from which we will generate the lookalike, i.e. similar recipients to those who are already in our database. You can also go one step further and narrow this group down to people who are in our database, and always open our e-mails, can you imagine a better subscriber?
A campaign prepared in such a way should generate a lot of new high-quality subscribers with a low financial outlay. The rest of the work will be done by e-mail marketing, which will monetize the obtained e-mail addresses.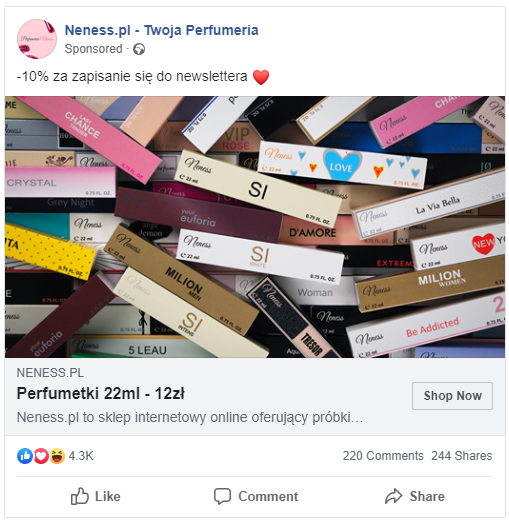 Social Advertisement at edrone
Not all of the above campaigns are possible to create in the Facebook Advertising Manager, but there is a certain tool in which all the campaigns can be launched, and it is only three clicks away.
The functionality of Social Advertisement in edrone is a tool that allows you to do much more than a Facebook ad manager. Apart from standard targeting possibilities, it offers the creating of target groups based on RFM segmentation, e-mail openability, and other edrone functionalities. In addition to single campaigns, edrone offers the possibility of combining multiple campaigns into a sales funnel which will systematically optimize the groups of recipients so that it can operate continuously for a long time.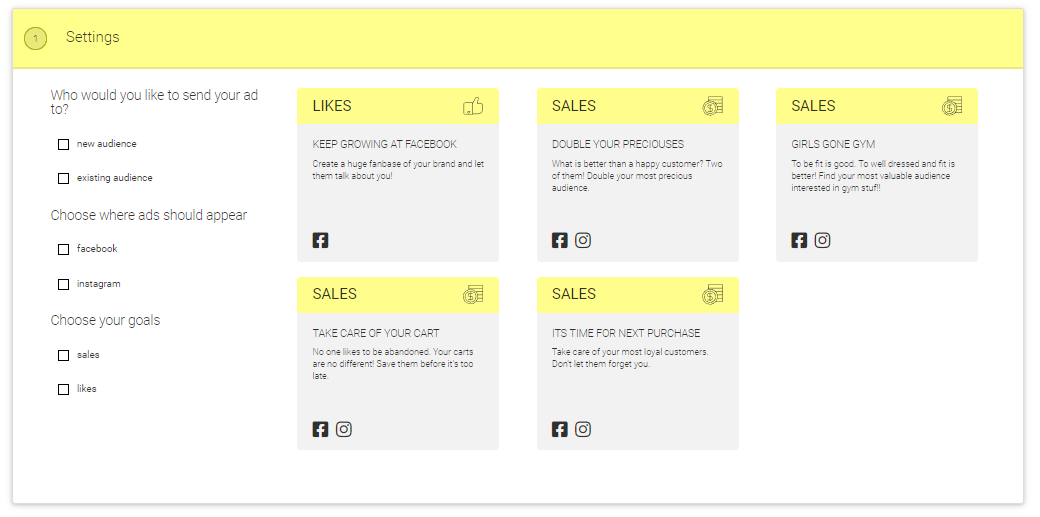 Man with two faces. PPC Specialist & Business Analyst. Huge experience in Social Media Marketing and Google Ads. Fascinated by TechMarketing and Neuromarketing enthusiast.